Adventure Skiing in Chamonix with Victor Major
SKIING IN CHAMONIX
There is a Mecca in every adventurous sport. Surfing has the North Shore, climbing has Yosemite, and mountaineering has the Tibetan Plateau. To me, Chamonix has always stood as the Mecca for (extreme) skiing. I have long harbored fantasies about skiing legendary Cham lines and this past April I was finally able to turn my dreams into reality.
The following article was written by Wagner athlete Victor Major. His recent dream trip to Chamonix, France included 13 ski days off the Aiguille du Midi, in the Argentiere Basin and in nearby Courmayeur.
I spent the 2015-2016 ski season in Telluride (it's also where I grew up) skiing the classics in hopes of culminating my season in Europe. Unfortunately, it didn't pan out and I was forced to patiently wait another year. I moved to Aspen in November, 2016, and promptly purchased a plane ticket to Europe for April, I needed the wheels to be in motion.
We–Sam Coffey, Baker Boyd and I­–arrived on April 4, 2017, to new snow and a hit list of classic couloirs. A period of high pressure soon after we arrived provided us with the weather we needed to start checking the boxes, we were in luck! Here's a recap of a few lines from my trip to Chamonix.
COL DES COURTES
Our first day, we headed up the Grand Montets Tram to the Argentiere Glacier. The Argentiere Basin was beyond impressive. Sheer vertical granite walls surround a massive glacier and snowfield. We descended the Psycho Traverse and headed towards Col de Courtes. Side note: the run we were originally going to ski, Les Courtes, was already occupied by eight skiers so we modified our plans. Two Frenchmen caught us on the way up so we worked together to make the 1000m boot.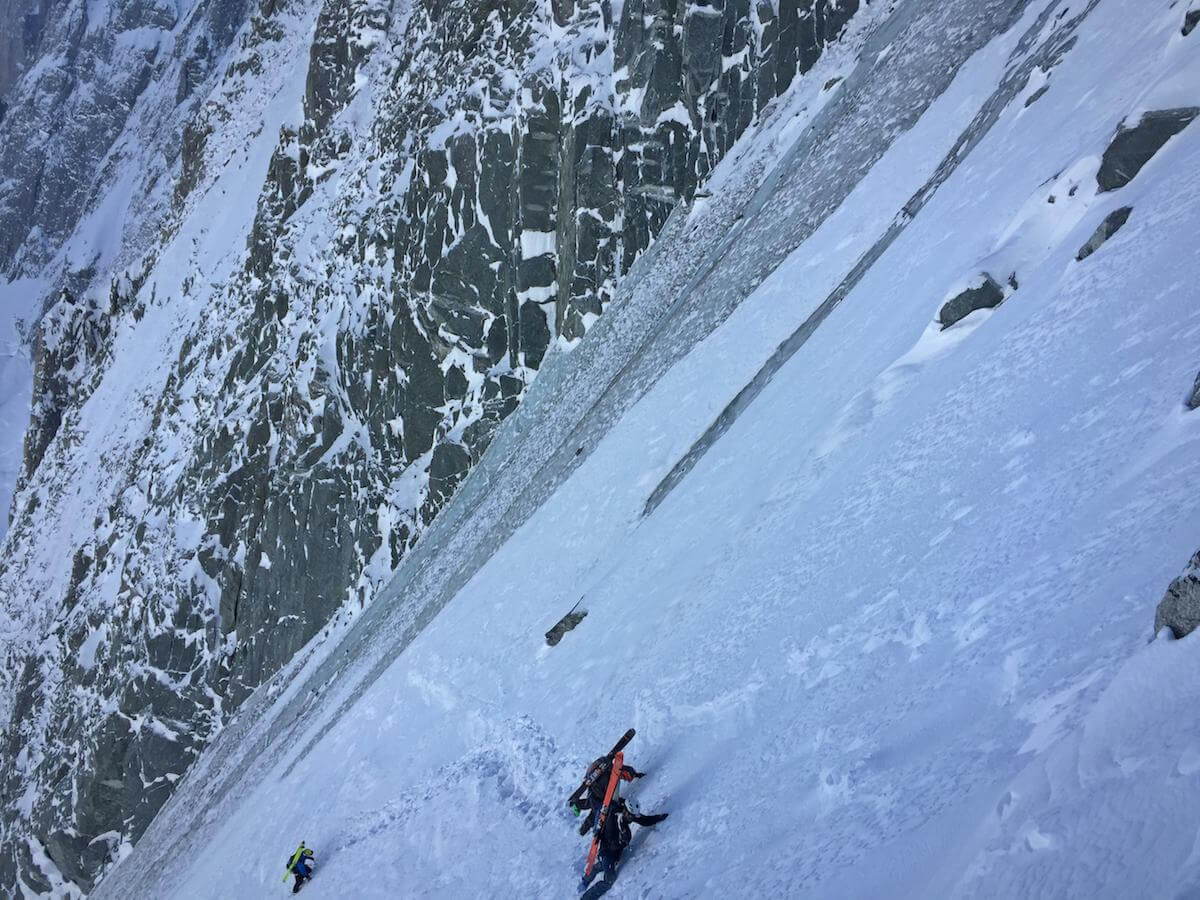 Sam and Baker making the traverse. A Frenchie bringing up the rear. Photo by Victor Major.
Nearing the top. Photo by Victor Major.
The snow was good and cold. We gained more confidence with every step and plunge of our ice axes. We had never climbed over bergschrunds before, but tentatively navigated over three on this particular climb. After navigating ice and rock, we were happy to transition back to skis when we reached the top of the col. Back in our element, we skied safely all the way down to Argentiere. Not a bad first day in Chamonix.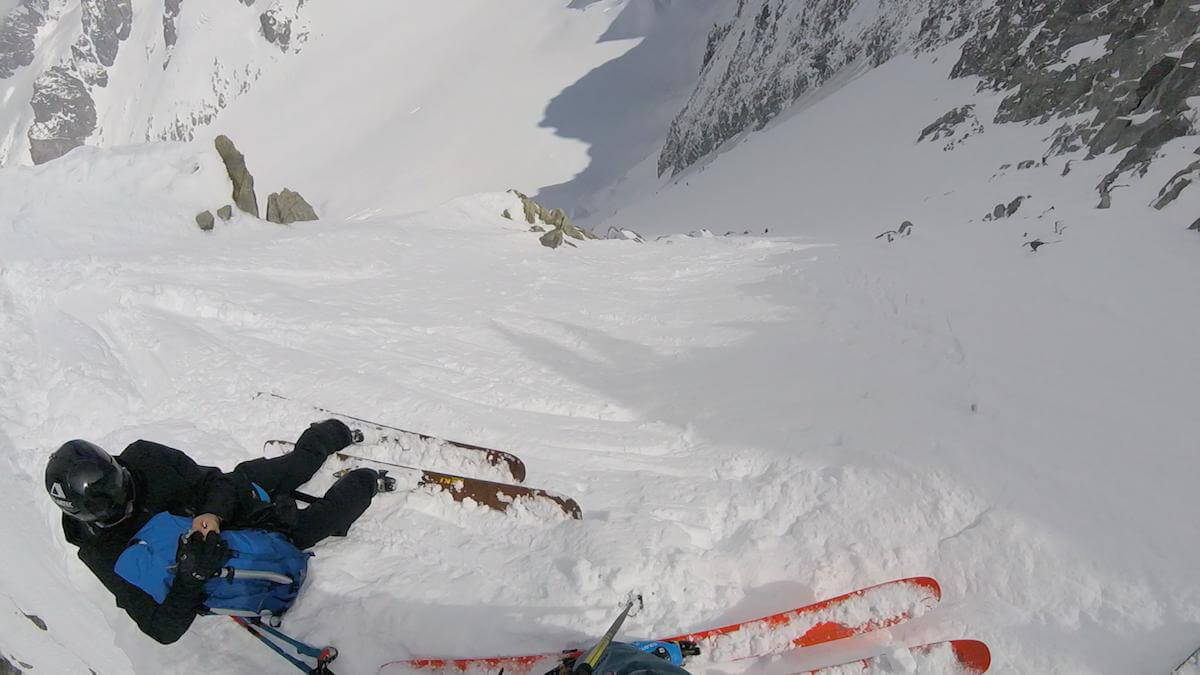 Preparing to ski Col Des Courtes. Photo by Sam Coffey.
Day two we skied Les Courtes, our initial objective for day one.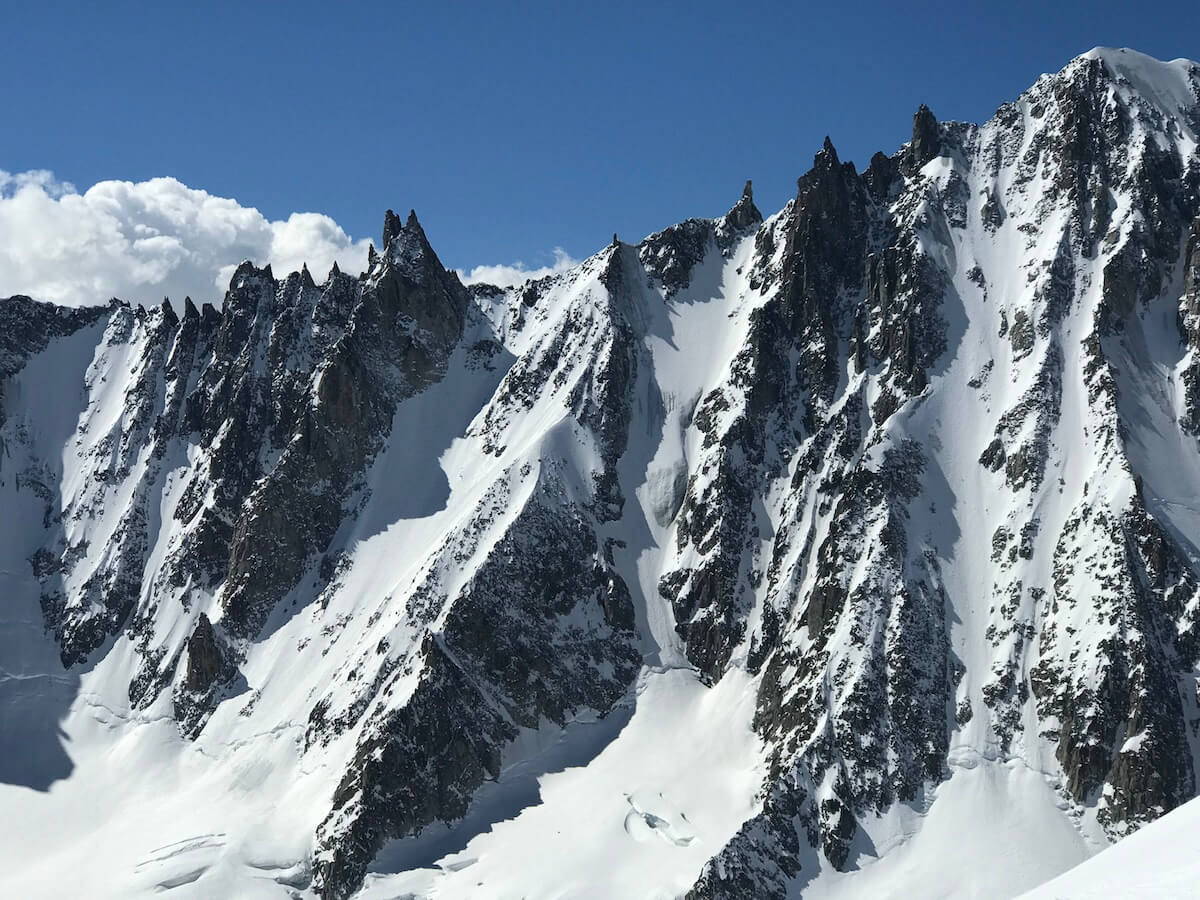 The Courtes face. Col des Courtes is just in frame on the far left. Les Courtes, NE Face is the prominent run on the right. Photo by Baker Boyd.
A little skiing near the top of Les Courtes. There were a few inches of snow on top of glacier ice. Video by Baker Boyd.
COL DE L'AIGUILLE VERTE, FACE N COL W
A few days later we were joined by Gabriel (Gaby) Rivas, a ski instructor in Val Thorens and old friend. We skied the Gervasutti Couloir on the Tour Ronde.
Tour Ronde Gervasutti Couloir. Some good snow, mostly not. Very cool very accessible ski from the the Midi. Gaby in the video at the top.
Following our ski together on the Tour Ronde, Gaby was looking to get after it and ski Col de l'Aiguille Verte. It was not in great condition and the appearance of the face from the bottom discouraged Sam and Baker, so Gaby and I were it.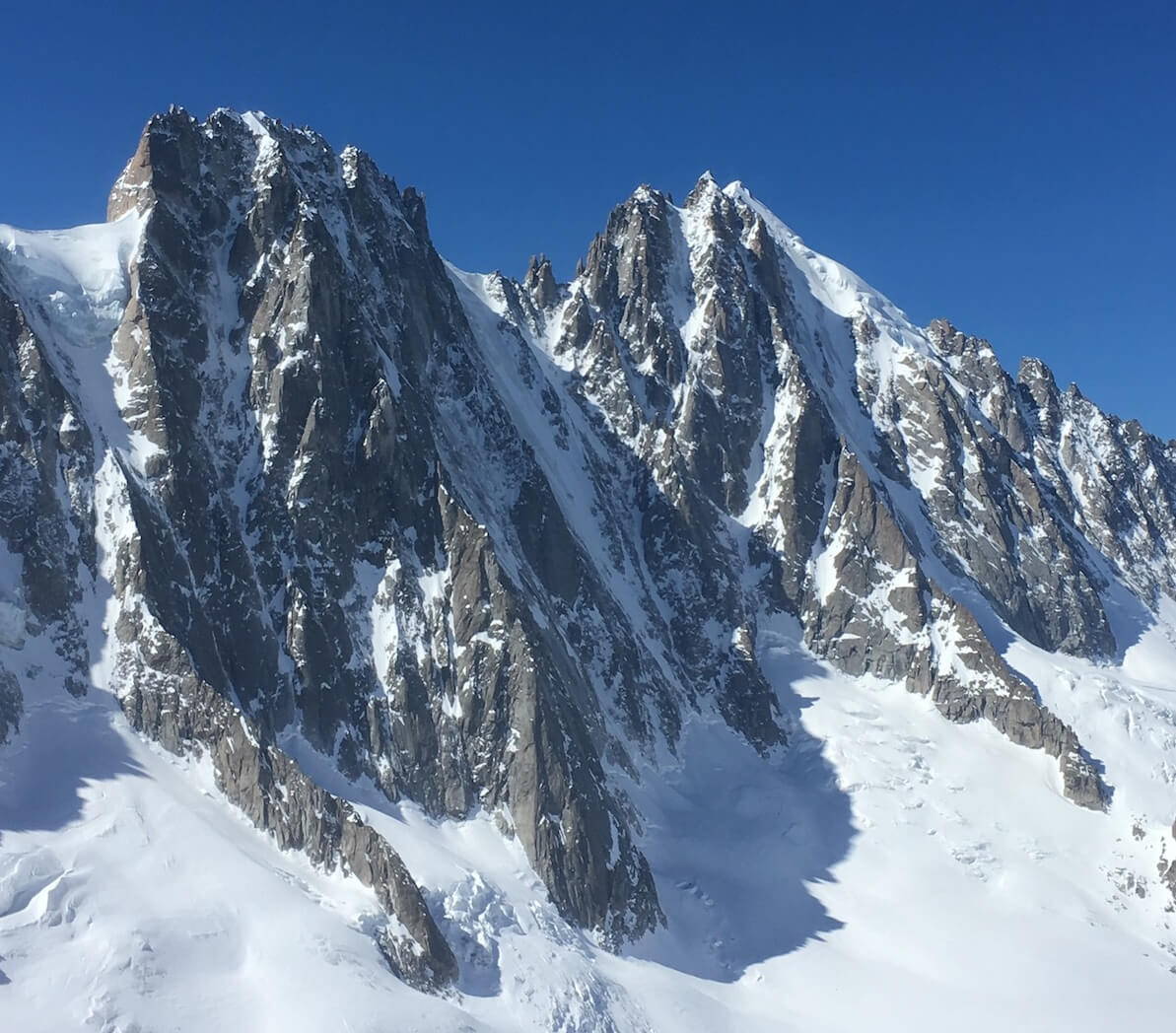 Col de l'Aiguille Verte from across the valley. Photo by Baker Boyd.
The vertical difference of this run is 1300m, but the real intensity is that it is steeper than 50 degrees for 800m. Patches of snow barely cling to glacier ice which threatens to detach at any time. The direct Col Verte was not in condition, so that required us to make the move towards the col on lookers right over immense exposure.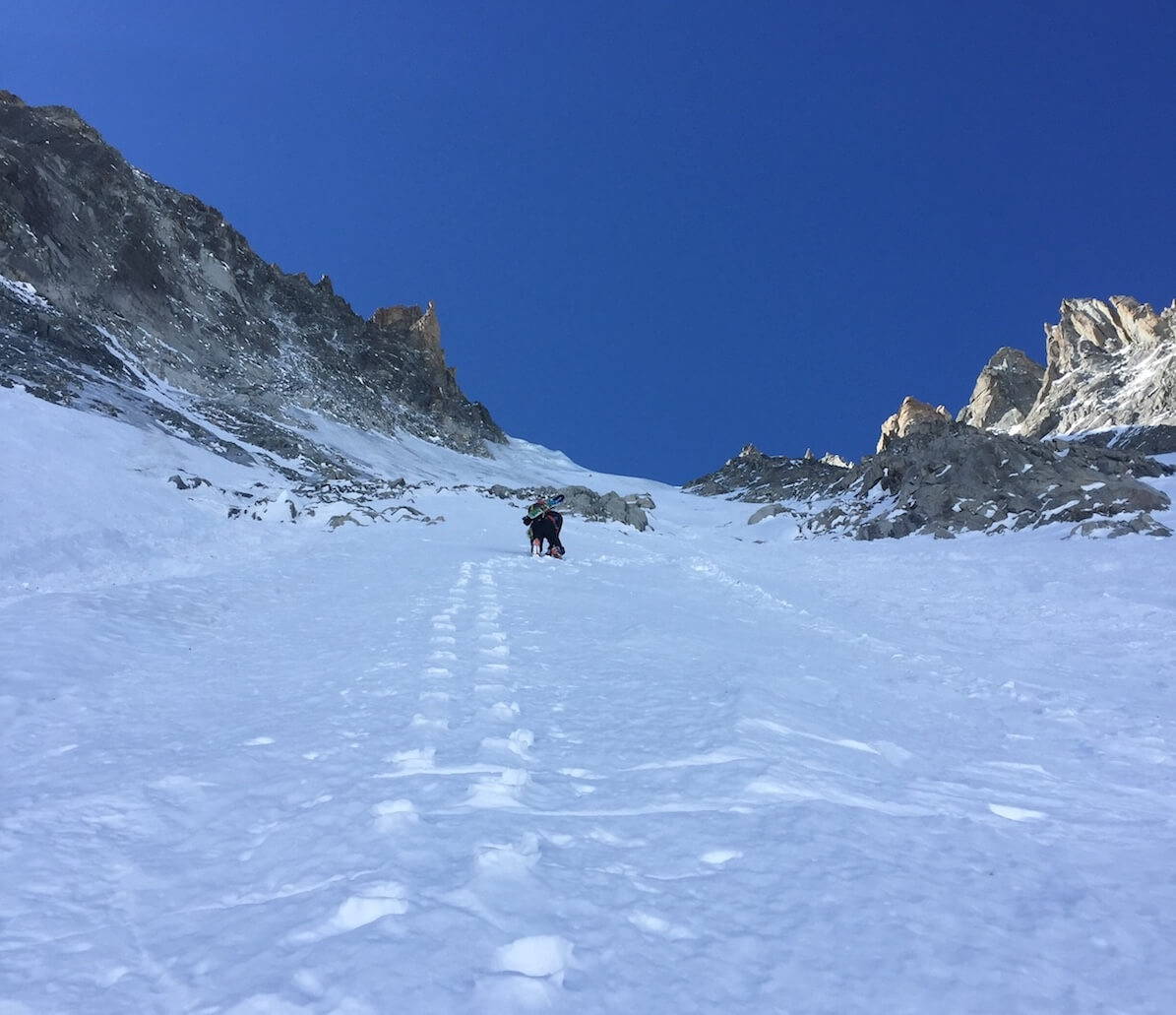 Gaby Rivas and fossilized bootpack on the ascent. Photo by Victor Major.
The climb was relentless. The consequential moves began at the 10-foot bergschrund and did not let up until we had reached the upper ramp. There were long sections that required front pointing on glacier ice and technical traverses under/through rock bands. The little snow we were on was generally only a several cm's directly on top of glacier ice. It was difficult to rest, but eventually we made it to the top with great relief.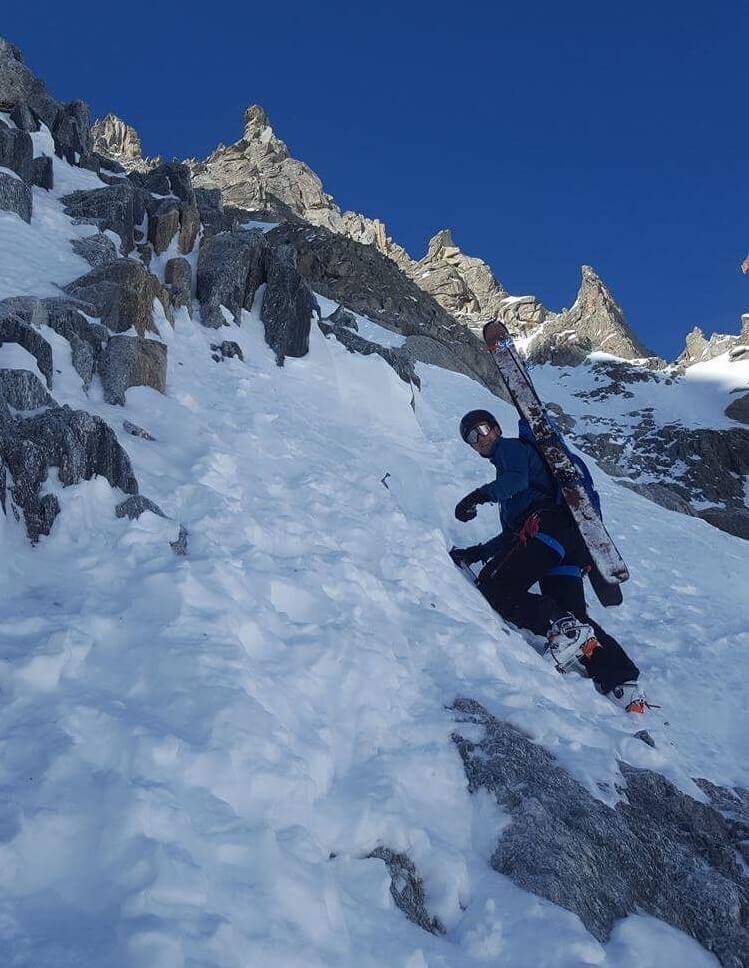 Don't look down. Photo by Gaby Rivas.
Our ski down was a classic steep ski descent, every turn demanded precision and control. Snow conditions were less than ideal so it was essential that every (hop) turn be executed perfectly. We alternated, leapfrogging each other and gradually made our way down.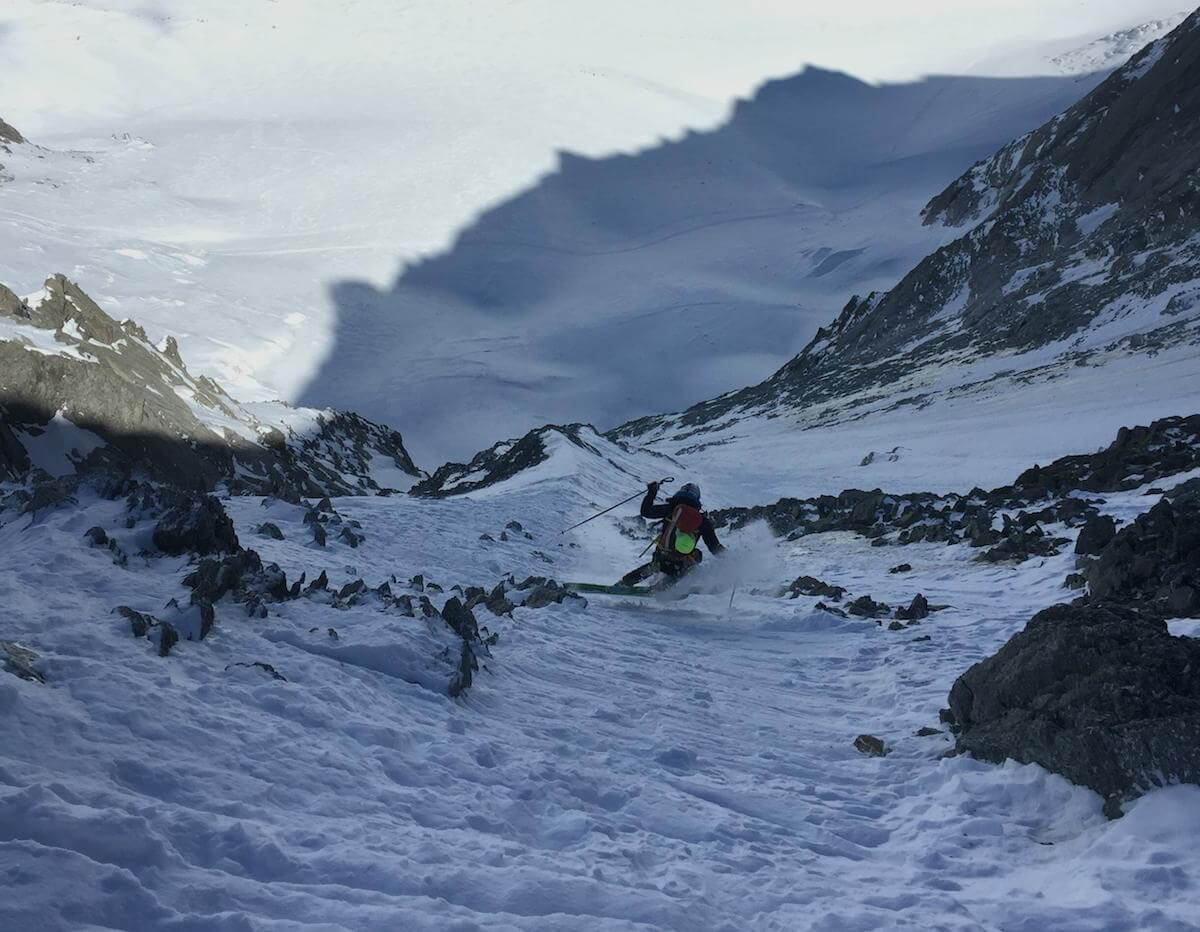 Gaby about a third of the way down making a nice move. Photo by Victor Major.
Coming out of the shadows of the Aiguille Verte and Argentiere Glacier to the rest of our group was an exceptional high. The climb and ski had challenged me like I knew only Chamonix could. It pushed my limits and I was gratified with a sense of accomplishment I have never experienced in Colorado.
Photo of the North face West col route from Mika Merikanto. Our route deviated near the bottom and continued fall line. http://mikumerikanto.blogspot.com/2014/02/col-de-laiguille-verte.html
COURMAYEUR
To take a breather from the intensity of Chamonix, we headed to the Italian side to indulge in laidback vibes, good food and sun. We stayed in a little town called Palleusieux, skied on the Helbroner, and on the Courmayeur resort. The views of Mont Blanc were incredible and the pizze and gelato in town were even better.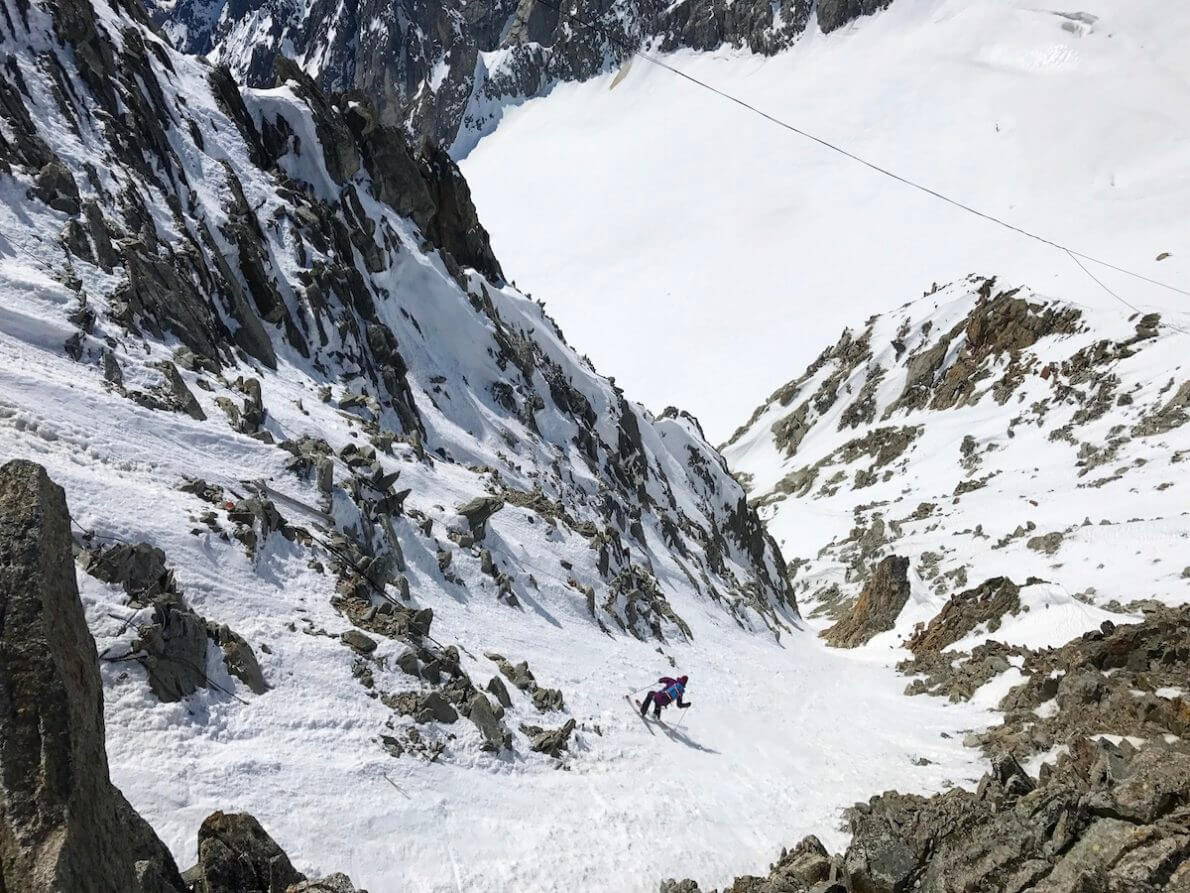 Dropping in off the Helbronner bridge. Courmayeur, Italy. Photo by Baker Boyd.
You can follow the sun around the terrain on the Helbroner tram. #cornhunting. Video by Baker Boyd.
The Courmeyeur employees were stoked to have us, they even stopped the tram in the middle so they could film us.
One more video from Courmeyeur. It was really fun to ski fast on good snow long after the last storm.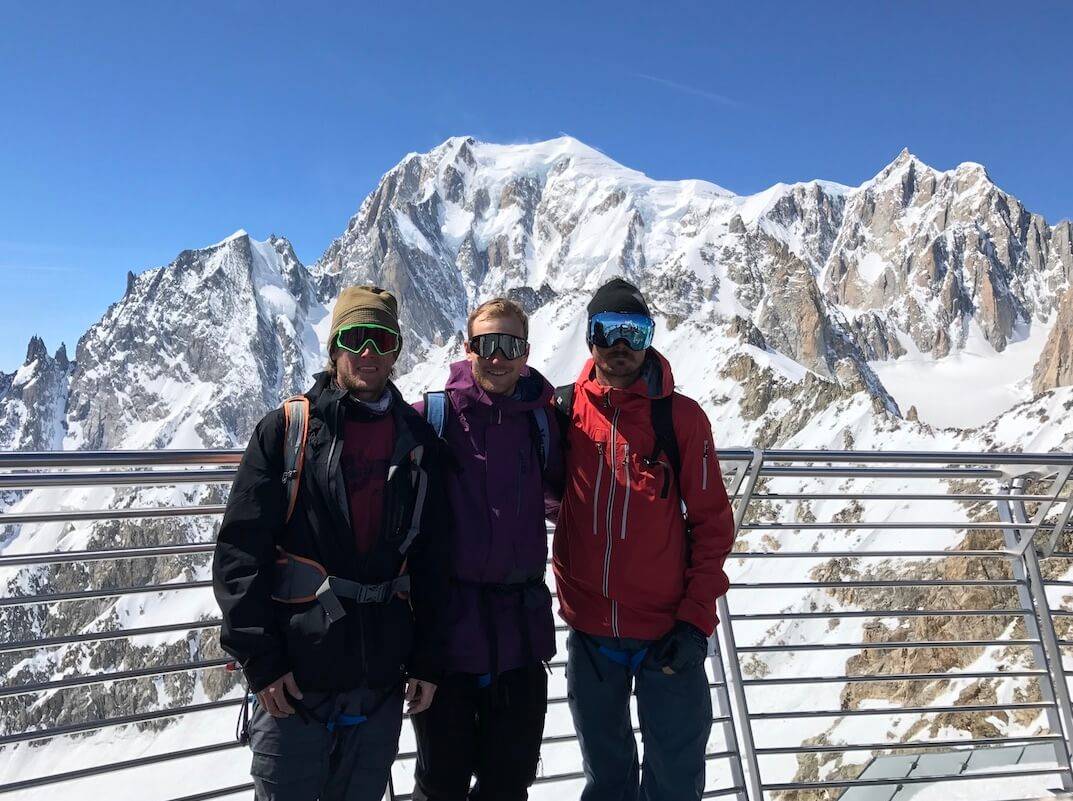 Top of the Helbroner with Mont Blanc in the background. Baker Boyd (left), me, then Sam Coffey (right).
Overall, Chamonix was an unbelievable trip. We skied some of the best lines in Cham, and really the world. I was able to grow my skills as a skier and mountain traveler and feel more comfortable than ever on seriously steep terrain. I experienced the (extreme) European ski culture and can't wait to go back. The consequences in Chamonix are the real deal. On our last day, were reminded of how many factors are at play and how few are in your control as we witnessed an accident on Cosmiques Couloir. It is up to the individual to make their own decision, and imperative to this decision is understanding the consequences of a fall on serious terrain, the external factors, and the internal factors. I feel lucky to be home safe and in one piece.
Headed to Chamonix? Here's a few things to keep in mind:
Under certain conditions, it is nice to have fat skis as they let you float easier over lurking chunder and ice, especially at speed.
Under other conditions, it is nice to have skinnier skis as they allow you to have better edge control and maneuverability, especially on steep hard snow.
It is fallacious to assume that you are the only people planning on skiing a particular line, especially on weekends or with good conditions.
Everything will be at least 20% more expensive than you plan on.
Just because people look like they know what they are doing does not mean that they do, or that they can ski.
Everything is 2 times farther away than it looks.
Two 30m ropes are enough, but two 60m ropes are better.
BETTER SKIING IS IN
YOUR DNA.
Wagner Custom Skis takes your skiing to the next level by focusing on your Skier DNA to create a ski just for you, and you alone. We want you to click in and immediately feel at ease. Let us help you design your perfect-fit, custom skis. It's easy.
I want to thank Wagner Custom Skis for their support of my journey to Chamonix. Pete truly makes the best skis on the market. Thanks to Greg Strokes at Oakley for keeping me covered from head to toe in gear and goggles/sunglasses. Thank you Sven Brunso for my favorite Leki poles and gloves. A special thank you goes to Baker Boyd and Sam Coffey for joining me on this trip (and showing me the ropes in Aspen this past winter). We were in Europe for 18 days and got lucky enough to ski 13. Here's a breakdown of our hit list.
Argentiere Basin
Col des Courtes (5.2)
Les Courtes, NE Face (5.2)
Aiguille d'Argentière, Milleu Glacier
Col de l'Aiguille Verte, Face N Col W (5.4/5.5)
Aiguille du Chardonnet (5.2) – fogged out halfway up and bailed
Aiguille du Midi
Cosmiques Couloir
Tour Ronde, Gervasutti Couloir (5.2)
Glacier Rond
Vallee Blanche
Courmayeur + Helbroner
Off and on piste skiing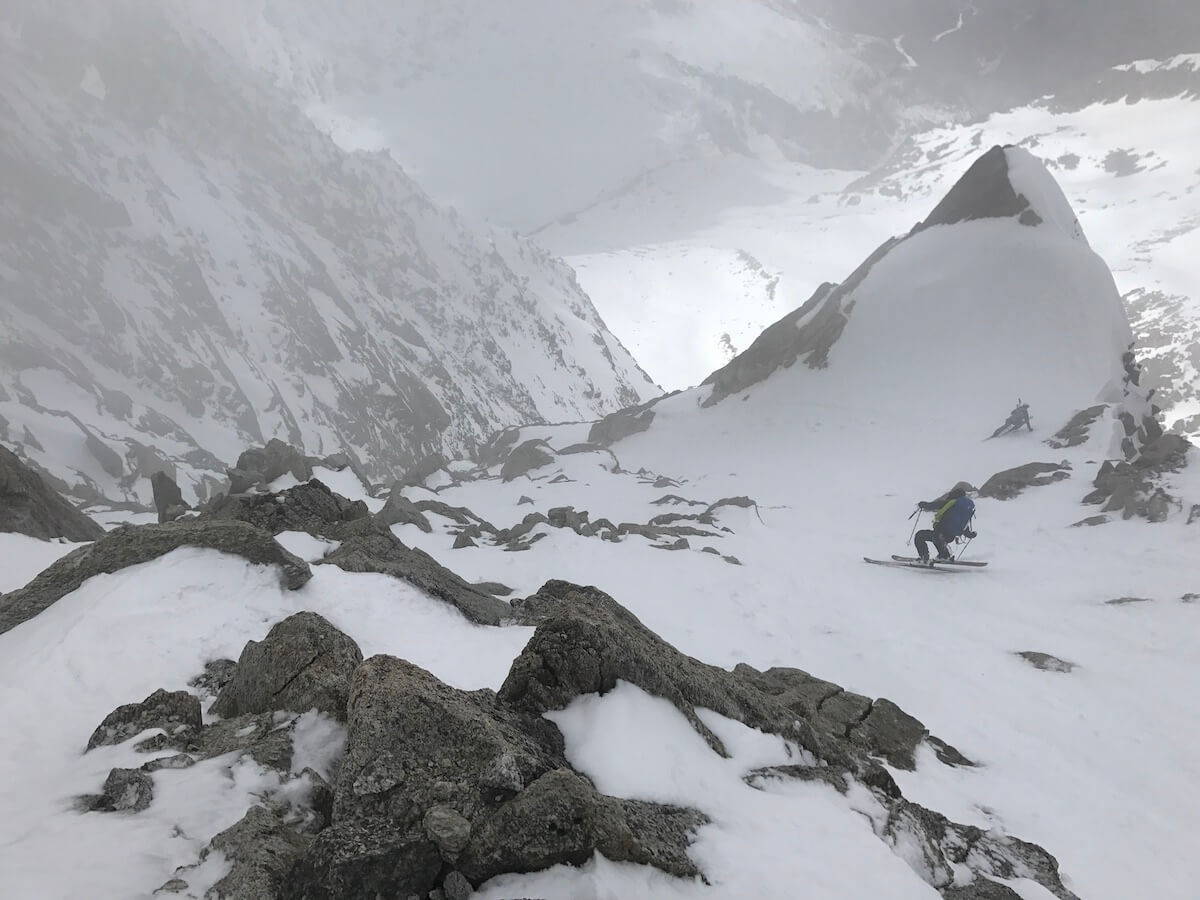 Turning back after fog kept us from the gaining the West Couloir on the Aiguille du Chardonnet. Photo by Baker Boyd.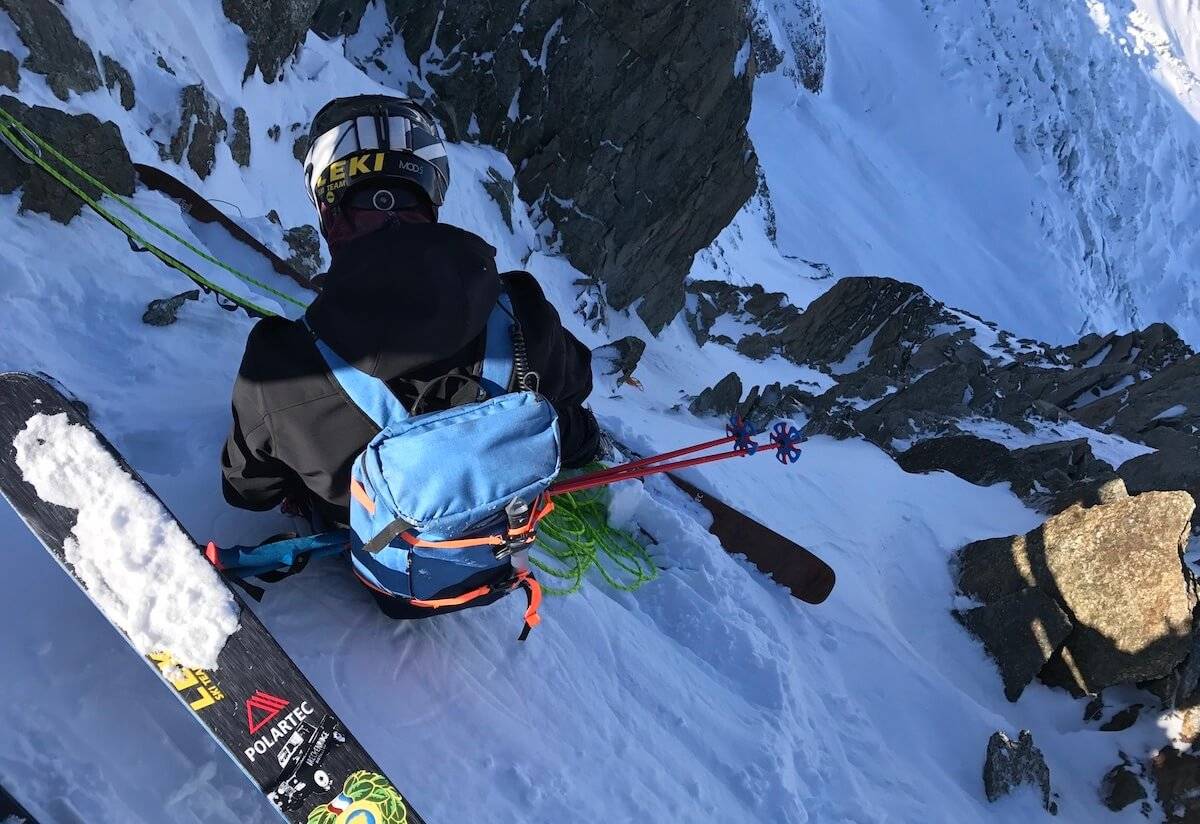 Preparing to rappel into Cosmiques Couloir. Photo by Baker Boyd.
Baker Boyd and Sam Coffey below Mont Blanc, but above the fog on Glacier Rond. Photo by Victor Major.