BACKCOUNTRY SAFETY: HOW TO THINK LIKE AN AVALANCHE PROFESSIONAL
Backcountry Safety
More people than ever are heading into the backcountry, it's one of the fastest growing segments in the snow sports industry and it shows no signs of slowing down. The equipment is dialed, but are the people skiing above and below you? Here's the best advice on how to think like a snow safety professional, from the professionals themselves.
FOLLOW THE AVALANCHE STORY
Billy Rankin, Snow Safety Director with Eleven Experience, starts his day with a cup of coffee and reads his local avalanche bulletin. He reads about the current snowpack problems, reviews the weather forecast, checks local weather stations, pays attention to how much snow has fallen, wind speeds and wind direction. He reads and examines observations and field reports and asks himself, how are these relevant to me today? Once he has saturated himself with specifics from local avalanche websites and resources, he forms his own opinion about what is going on with the snow and what he expects to see in the field. Check out AvalancheCenter.org to find the nearest avalanche center to you.
"The biggest piece of advice I can lend to users of the backcountry is to follow the avalanche story, and follow it every single day," says Rankin. He compares a winter season and the associated avalanche conundrums to a complex novel. The plot thickens with every storm, wind event and new snow layer formed in the snowpack. If you pick up the story in the middle of the season, you will be lost. The same is true if you look at the backcountry forecast once a week, seldom or never at all. Pay attention every single day.
HAVE AN OPINION
If you follow Rankin's advice, or even start now, you will be in a good place to form your own opinion about what is going on with the current snowpack before your skis even touch the snow. Jack Hutchinson, Lead Instructor at the American Avalanche Institute, suggests creating your own opinion and theory about what you will see before you head into the backcountry. Ask yourself how the snow has changed since the last time you were out, formulate what the snowpack will look like and what potential problems you might find.
Once you are in the backcountry and gather information on the snowpack, you can put your opinion to the test. Hutchinson suggests asking yourself, is the information I'm finding confirming my opinion or denying my theory? If you can't confirm your theory, why are things not as you expected? Seek out more information, understand if the problem is isolated and consider a safer route down.
SKI APPROPRIATE TERRAIN
Start your day with a plan to ski appropriate terrain. Speak amongst your group about why the terrain you have chosen is a good decision and continue this communication as the day progresses. Rankin suggests asking, is this terrain appropriate for the conditions today? He notes that there is appropriate terrain for every single day, you just need to match it with the current hazard or avalanche danger. If the avalanche danger is considerable or high, go to slopes that are less than 30 degrees.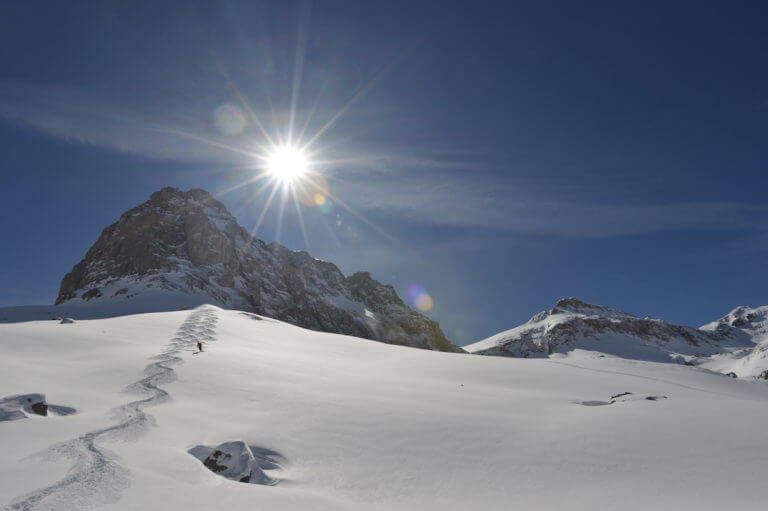 UNDERSTAND HOW THE HUMAN FACTOR AFFECTS YOU
Powder turns are addictive and everyone is susceptible to different human factors. Understanding what your red flags are and why, will ultimately help you make rational decisions. When your emotions start to tick, force yourself to go back to a logical decision making process. Hutchinson notes, "If you look hard enough, the snow will tell you what you want to see. Being objective and smart is the hard part, ask yourself honest questions and keep open communication among your group." Don't look for signs that tell you it's ok to ski a certain slope, look instead for warning signs.
MANAGE YOUR EXPOSURE  
Whatever level of risk you and your group decide to accept for the day, be sure to manage your exposure in the field. Rankin suggests asking yourself two things: how best should you interact with the terrain and how do you lessen your exposure. Always execute with proper ski protocol:
Ski one at a time
Avoid terrain traps
Regroup in the safest zones available
Keep high level communications
At the top of your line, have a conversation with your group that covers the following:
If there is an avalanche, where are we likely to trigger it?
Where will it propagate?
How big will it be?
If I take a ride, where will I end up?
Where is the best location to regroup?
How do we lessen our exposure?
EDUCATE YOURSELF
You've heard this before, but here's a friendly reminder:
At the end of the day, ask yourself honest questions about the decisions you made. Should you have backed off, did you get lucky? Did you make good decisions, how? Speak up about your experiences, what you could have done different and never put your guard down. Make wise decisions so you can ski again tomorrow.
Want to learn more about backcountry safety? Check out these articles: