Behind the Lens: Kane Scheidegger
by Wagner Skis / Jun 25, 2018
KANE SCHEIDEGGER
Kane Scheidegger is a born and bred Colorado kid. He grew up in Ridgway, Colorado, enjoying the great outdoors. His dad was the captain of the Ouray Mountain Rescue team, which allowed him to experience the mountains in a way most kids couldn't.
In 2005, Kane graduated from the Art Institute of Ft. Lauderdale with a Bachelor's of Science Degree in Graphic Design. He quickly realized the mountains were home and moved back to Ridgway. The following year, he and his older brother Travis started a web and graphic design business. Kane quickly discovered that most small businesses had few decent photos to tell their stories – a lack that led to mediocre marketing materials. He began taking his own high-quality photos to use in client projects. That initiative was an instant success.
Kane's style of shooting progressed to large-scale panoramic images. He notes that the mountains in the San Juans are so big that they couldn't be captured in a single image. In 2012 he dropped the graphic/web business and put everything into his photography. Kane's photos are larger than life, mostly printed on canvas, and embrace mother nature at her best. Many of his images are so large that they must be printed in multi-panel, format, and as deep as two and a half inches. This gives them an interactive feel and look, quite different than your average photograph. The startling detail in these vast photos springs from Kane's high-level obsession with color consistency, craftsmanship and the best materials and equipment – right down to the printers.
In the summer, you can find Kane deep in the mountains hiking, backpacking, and exploring hard to reach places. In the winters, he roughs it in the worst conditions to get beautiful and often moody shots. In the shoulder seasons, Kane voyages through the desert capturing texture and graphic-inspired photographs. His eye for dramatic vistas and scenery, coupled with his desire for new perspectives on familiar places, has him in constant explore mode. He loves traveling to new places with out-of-the-ordinary scenery. Recently he has become fascinated by oceanscapes – certainly a new environment for a mountain boy.
You can view Kane Scheidegger's work in person at his Ridgway office/gallery (133 N Lena St, Ridgway, CO 81432) or in Telluride at Gold Mountain Gallery (135 W Colorado Ave, Telluride, CO 81435). You can also view his images online via his website or via his Instagram profile here.
The following images and words were put together by Kane Scheidegger.

ASPEN WONDERLAND – A first snow falling on golden aspens framed by an old barbed wire fence.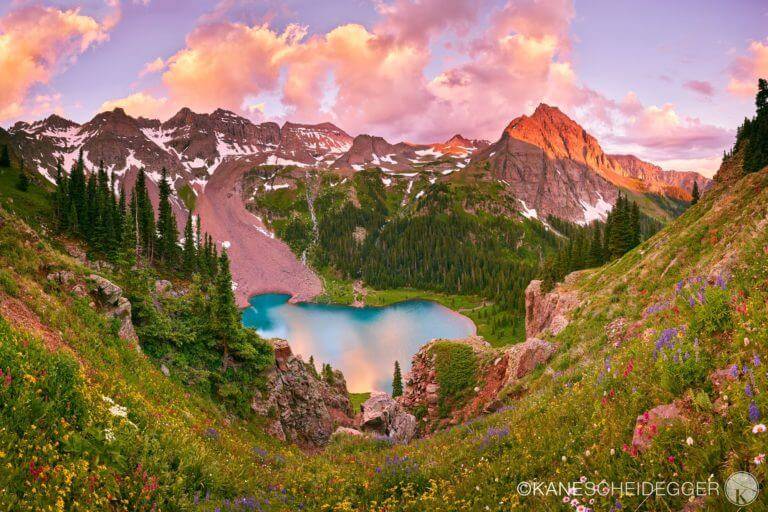 BLUE SUNRISE – Sunrise over the lower Blue Lakes surrounded by wildflowers in the Sneffels Wilderness.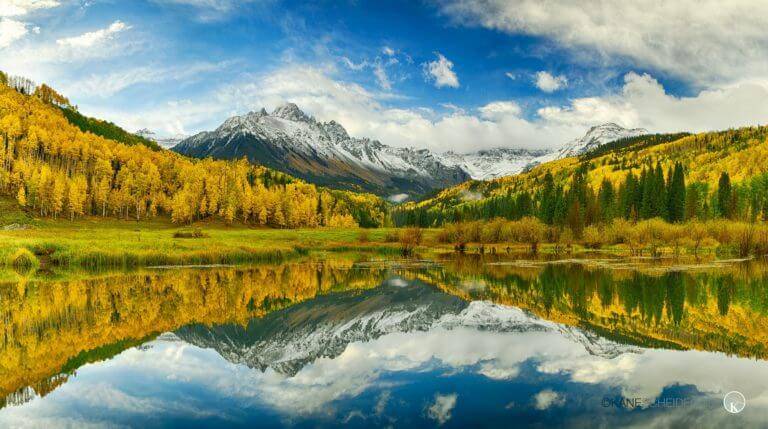 GOLDEN REFLECTIONS – Mt. Sneffels is reflected in this wonderful fall scene highlighting the fall colors and a first snow of the season.
BLUE ICE SUNSET – A beautiful sunset over Ice Lakes surrounded by gardens of wildflowers.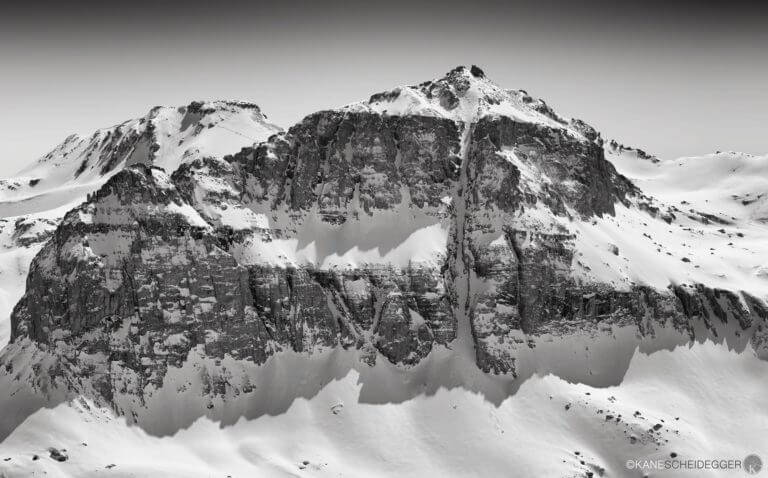 JOAQUIN FANGS – Skiing San Joaquin Couloir with friends.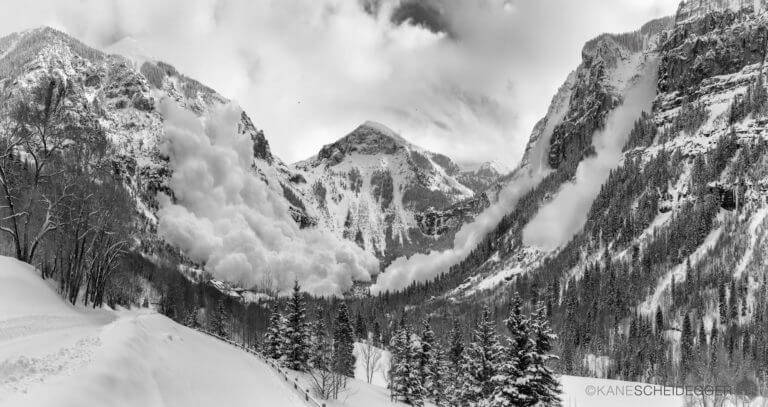 SNOWDRAGONS – Avalanches triggered above the Iderado Mine and Bridal Veil Falls in Telluride.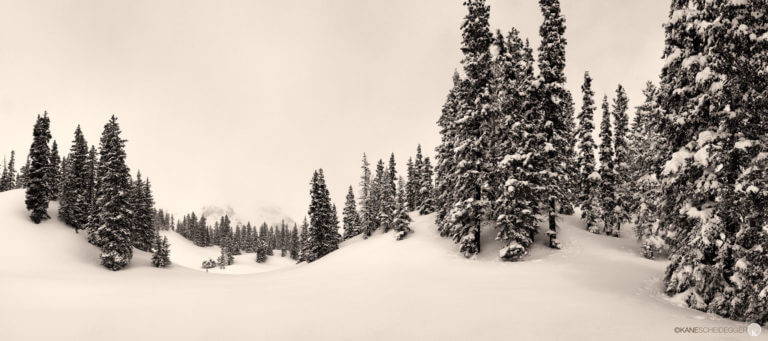 SNOWGARDEN – A still morning after a late spring snow on Red Mountain Pass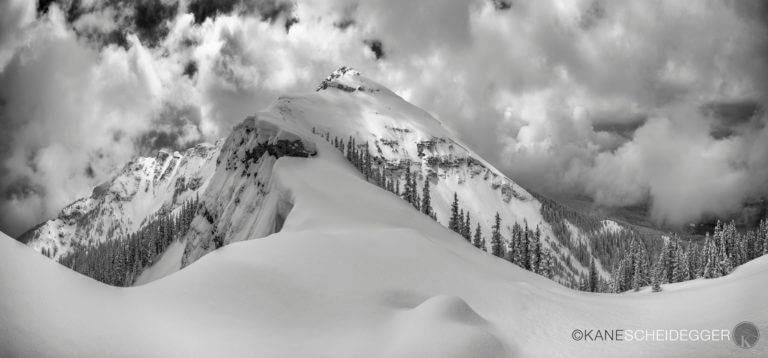 THE GUARDIAN – Devin Overton rides Chipeta's massive face in the Sneffels Range.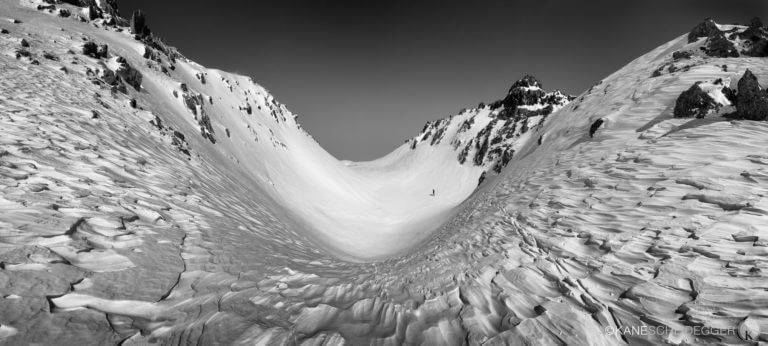 TIME WARP – Sestrugi formations created by wind high in the San Juans.

WINTERS BLISS – A colorful sunrise over Sunshine Peak and the Wilson Range.
TEMPTATION – Powder day in Bear Creek.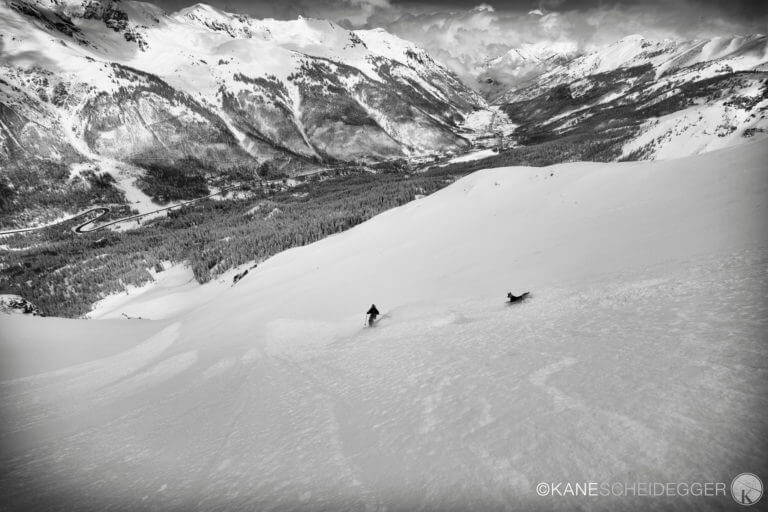 DOG DAYS – Stella the avalanche dog getting her face shots!
Back to JOURNAL