BEHIND THE LENS: WES WYLIE
by Wagner Skis / Jun 10, 2019
 Wes Wylie really has it figured out.
We've all met skiers who have retired from real-world careers in order to teach skiing or just ski full time. Wes didn't wait to retire. Instead, just a few years after graduating from medical school, he figured out a way fit heliskiing, guiding and adventure travel into a successful medical career.
Wylie was born and raised in Calgary and grew up skiing the Canadian Rockies. Early on he determined that his career must allow him to live anywhere, with job security. Physicians are in demand everywhere. After graduating from medical school at the University of Texas, in 1986 Wylie moved to Utah.
Over time, Wylie started his own medical practice which enabled him to carve out more time for skiing and guiding. In the spring, he would head to Alaska and eventually he started guiding in Valdez. Wylie made great friends and connections in AK, one particularly good one was Mike Overcast. When Overcast started Tordrillo Mountain Lodge, he reached out to Wylie and offered him a guiding gig. As you can predict, Wylie said sure thing.
Today, Wes Wylie works hospital hitches only when he wants to. He spends springtime heliskiing in Alaska, late summers and autumns in Patagonia and New Zealand. It's safe to say Wylie has his priorities in order.
As Wylie spent more time in the mountains, so did his camera. The geography in Alaska is incredibly inspiring. The camera used to travel in his backpack, but now it's on call via a harness on his chest. To shoot folks skiing and riding the biggest lines of their lives, you need quick reflexes and immediate access to the camera. Besides adrenalin action, he loves photographing huge mountains, glorious landscapes and dramatic storms.
Because Wes Wylie is a wealth of knowledge, we did a quick Q&A with him to get the latest ski and photography beta.
Wagner: What camera do you currently shoot?
Wylie: The Sony a9 Alpha with many lens options.
Wagner: How many photos do you take on any given day?
Wylie: When I'm skiing with clients, I take between 2,500 and 3,000 photos each day. When we return to the lodge, I usually download a few highlights to airdrop to guests at dinner. It's really fun to see the expression on their face when they see the photos for the first time. It's pretty cool to be able to send memories home with my clients, a piece of an epic trip that they can always hang onto.
Wagner: What is your favorite location to snap pictures of? Why?
Wylie: The Tordrillos are by far my favorite. It's a massive venue that is continuously changing. Each time I head into the Tordrillo Mountains, there is more to see and captivating landscapes that emerge.
Wagner: If you could recommend one dream ski trip/adventure for skiers, what would it be?
Wylie: The ultimate trip would be a heliski safari in Alaska. Initially stage out of the Tordrillo Mountain Lodge, starting in the Neocola's to the south and work north through the Tordrillos to the Totoilon, Teocalli, and Northern Alaska Range, ending up at the Wintel Lake Lodge.
Wagner: What is the most picturesque ski destination?
Wylie: The Alaska Range is brilliant for its pure glacier magnificence. Another favorite is the Andes in Chile which are massive, stark and barren. The contrast of rock and ice there is absolutely incredible. And last is New Zealand's Southern Alps. Snowcapped mountains jut out around lakes. It's really beautiful there.
Wagner: Do you have any tips for ski photographs or ski photographers?
Wylie: You have to pull your camera out of your pack and actually use it if you want to capture great images. Shoot as many photos as you can. Look for backgrounds that make your jaw drop. It's one thing to shoot a skier and another to shoot a skier with a dramatic lighting effect caused by background, shadows, or weather.
We're pretty sure that if we could trade lives with anyone for a year, it would be Wes Wylie. Need more? You can keep up with Wylie's ski adventures and photography via his instagram @tmlguide. And, check out this article about Wes Wylie from Forbes.
Words and photos by Wes Wyle.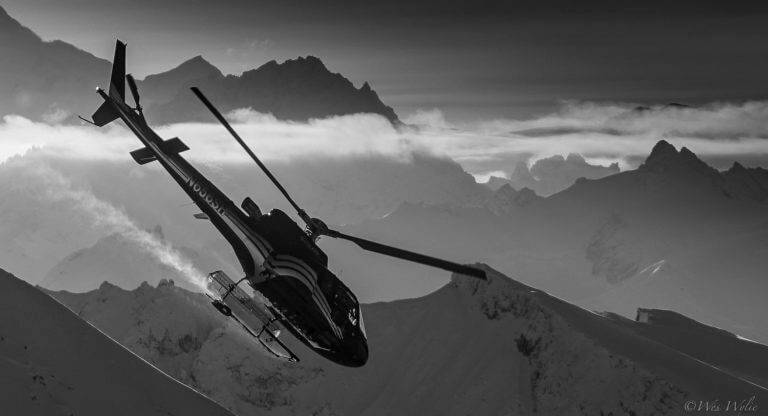 Our amazing pilots at work in the remote mountains of the Tordrillo's, Alaska.

I took this of the Tusk during my early years guiding in Valdez, Alaska. I called it the Crown of the Tusk because of the large avalanche crown that is visible on it.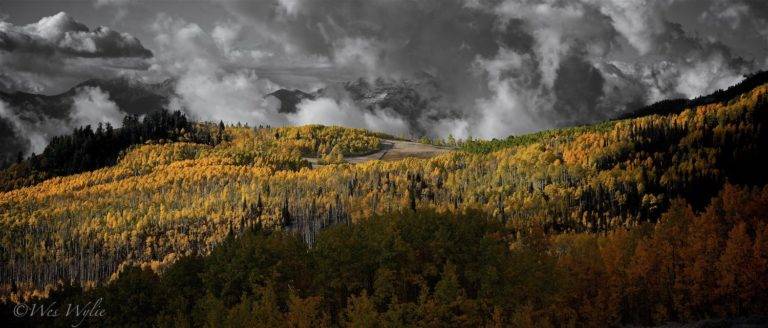 Out my back door, Autumn in the Wasatch.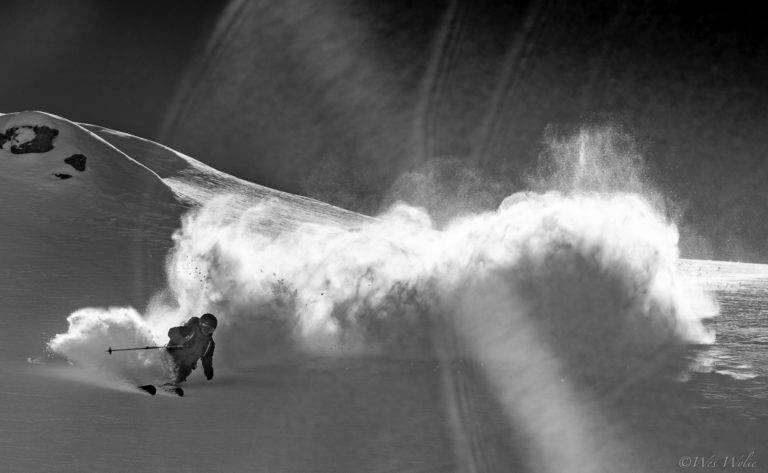 Bending snow and light in New Zealand outside of Wanaka with skier Nick Kingston.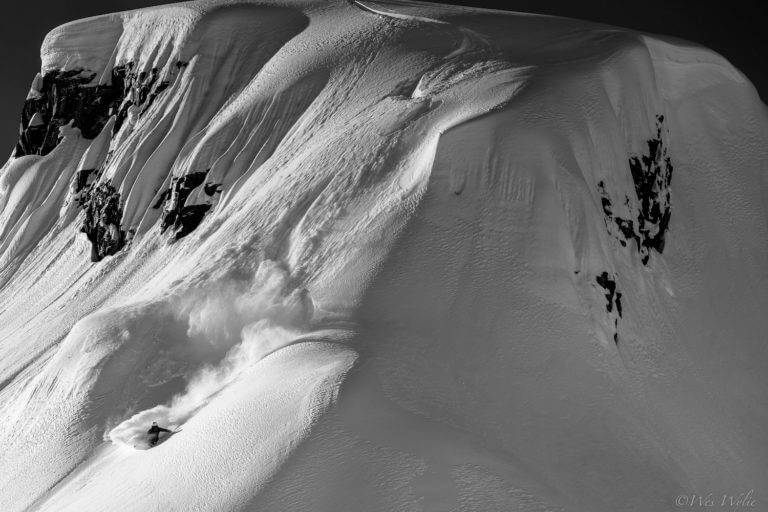 A classic powder line in the Tordrillo Mountain Range, Alaska. Skier: Constantine Schoen.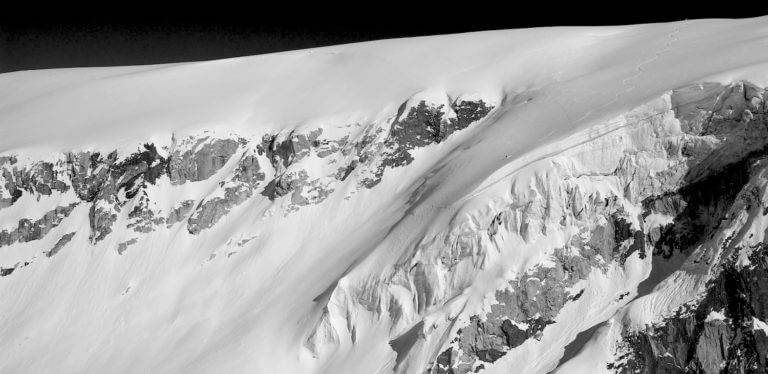 Opening up a classic run on a splitter day in the Tordillos, Alaska, called Dragons Breath. Skier: Guide Bill Dyer.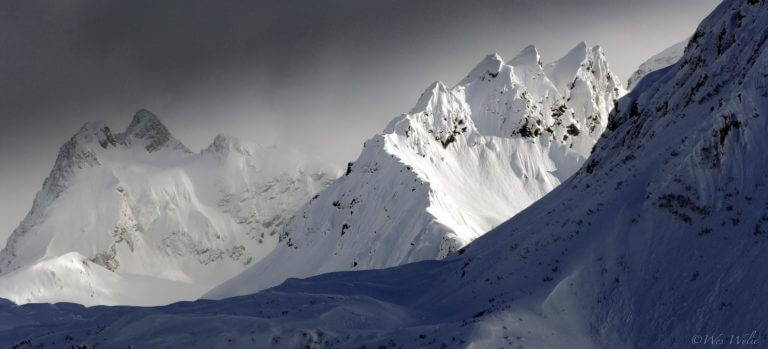 From a day guiding in Valdez, Alaska, while we were being pushed around by incoming weather.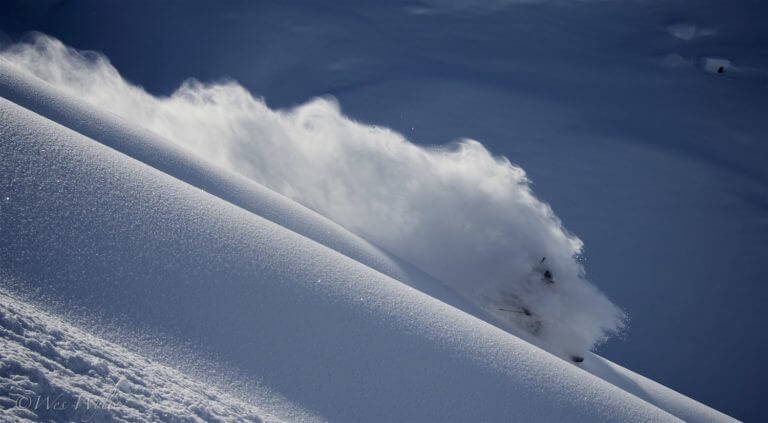 One of my favorite ski shots of Greg Harms skiing the Montrachet Spines in the Tordrillo Mountains of Alaska. I took the shot from inside a snow pit I had just dug to evaluate the snowpack before Greg opened up the run. This photo took second place in a photo contest for Backcountry Magazine.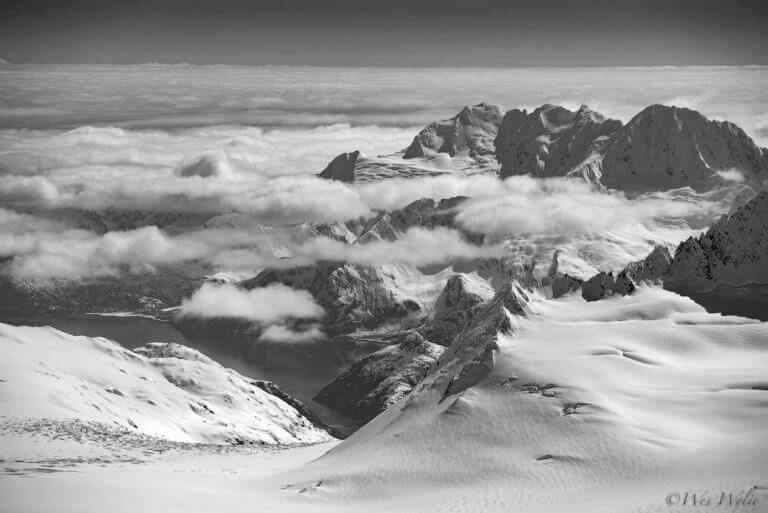 Skiing in remote areas of Alaska near the coast is always impressive, this shot was taken outside of Seward, Alaska.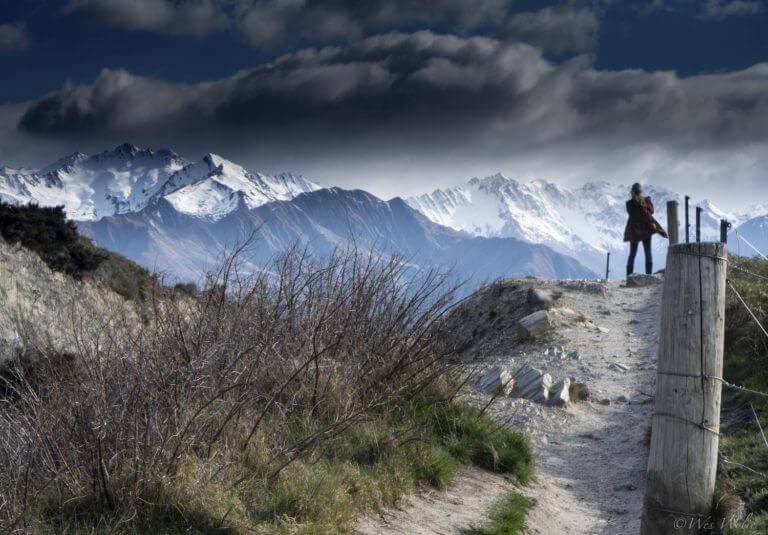 New Zealand is a very special place to visit. This was taken outside of Wanaka of my wife while we were driving out to the staging area for a day of heliskiing the mountains in the background.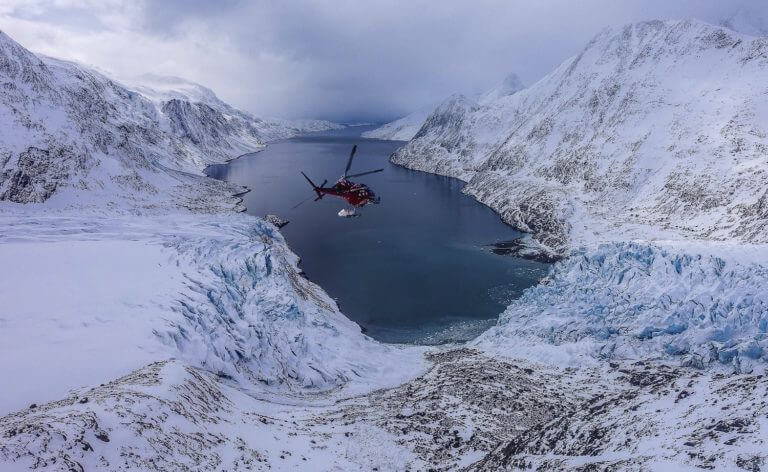 I like this photo because it shows the remoteness and beauty of guiding in Greenland. It has weather, ice and rocks, plus the always impressive ice filled fjords.

End of the day sunset after we skied St. Augustine Volcano on the right. For this trip we staged off the coast of Alaska on the VAVA II, a 350-foot super yacht for two weeks. Skiing this volcano was one of the highlights of a very memorable trip exploring the remote Alaska coastline.
Swans flying in formation over the Seward Ice Cap, this shot was taken from the helicopter as we were flying back to the VAVA II anchored in Homer after a day of heliskiing in the mountains around Seward, Alaska.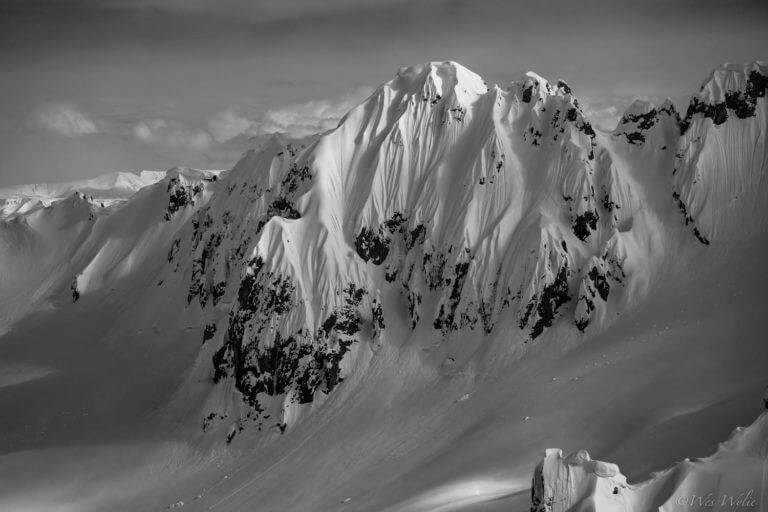 From last season in the Tordrillos while looking for new terrain to open up.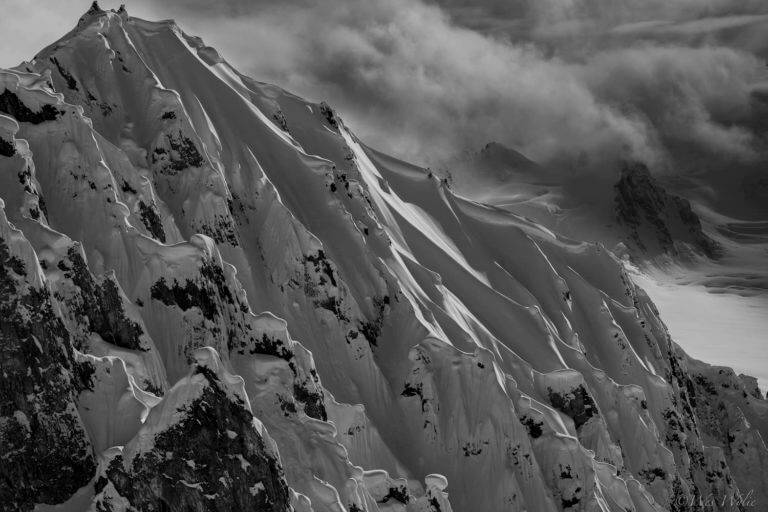 A new line we opened up this year with Travis Rice, in the Tordrillo Mountain Range of Alaska.
Back to JOURNAL