Crested Butte Vacation Beta
CRESTED BUTTE
Crested Butte is often referred to as the best kept secret in ski country, and frankly we agree. The town is picturesque, lined with Victorian-funky homes, cozy shops and inviting restaurants. Crested Butte Mountain Resort is rowdy, it's known for its steep lines and expert terrain. However, the mountain has a soft side as well and is extremely family-friendly. CB has had an incredible winter with record-breaking snowfall. Here's everything you need to plan your next ski vacation to Crested Butte, Colorado.
Where to Ski
CRESTED BUTTE MOUNTAIN RESORT
The town of Crested Butte might be a sleepy secret in the Colorado ski town scene, but the resort is as rowdy as the big names (like Jackson Hole and Telluride) and for good reason. The "Extreme Limits" are the backbone to the ski area and within this area SpellBound and Phoenix Bowl offer steep technical options. To get to these zones, there is a short side-step from the top of the North Face Lift, which is actually a T-Bar. The main north face of the resort has a variety of short technical runs to keep you on your toes. The west side of the mountain has long, narrow runs such as Banana and Funnel which are easily accessed from the Silver Queen Express Lift. This zone is great in the afternoon sun, especially during spring slush bumps.
It's a powder day? Head to the Sock-It-To-Me-Ridge, Staircase, or Dead Bobs and you won't be disappointed. If you hit the resort on a powder day and subsequently on the weekend, the lift lines will likely start to fill up with locals. You can still hike out to the glades, get in multiple laps and rarely wait in a line. SpellBound Bowl is hike-to terrain while Teocalli Bowl is hike-out terrain, because there is hiking involved, both of these zones see fewer skiers.
Here are a two local's tips: Avoid the North Face Lift (NFL) by hiking up to the glades. Use the High Lift to access SpellBound when the NFL is super long (it will get you in the back door a little quicker).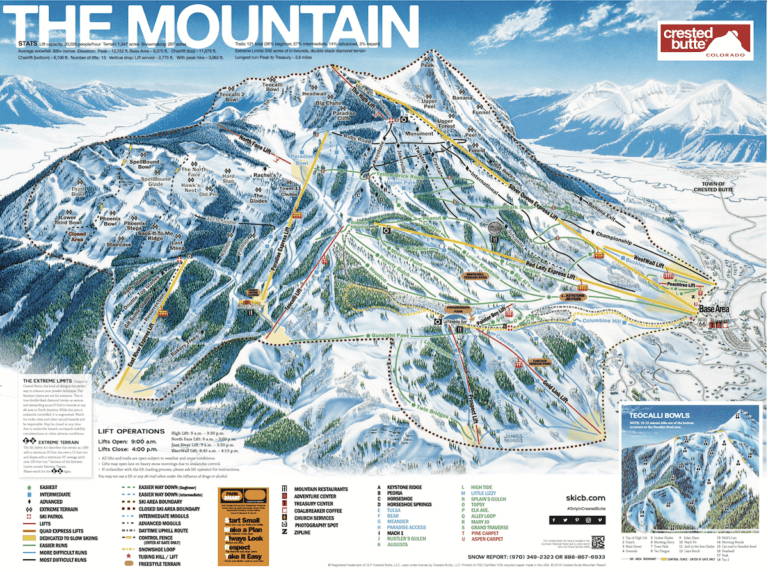 UPHILL ACCESS
If you like exercise and earning your turns, Crested Butte is the mountain for you. They have one of the most progressive uphill access policies in ski country. A variety of uphill routes are available before and after the resort opens/closes, plus one route that is available for use all day. They even have a designated bike zone if that is your thing. View the map and check out their guidelines here.
BACKCOUNTRY
Backcountry skiing is accessible in the five different drainages around the town of Crested Butte. Mid-winter is great for powder skiing while spring is the time to hit peak summits.
Washington Gulch: Drive from Crested Butte towards Mount Crested Butte. Turn left at the FS sign for Washington Gulch and park at the trailhead. Head up the valley and tour up east facing (left) slopes. This area encompasses steep open glades as well as an open bowl. Vertical descent is between 700 and 1000 feet and slope angles vary between 25 and 40 degree. Once you get out, ski laps are encouraged.
Snodgrass: Drive past the ski area to the end of the plowed road. Head out and up the summer mining road (but not the road to Gothic). From the top of the road you can ski the north facing slopes. There are several chutes, gullies and slopes that can take you to Gothic road. The vertical is between 1500 and 1800 feet and there are steep glades, gullies, and open slopes. The Average slope angle here is between 30-45 degrees.
Mount Axtel: Drive west from Crested Butte to the Kebler Pass trailhead. Tour up the road until you get to windy point (the road narrows and there is a big switchback). Just past windy point head up the north facing (left) flank of glades then head east up the ridge of thick trees. This zone encompasses steep bowls with glades and alpine terrain. The average slope angle here is 45 degrees and the vertical is approximately 2,100 feet.
---
BETTER SKIING IS IN
YOUR DNA.
Wagner Custom Skis takes your skiing to the next level by focusing on your Skier DNA to create a ski just for you, and you alone. We want you to click in and immediately feel at ease. Let us help you design your perfect-fit, custom skis. It's easy.
---
Red Lady Bowl (Mount Emmons): Drive west from Crested Butte to the Kebler Pass trailhead. Tour up the south side (right side) of the road on the west side of the gully. Follow the glades and soft ridgeline to the summit of Mount Emmons. Ski the main bowl, Red Lady, back to the trailhead, or choose from a number of options of different aspects and bowls.
If you don't know the area, we highly recommend the professionals at Irwin Guides. They can assist with backcountry skiing, ski mountaineering and avalanche education. There is also snowcat skiing at Irwin, located 10 miles outside of Crested Butte. The team at Eleven Experience runs the show and is a must-do if you can make it work. Learn more about cat skiing here.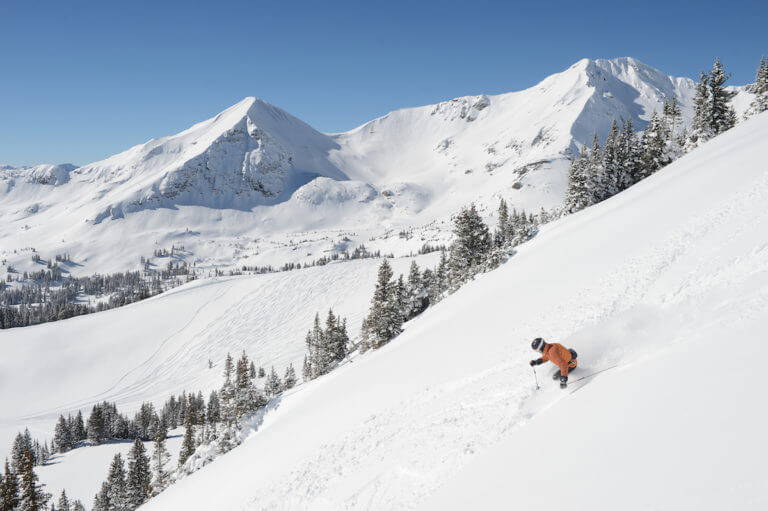 IMAGE: IRWIN, ELEVEN EXPERIENCE
Where to Stay
Depending on your price range and what you are looking for, Crested Butte and Crested Butte Mountain Resort offer something for everyone. Here's what we suggest:
IMAGE: SCARP RIDGE LODGE, ELEVEN EXPERIENCE
Where to Eat
The food is delicious and the ambiance is charming. Here's a list of food options for before, during and after a ski day in CB.
Coffee:

 

Camp 4 Coffee.
Breakfast: Paradise Cafe in the town of Crested Butte, they also have great lunch options.
Lunch:

 

Teocalli Tamale

 

for the best in burritos, tacos and tamales. If you are eating at Mt. Crested Butte, head to

 

Avalanche Bar & Grill

 

or Brown Dog.
Dinner:

 

Secret Stash

 

for the ultimate in gourmet Pizza and a fun atmosphere or the Sunflower for a fresh farm to table twist on your favorite dishes.
Where to Apres and What Bars to Hit
Apres: Brown Dog or the Avalanche Bar & Grill at the base of the resort.
Best Drinks:

 

Montanya's Distillery

 

for the ultimate in craft rum drinks. Seriously, so tasty.
Bonez

 

for tequila and just another great drinking spot.
Looking for a late night scene? Check out the

 

Eldo

 

or Talk of the Town.
Local's Tip: If you sit at the community table at

 

Elk Ave Prime, you can get the bar menu which is the best dinner deal in town.

IMAGE: MONTANYA RUM
Crested Butte is an inviting town and has everything you need for the perfect vacation, from skiing to dining and everything in between. Oh, did we mention the locals are awesome? Time to start planning your next ski trip.