Customizing Your Mountain Bike
by Wagner Skis / Aug 06, 2018
BUILD YOUR OWN MOUNTAIN BIKE
The past decade has brought incredible advancements in bike technology. Progress has allowed riders to go farther and faster on more technical terrain – all in better comfort. With the huge variety of options out there, you can certainly find a bike that's close to perfect for the riding you want to do.
Some riders, however, have specific requirements not met by off-the-rack bikes. Perhaps you want the geometry of a frame from one brand, but you like the wheels or gearset components from another or need an aftermarket saddle for comfort.
The most obvious way to start the custom process is to zero in on the geometry that fits your own physique. Every rider has a unique set of proportions – arm length and leg length to trunk length – and your bike's proportions of top tube to seat tube to downtube should put you in a position that's comfortable while helping you apply efficient power to the pedals. You'll also want to find a combination of suspension travel, wheelbase, steering angles, wheel size and even frame material that suits the terrain you expect to ride. So, start out with a few demo days on various bikes. Get in as many different geometries and wheel, tire and sizes as your time and budget will allow.
As part of that process you may find you prefer a specific set of gear-change and braking componentry. Take notes after each ride about what worked well for you and what did not.
Maybe you'll find one bike that does it all. If not, you'll come away from the demo process with some clear preferences. Some brands offer the option to choose your frame (typically aluminum or carbon, but titanium and even old-fashioned cro-mo steel bikes exist), followed by a choice on build kit – suspension, drivetrain, shifters, brakes, etc. and in the end, with a good brand, a color decision.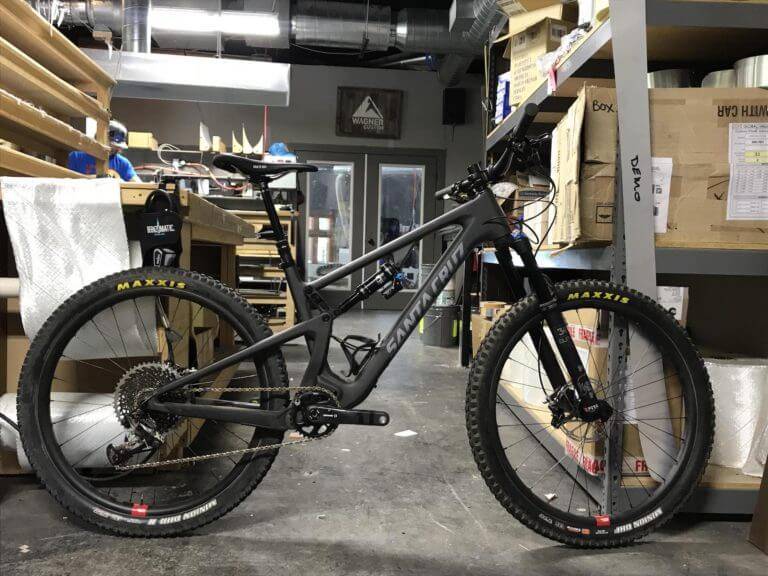 The new Santa Cruz 5010 at the Wagner Custom Skis Factory.
Once you have a bike model and build kit picked out, it's time to pimp your ride. Some of the more progressive bike brands (read: Santa Cruz Bicycles) now offer more options to tune their bikes post-purchase. For instance:
Suspension – Most modern-day suspension systems have settings that you can easily change on your own. Learning the basics will allow you to modify the bike to your preference. Do you like a stiff or soft shock? Perhaps you prefer to lock out your suspension on the uphill? Whatever the case, the settings that work for one rider, may not work for the next. Get knowledgeable about the features and do some experimenting so you can dial in your suspension for your biking style.
Wheel Size/Volume – The three standards in the marketplace these days are 650b (27.5-inch diameter), 650b+ (27.5 inches diameter plus a wider tire), and 29 inches. Some brands offer interchangeable wheel and tire options. This allows bikers to sub between two of the three options listed above with just one bike model. As an example, with the new Santa Cruz Bronson and 5010 models, you can put on a Plus tire for a sandy ride in Sedona and switch to a standard tire for mountain riding in Telluride, all with one bike model. (Learn more about picking the best wheel size for your mountain bike here.)
Flip Chip – A flip chip is a small adjustable nugget hidden in the linkage of mountain bikes to adjust the geometry and suspension setup. When you put on a Plus sized tire/wheel, the height of the axles and bike are raised. The flip chip allows the geometry to be optimized as the wheels change. Simply said, the flip chip will allow you to switch between tire sizes and the bike will still work for you. For our nerdy bikes friends, you can even adjust the height of the bike from ride to ride to accommodate for things like clearance, how you want the bike to ride, or where you are riding.
Without over complicating things, these customization options will allow you to optimize your bike. Quite like custom skis help people ski better, these innovations will allow a rider to tune their bike and capitalize on what makes them a good rider.
Beyond these model-incorporated customizations, there are some aftermarket options you should also consider. Here's our shortlist:
Contact Points – Upgrading your grips and especially your saddle will help with a more comfortable ride. Everyone's tushy is a little different, and if the stock saddle on your bike doesn't feel right, switch it out. A good retailer can guide you to a saddle with a shape that better matches your shape.
Cockpit – A good retailer should be able to help you dial your cockpit – the bar, stem and shifters. As with contact points, comfort is key, but a proper fit is essential. Bar and stem should match your back and arm length. Shifters and brake levers should match the size of your hands.
Pedals – Mountain bikes don't come with stock pedals. This is a great opportunity to put on what you need from the start – flats or clips. Choose a pedal you're comfortable with, and that mates with a pair of shoes that fits perfectly. (Shoes are a whole 'nother subject.)
Electronics – You may want a computer to track groundspeed and distance. More sophisticated units offer GPS mapping or heart-rate monitoring. Most computers attach to the bars, but some watches offer similar readouts. The simplest choice may be to put a smart-phone holder on your bars and use your phone's GPS apps.
If you are looking for a new bike and a "build your own" shopping option, check out the Santa Cruz Bicycles Bronson and 5010 models. Shoutout to Seb Kemp, brand manager at Santa Cruz, who chatted with us earlier this summer about mountain bike customization. This article was formed with his help and advice. Kemp has done it all in the mountain bike world, from coaching to trail building and traveling all over the world to bike (he's ticked off more mountain bike locations than you can think of). When he's visiting his favorite ski towns to ride this summer, the 5010 is his steed of choice. But, if he could only have one bike (gasp) for all his travels, he would go for the Bronson. His top advice? Always enjoy where you are and what makes the mountain biking unique to that area. Happy biking!
Seb Kemp and the new Santa Cruz Bronson at the Wagner Custom Skis Factory.
---
BETTER SKIING IS IN
YOUR DNA.
Wagner Custom Skis takes your skiing to the next level by focusing on your Skier DNA to create a ski just for you, and you alone. We want you to click in and immediately feel at ease. Let us help you design your perfect-fit, custom skis. It's easy.
Back to JOURNAL