How to Execute the Perfect Ski Trip
SKI TRIP TIPS
Traveling today isn't all cotton candy and rainbows. Try more like delayed flights and angry TSA checkers. There are, however, a few precautions you can take to get the most out of your travel day and subsequent vacation experience.
To maximize your ski holiday, here are a few tips to consider when making the journey:
Fly nonstop if possible. Ski vacations mean it's winter, and that equals snowstorms. If you can take off once and land once, your chances of getting stranded are dramatically lessened compared to an itinerary packed with multiple layovers.
Carry-on your ski boots. You can rent or buy almost everything from a local ski shop, except for your perfect-fit ski boots.
Have plenty of Emergen-C, Airborne, etc. with you. There is nothing worse than coming down with something on your way to freedom.
Stay hydrated. Water consumption will help you adjust to the high altitude, sip on your favorite cocktail without a hammering headache the next morning, and—at least for a few runs—keep up with the locals.
Don't forget a swimsuit. Hot tub gatherings (parties) are the best. And on that same note, be sure to participate in apres ski at least one day.
In line with number five, pack a pair of flip-flops or slippers.
Purchase extra legroom for the trip home. You are likely going to be exhausted and sore. The last thing you want is to squeeze into a tiny space with little butt cushion. Plus, you get free beer and wine.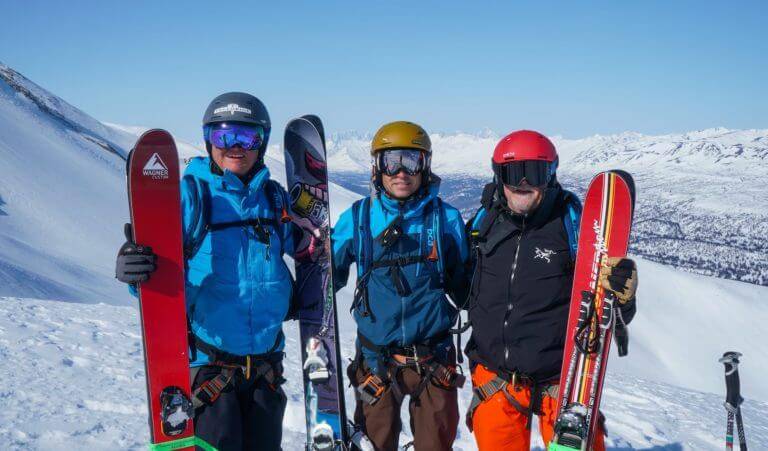 Once you have arrived in your destination of choice, there are a few simple things you can do to get the most out of your ski vacation experience, straight from a resident ski town local:
Be on the lookout to make a connection with the locals. They have insight on secret powder stashes, the best happy hours in town, where to (and where not to) eat, and which bars to hit up for apres and post-dinner. The chairlift is an excellent place to start a convo.
Commit to new experiences. This can mean a variety of things, but some suggestions include: Hire a guide to take you around the mountain and show you new terrain or take you to a location you've never had the balls to ski (this can include backcountry skiing if you are ready). Rent a fat tire bike and inquire from the local shop staff on the best local trails. Go snowmobiling, dog sledding or experience a dinner on-mountain or via a sleigh ride under the stars. There's a new adventure around every corner, no matter what your comfort level may be.
Smile and say thank you. These tools are the ultimate icebreaker and will open up opportunities to chat with and learn from the locals. Don't forget to smile at your hosts, fellow travelers, hotel staff, waiters, bartenders and storekeepers. The best part of feeling good and enjoying your vacation to the hilt is to help others feel good as well.
It's time to execute. Don't forget to be flexible with your plans, hope for the best and plan for the worst. Ski vacations are the greatest, get excited. I know we are.