Jackson Hole Vacation Beta
JACKSON HOLE
It's big, it's rowdy, and it rocks. No ski lifetime is complete without a ride up "Big Red" or a contemplative entry into the iconic Corbet's Couloir. Jackson is a skier's paradise, a big mountain complete with immense terrain and non-stop vertical to keep you skiing all day, whether that's inbounds or while exploring the massive backcountry. Here's a look at everything you should hit on your next trip to Jackson Hole, Wyoming.
Where to Ski
JACKSON HOLE MOUNTAIN RESORT
Jackson is vast, from inbounds skiing aplenty to backcountry access for a variety of ability levels, this place has something for everyone. On Jackson Hole Mountain Resort (JHMR), the first thing every skier should do is ride the tram. Big Red accesses world-class terrain, including Rendezvous Bowl, the vert-acclaimed Hobacks, the infamous Corbet's Couloir, and the pucker-worthy S&S Couloir. Corbet's Cabin at the top of the tram is home to the best waffles in ski country. Try the peanut butter and bacon option to kick off your adventure. If you hit JHMR on a powder day (which is likely because it seems to always be snowing there), hit the Crags and hike the Headwall when it opens. There is a lot of hiking, which leads to less crowds and better snow. Make sure you are in shape before you get to Jackson, here are our best ski training tips.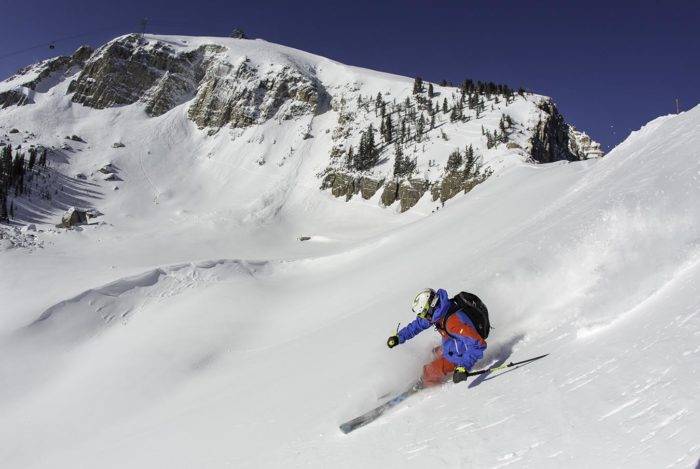 Photo: Jackson Hole Mountain Resort
CLASSIC BACKCOUNTRY
If backcountry skiing is on your list of to-dos, Jackson won't let you down. There is an expansive array of lift-served backcountry adjacent to the resort, which can be accessed via various gates. Rock Springs is likely the easiest terrain to start with, however there are still burly lines like Space Walk, Zero G, and Fat Bastard. As a general rule of thumb for any Jackson backcountry terrain, never follow tracks. Terrain progresses from Rock Springs to the areas of Four Pines and Cody Peak with iconic lines like Pucker Face, No Shadows and Four Shadows. There is more hiking and terrain is the real deal (with avalanche hazards), but the skiing is definitely worth it.
If you are looking for nail-biting backcountry adventures head north to the likes of Granite Canyon. Lines here are steep, narrow, sketchy, awesome…you get the picture. Perhaps you've heard of epic runs like Mile Long Couloir, Endless Couloir and 7 Dwarfs. Granite is where you'll find them. Generally speaking, don't head into Granite Canyon unless you know where you are going and the avalanche conditions are stable. The ski lines are long and there are a ton of options, but many lines exit with a mandatory air over a cliff—sometimes a really, really big cliff. Also note that entry back to the ski resort requires a strenuous sidestep that dominates the right thigh. Unfortunately, there is no mechanical guiding in Granite Canyon off the ski resort so guided skiing isn't an option. Our advice? Don't be stupid.
TETON PASS
Teton Pass is the quintessential backcountry zone, located just a few miles outside of Jackson. The core user here hikes from the parking lot at the top of the pass to the summit of Glory Peak, which takes about an hour or hour and a half (for the average skier). Glory Peak offers unlimited terrain options. In addition to the bootpack, there is mellow to moderate skinnable terrain from the top of the pass. Jackson Hole Mountain Guides will ensure a great day of guided skiing on Teton Pass.
GRAND TETON NATIONAL PARK
There is a reason they call it "Grand". The park has enough backcountry skiing to last a lifetime, and then some. It's pretty much some of the sickest terrain in the lower 48. The catch is that there is about a two to three hour approach to everything, if not longer. Fuel smart and head out early. GTNP offers big vert drops, couloirs, open chutes, technical mountaineering and everything in between. It's home to the famed Grand Teton and lines like 25 Short, the Apocalypse Couloir, the Sliver Couloir, SE Couloir, the Northwest Passage and so many more. You can ski the park all winter and even up until mid-June. Exum Mountain Guides is the preferred guide outfitter for the park, call them if you are ready for adventure.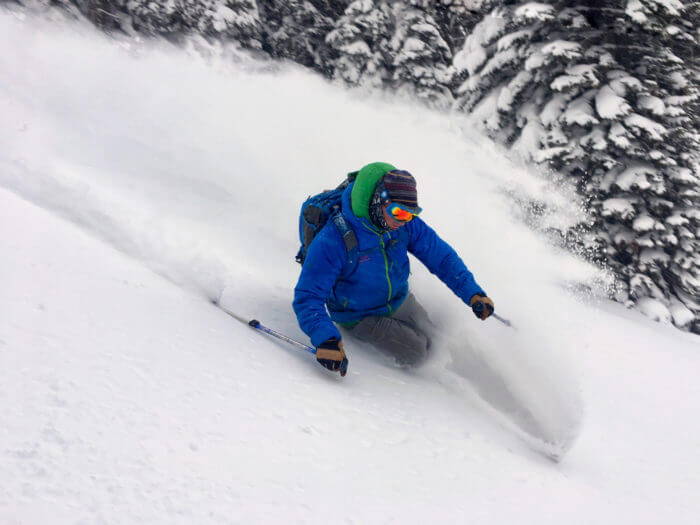 Exum Guide Dan Starr skiing in Grand Teton National Park. Photo: Brenton Reagan
No matter where you go, or who you go with, be sure to check out the Bridger Teton Avalanche Center and stay up to date on the current avalanche conditions. Additionally, check the Teton daily snow report on OpenSnow here and the specific Jackson Hole forecast here.
Where to Stay
Depending on your price range, Jackson offers lodging for the luxury minded and for the ski bum, with ski-in, ski-out access as well as town accommodations. Here are our top picks:
Hotel Terra in Teton Village
Where to Eat
Jackson is quickly becoming a foodie paradise, be sure to hit:
Where to Drink
When on a ski trip, do as the skiers do: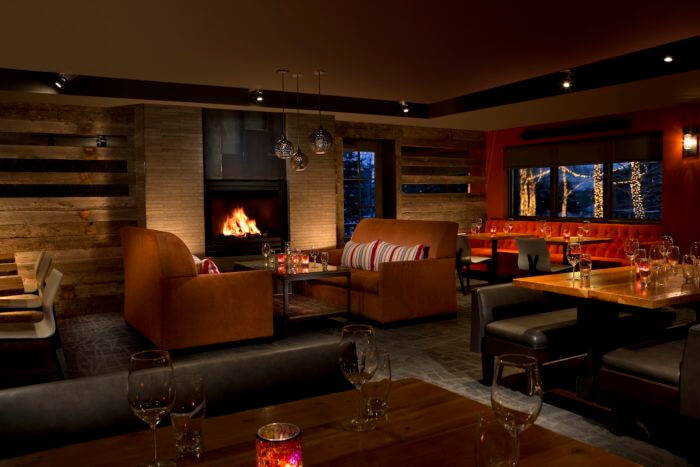 The Spur at Teton Mountain Lodge & Spa
No matter where you ski, eat, drink or stay, a ski trip to Jackson should be on your bucket list this winter. The skiing options are immense and won't let you down.
Thanks to our friend Jay Goodrich for insider knowledge on all the spots to hit. Visit Jay's website here.