TRAIN FOR THE SLOPES WITH SUP
Stand-Up Paddleboarding
The best term to describe someone who exhibits grace, power, and expertise as they ski, telemark, or snowboard down a mountain is probably "freerider." But what would you call someone who does all three—and who goes uphill with the same speed and grace with which they descend?
In Hawaii, there is a word for such innate talent, only it has to do with snow in its liquid form. This heroic seaborne spirit is known as a waterman or waterwoman.
"It's someone who lives and breathes the ocean," said Todd Bradley, co-founder (along with Brian Keaulana) of C4 Waterman, the Hawaii-based standup paddleboard company. "It's someone who wakes up every day, looks out the window to check the weather, and gets ready to go in the water, using whatever tool the environment dictates. We have a saying here that 'no one tool defines us.' What defines us is our love for being in the ocean."
Bradley and Keaulana named their company after the four core values of the waterman: balance, endurance, strength, and tradition. "Not just physical balance," Bradley said. "It's mental balance, spiritual balance, and the roles we balance in life. Endurance is being able to outlast challenges. Strength and tradition go hand in hand."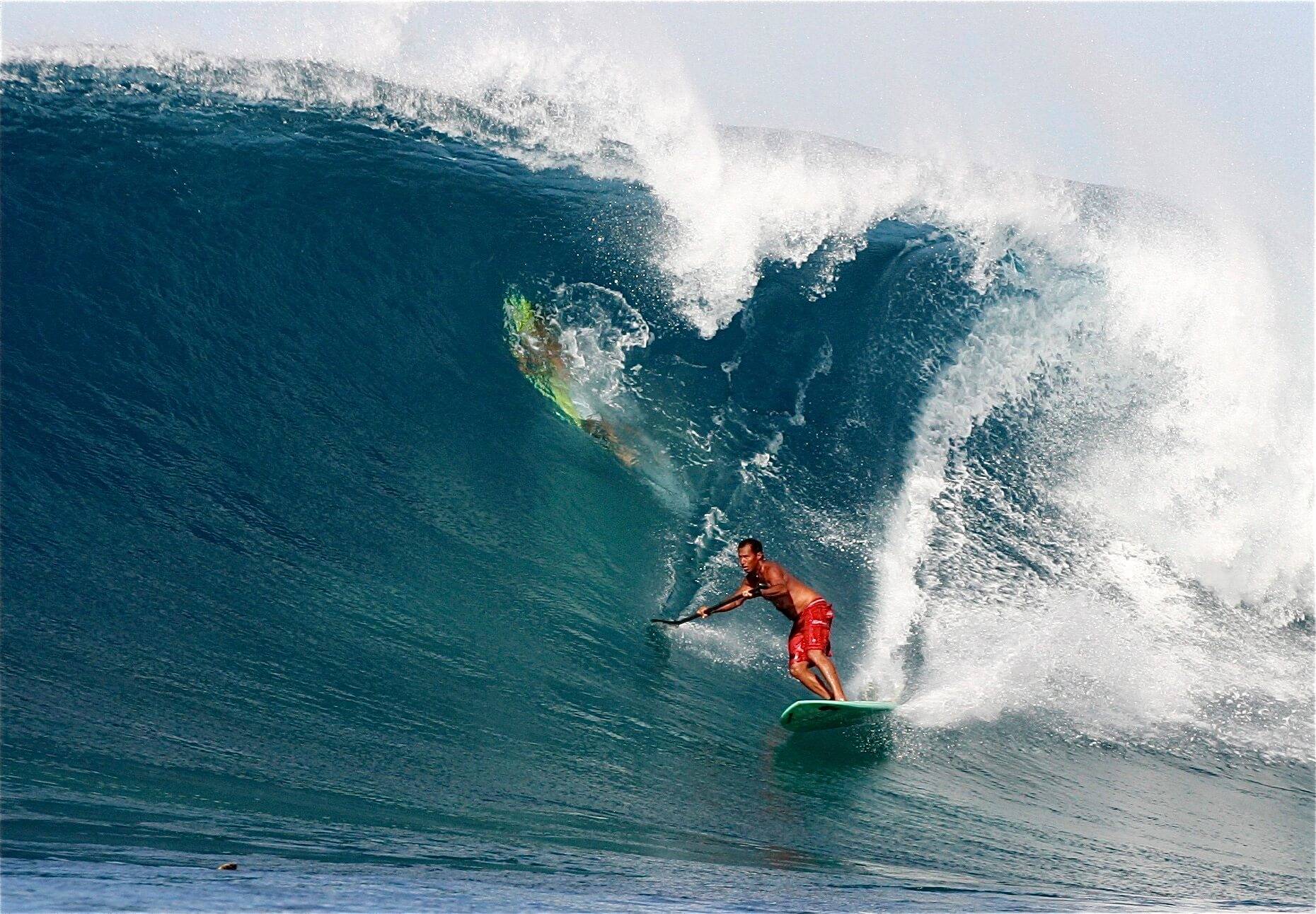 Brian Keaulana catches a wave off the coast of Hawaii. 

Photo courtesy of C4 Waterman. 

As someone who was born and raised in Hawaii, Bradley said, "Tradition is about respecting your family and the history here, and life on the ocean. I think it is very similar to how people feel about the mountains."

Bradley should know—he also loves being in the high snowy peaks. As he was finishing high school, he and a friend attended a college fair and decided to attend Western State in Gunnison, Colorado, where he saw snow for the first time.

"We ran outside to make snow angels in our bare feet. The Colorado kids thought we were crazy," Bradley said. "We fell in love with kayaking and snow skiing. Every morning we would wake up and say, 'what can we do today?' The mountains have so much to offer that they quickly became my second love."

While Bradley maintained he would always live in Hawaii, he could easily envision how he might have spent his life in Jackson Hole, Telluride, or Bozeman. And each year he makes a trip back to his "second home" to go skiing.

Every year he trains his butt off, "so I can charge when I get there," Bradley said. "I'm a good skier, and when I go on these trips, I don't want to waste any time."

For many seasons, most of that training focused on bicycling. But for the past five years it's been all about standup paddleboarding, which, Bradley said, is the best offseason way he's found to train for the alpine.

"It really exercises your core and your legs," Bradley said. "It's amazing how standup paddleboarding helps give you the catlike balance to pull out those quick recoveries without even thinking when you're on the snow. That sense of staying in balance as you move across the water or down a mountain is very similar. It got me in such good shape for my last ski trip that I was able to rip from first to last chair."

While Bradley realizes that not every skier has access to the glories of the Pacific Ocean, the beauty of SUP is how it has imported surf culture inland, especially to the high country's mirror-blue lakes and fast-moving rivers and streams.
A woman enjoys a paddle around an alpine lake. istockphoto.com
His childhood friend and C4 Team member Charlie MacArthur, whom Bradley calls "the epitome of a true waterman," has been proving that for more than a decade. MacArthur is such a well-rounded skier and instructor that he's a former member of both the PSIA-AASI Alpine and Nordic Team. He's also the owner of Aspen Kayak and SUP Academy and an extremely revered whitewater kayaker, and, in 2004, he became known as an SUP pioneer, taking the previously still-water sport to rapids.
MacArthur said SUP, the grandfather of all board sports, is a natural crossover for skiers and snowboarders. Building on Bradley's key tenants of balance and core strength, here are MacArthur's three basic skills to focus on for skiers and snowboarders getting into the unfrozen water for the first time:
The No. 1 focus is having a neutral stance on your board, which is very similar to the neutral stance you use for alpine or nordic skiing.
Second is balance, which you can practice by rocking the board side to side and fore and aft in the water.
Third is adopting a lead foot, which allows you to prepare for what's coming ahead of you, and which is also similar to skiing and snowboarding.
Check out MacArthur's schedule for upcoming clinics and lessons.
---
BETTER SKIING IS IN YOUR DNA.
Wagner Custom Skis takes your skiing to the next level by focusing on your Skier DNA to create a ski just for you, and you alone. We want you to click in and immediately feel at ease. Let us help you design your perfect-fit, custom skis. It's easy.