Resort Uphill Access
by Wagner Skis / May 18, 2023
As the higher-elevation ski areas shut down late this spring (and early summer), there could still be some turns to be had on the resort. But before you start skinning uphill at your local ski hill, there are a few things to keep in mind.
You'd think that resorts located on public land would permit skinning up, but that's not necessarily the case. Each resort has adopted a different policy about accessing their permitted terrain, and some of the big resort companies forbid it entirely. Check the resort website for rules, and if you can't find that information, call ahead. 
KNOW THE HAZARDS
We'll get to avalanches in a minute, but there are a number of hazards you may encounter within a resort's operating boundary you aren't likely to see in the backcountry. Unfortunately for the resorts, they don't just turn off the lifts, lock the doors and go home. There are a number of things they do to prepare their infrastructure for the off-season. You may encounter snowmobiles, snowcats, heavy machinery, snow guns being moved and staged for storage etc. Snowcat and snowmobile drivers may not be looking out for skier traffic during this period, and may not be using the usual sirens. So look sharp and give vehicles a wide berth. Most important, show respect. Let resort employees do what they need to do without adding more challenges to the mix.
In addition to all of the moving parts and pieces, you may encounter all sorts of manmade hazards at or near the snow surface. All of the things that ski patrol painstakingly mark with signs and bamboo, close with ropes and pads are now there for you to discover for yourself. Ski smart! Nothing ruins a day like hooking a tip at high speed. Patrols may not have the personnel on duty to respond to a call for first aid. Choose lines that won't require a rescue, and don't risk injury.
Signage may look a bit different or be non-existent after the ski resort closes.
SNOWPACK
Are in-bounds areas suddenly the wild west backcountry? Yes and no. While new snow and weather events will certainly behave like snowpack in the backcountry, the underlying snow is very different from that of the true backcountry. Frequent avalanche mitigation, skier compaction, grooming and snowmaking all create a very different snowpack layering than what goes on in the backcountry.
My advice:
• Do not assume that the avalanche problem you saw outside the boundary will behave or even be the same as the one you see inbounds. Stay vigilant and critical. Create a theory daily about what and where the avalanche problem will be and go out and gather information to help confirm or disprove the theory.
• Don't overthink things. Cracking, collapsing and avalanches are still bullseye data that the snowpack is unstable no matter where you are.
• Don't assume the avalanches will be smaller, tamer or more manageable just because you are in a ski area. Don't imagine, for instance, that new snow is stable if it rests on a steep mogul field.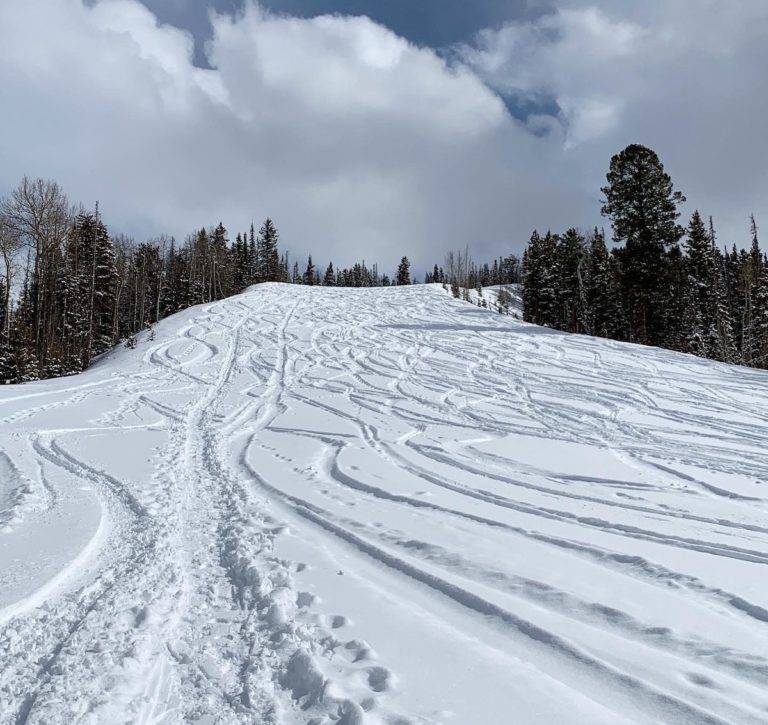 Fresh snow on a formerly-groomed run can be a lot of fun. Or it can hide a bunch of hazards that haven't traditionally been there.
AVALANCHES
I've been seeing various posts from avalanche centers about treating in-bounds areas as backcountry. This is absolutely solid advice and will help keep you out of trouble. 
While resorts work to shut down they are still working to keep their workers safe on the hill. This means that some resorts have maintained some level of patrol staffing and are doing mitigation to maintain travel routes and infrastructure safety.
This exposes us to two hazards we may not be accustomed to:
1) Mitigated avalanches running into terrain we are traveling in. If you are following the resort's uphill travel policy and posted signage, this is a highly unlikely encounter. So again, respect the signs and rules. They're in place for everyone's safety, workers on the hill as well as visitors like you.
2) Second, while resorts will mitigate slide paths that threaten work and travel routes, many paths do not. Resorts may not mitigate to the same extent as usual, in fact, act as if there is no mitigation at all (as there likely isn't any). This creates a set of highly variable avalanche conditions and requires keen observation and interpretation of clues and test results. A great run on a slope the patrol mitigated could be a nightmare on an adjacent unmitigated slope.
The take away? Pay attention, and don't assume a fresh bomb crater means the slope is safe. All it means is that it got tested. Without more info, a crater is about as useful for assessment as a set of tracks.
Get out, have fun, enjoy the fresh air, and pay attention to the world around you. The snowpack is almost always willing to reveal its secrets, you just have to be willing to look.
This article was originally published in 2020 and has been edited to reflect current conditions.
--
Article by Jake Hutchinson
Jake has spent more than 25 years working as an avalanche professional. He is currently a lead instructor for the American Avalanche Institute, an avalanche dog handler and trainer and an avalanche safety consultant to the resort and rescue communities. Off the snow, Hutchinson is a Certified Instructor and former Head of Instructor and Seminar Development for Gym Jones in Salt Lake City. He is currently involved in private personal training with an emphasis on high level functional fitness for mountain and military athletes.  
Back to JOURNAL