Thinking about going custom? Here's how to decide the most fundamental question—how wide you want your ski to be. Note: This article and the topic of ski width has been updated in 2019. You can find our newest article on ski width here. You can also view our full ski buyer's guide here.
If you want to find the perfect ski, you may have to have it built just for you. But in order to tell your ski tailor what you need, it helps to know how a ski's design affects how it performs on the hill. This is the first installment in our series on how to articulate exactly what you want in your dream ski, starting with width. (In part 2 of this series, we'll help you decide what how ski shapes affect performance, and in part 3, we'll cover the materials you'll want the ski to be made of.)
HOW WIDE OF A SKI DO YOU WANT?
Ski design starts with the waist—the width of the ski beneath the boot. "The first question I ask any customer is 'how wide do you want to go underfoot?'" says Preston Klomparens, a member of the Gorsuch Vail hard goods management team. Skis with a wider waist help you float in powder, but they take more work to turn. And the right width depends mostly on the terrain where you spend most of your time skiing. Width is an important element to get correct when choosing a pair of skis, and something you want to focus on first.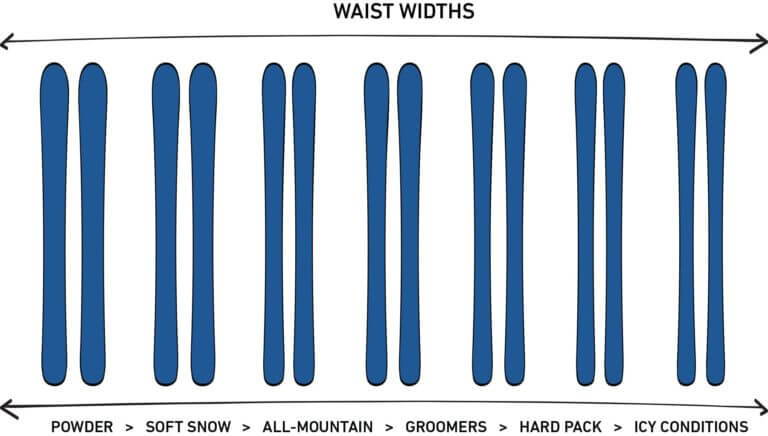 GROOMERS
"Groomers are trenched best with a narrow waist," says Bob Gleason, founder of The BootDoctors in Telluride, Colo., and Taos, N.M. By narrow, he means 70-85 mm underfoot. Race skis are often sub-70 mm underfoot, but 70-85 mm are the layman's carver. Aiming for 80-85 mm underfoot gives your frontside-oriented ski a little more versatility in variable snow.
BUMPS
Hitting the moguls? A little extra girth can help. "In bumps, a ski less than 90 mm in waist width is more agile for the tight troughs," says Gleason. Besides waist width, a few other shapes help in the bumps. A slight tip rocker helps with quick turn entry and a narrow tail reduces hang ups out of the turn. And a less dramatic sidecut (meaning a straighter ski) with traditional camber underfoot lets you adapt your turn shape to the lines formed by moguls.
POWDER
The best waist width for powder skis can vary from mountain to mountain but will generally range between 100 and 120 mm. "On those special days in deep snow, fattys make it so much better," says Gleason. The extra width can also help stabilize a ski in less-than-ideal conditions. "If you're commonly skiing wind-affected or maritime snow, an even wider waist get you through the sludge." If skiing the dry, continental snowpack found in the Rockies, aim for 108-120 mm underfoot. For the Cascades and Sierras, think 112-130 mm.
ALL-MOUNTAIN
If you're an avid skier looking for an all-mountain ski—or the elusive one-ski quiver—go for a waist hovering around 100 mm. "If you need an everyday, universal ski for mountains like Vail or Aspen, we recommend going 95 to 105 mm underfoot," says Klomparens. This is the mid-fat, do-anything width. The platform is generally wide enough to handle variable snow and can be combined with sidecut that's more aggressive in the tip and less so in the tail to help with carving.
BACKCOUNTRY
Off-piste skiers have more decisions to make. Are you climbing long ascents where weight is an issue? You'll appreciate a narrower waist even at the expense of some float. "Moderate waist widths (86-99 mm) with less dramatic sidecut and a flat tail for skin traction are better for climbing," says Gleason. Do you yo-yo in and out of bounds, focused on big lines outside the ski area boundary? "With sidecountry snow being variable, the preferred waist widths go from 96-108 mm, depending on snow commonly encountered," adds Gleason. For more information on backcountry vs. on-mountain skis, click here. Easy enough? Now on to the trickier stuff—how to pick a ski's length, rocker, and sidecut. For that, check out our Ski Buyer's Guide Part 2: Ski Shape & Length.