Ski Vacation Hacks
by Wagner Skis / Aug 31, 2018
HOW TO PLAN YOUR NEXT SKI VACATION
How do you plan a ski vacation? If you have a lot of flexibility, you can consider the time of year, snowfall totals to-date, or even where it's snowing right now. If your holiday dates are fixed, planning is about your choice of terrain, best guess about what part of the country might have good snow during that time frame, and flight options from your hometown airport.
When Christopher Steiner was a staff writer at Forbes magazine he faced that very set of questions. He assembled a spreadsheet to rank ski resorts, and it grew into a massive database that he built into the website ZRankings. Today, ZRankings uses all kinds of data when recommending where to ski, from historical snowpacks, snowfall standard deviations, terrain aspects, and base and mid elevations.
SNOWFALL AND HISTORICAL DATA
Weather forecasts are reliable only about ten days out. To book a ski vacation outside of that window means rolling the dice on snow conditions. Each resort profile on ZRankings outlines your powder odds: the best dates for snow quality, compared with other North American resorts. It gives you beta on the last ten days of snowfall and a near-future powder forecast. The resort profiles also feature core strengths and best attributes, full descriptions, and vacation deals. Perhaps the coolest feature is Powder Fares: a real-time report on the cheapest air fares to where the it's snowing right now.
So, what happens if you need to book your ski vacation more than ten days out? Here are some of Steiner's tried and true geographic booking hacks:
Salt Lake City: These resorts typically have good early season storms so booking for December isn't out the question. Plus, there aren't very many tourists in early season.
Colorado: Save your Colorado ski trip for springtime when the resorts have had time, and enough storms, to fill in. Most Colorado resorts face north, so they preserve snow well into March and April. The best time to ski Colorado does differ by resort however.
California: Kirkwood typically has the best snow in the Tahoe area (it's also the hardest to get to, so is often the least crowded). Overall, California resorts are hard to evaluate by snow because their snowfall standard deviation is huge. They have big storms, but less often than do the Rockies.
January, after the holidays are over, is a low time for many resorts. Lodging is typically cheaper and airfare is often easier and more affordable to book. More airplane seats are available, so this is a good time to use frequent flier miles.
Overall, February is the best month to ski. Storms stack up and snowpacks are typically deep enough most resorts are entirely open.
The layout of a resort can help you plan a ski trip. For December or January trips, slope aspects don't make a huge difference because the sun is at a very oblique angle. As the sun becomes more direct and it becomes later in the spring, skiers should look for resorts with north-facing terrain. Many resorts get more snow after March 1, and they often see their best conditions March and April (Arapahoe Basin and Telluride among them).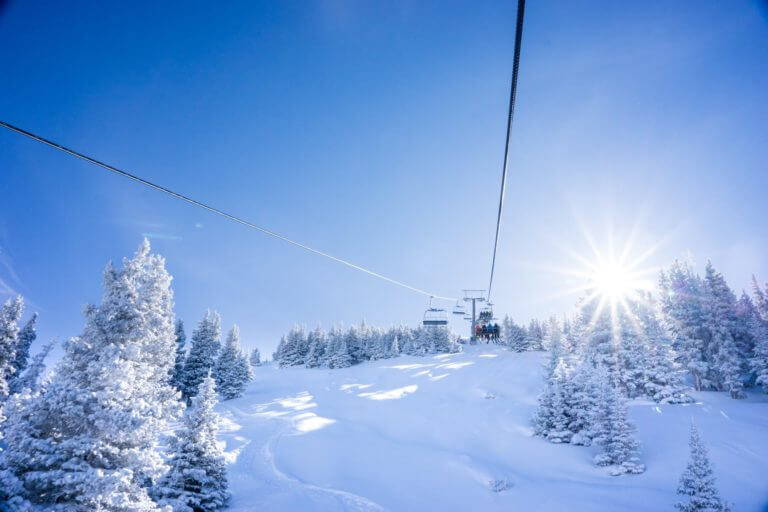 TRAVEL TIPS
Frequent flier miles are great for booking flights directly into ski towns. If you book on off-dates or mid-week, there is almost always capacity.
Consider shipping your skis directly to your hotel. If you plan in advance, FedEx ground can be economical, and your skis will be waiting in your room upon arrival. You can avoid schlepping the heavy bag around airports (four times!), paying the airline fee for extra weight, wrestling the bag into a rental car, or even losing your equipment to a misrouting error.
Need a rental car? Book well ahead of your trip to lock in the lowest rate. You can always cancel a rental car, even at the last minute.
To get a pretty good idea of where to go and when, spend some time looking through the ZRankings resort profiles and their "best" lists. But, just in case you are still on the fence, here are a few dependable resort tips:
Challenging terrain: Don't book in December. Extreme terrain doesn't typically open until January – sometimes mid-January.
A good deal: Ski non-weekends in January or purchase a bulk ski pass (i.e. Mountain Collective, Epic Pass or the new Ikon Pass) and ski at least two days at two resorts.
If you like data to back up your decisions, ZRankings is the natural place to start your ski vacation booking. It's tough to measure the immeasurable, but they do a pretty darn good job.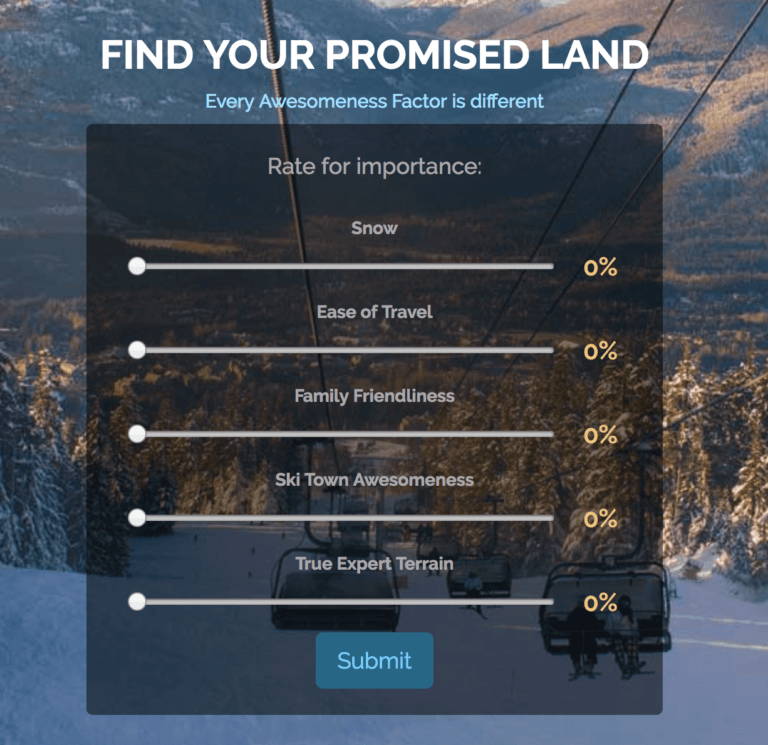 ---
BETTER SKIING IS IN
YOUR DNA.
Wagner Custom Skis takes your skiing to the next level by focusing on your Skier DNA to create a ski just for you, and you alone. We want you to click in and immediately feel at ease. Let us help you design your perfect-fit, custom skis. It's easy.
Back to JOURNAL