SKIING IN MONGOLIA WITH CHASON RUSSELL
The following article was written by Chason Russell after adventure skiing in Mongolia during the spring of 2017.
As we were leaving a mountain rescue meeting one evening, my friend Jordan White suddenly proposed, "Hey, are you interested in a ski trip to Mongolia?"
Normally, I would instantly have said, "Of course!" But that night I was on crutches. I had fractured my tibial plateau only two weeks earlier. I knew I'd be lucky to ski at all before the end of the season. Though it seemed unlikely that I would be able to go, even the possibility gave me something to look forward to.
The idea was to travel to the Altai Tavan Bogd Mountains in the far western corner of Mongolia. Russian Siberia lies to the north, China to the west and south. This wilderness region, home to abundant wildlife including wolf, bear, lynx and the elusive snow leopard, is also where Mongolia's tallest mountains can be found. Few westerners have skied there, and while information on the region is hard to come by, it is known that hunters on the Chinese side of the Altai have been skiing the forested lower slopes, on homemade gear, for thousands of years. We hired Mongolia Expeditions to provide in-country support, including a translator to help organize travel permits, pack camels, a chef, and a van with driver.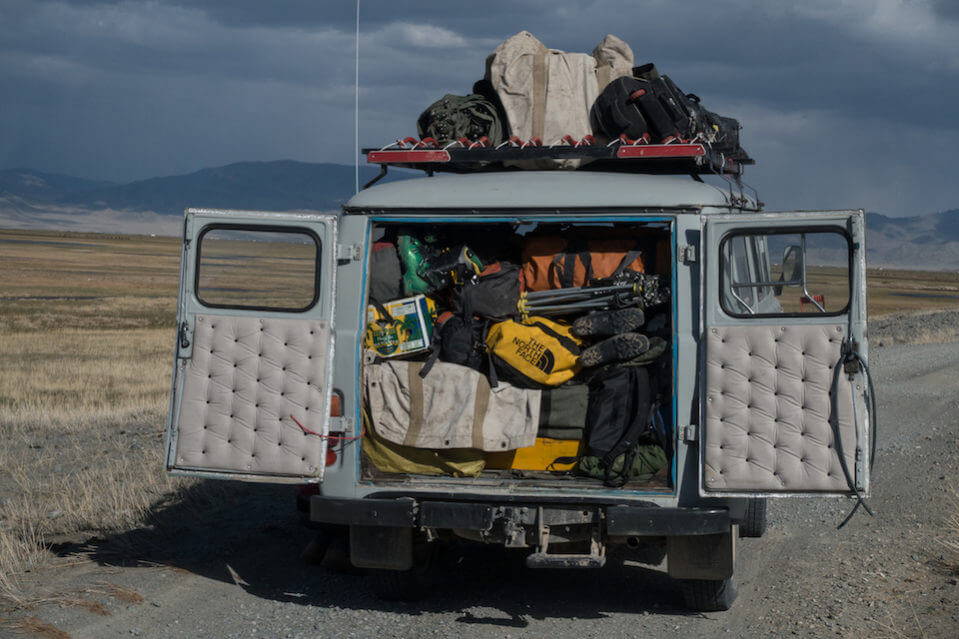 FERGON VAN LOADED TO THE MAX AND OUT OF GAS.
The prospect of this trip motivated me to blast through those painful sessions of physical therapy, and it was with a sense of exaltation that I found myself bouncing into the Mongolian mountains in early May, in company with Jordan White. The four-wheel-drive Russian Furgon van scrabbled through a dust storm as we made our way up a wind-swept, glacier-carved valley, crossing creeks and scree fields, passing empty dwellings still waiting the arrival of the summer herders. Dust turned to mixed mud and ice as the road wound higher.
After two days of bumpy travel, we reached the border of the Altai Tavan Bogd National Park. Snow-capped peaks came into view. Temperatures plummeted and a relentless wind scoured the peaks, sending plumes of snow across a deep blue sky. At the end of the road we met our camel drivers. They helped us trek all of our gear and supplies to base camp. "Tavan Bogd" means "five saints," referring to the five peaks that make up the massif. The tallest of these is Khuiten Peak ("Cold Peak," at 14,350 feet/4375 meters), marking the border with China. Because of deep snows, the camels were not able to make it to the usual base camp, so we settled in on a patch of grass some 5km down valley, at the toe of the glacier.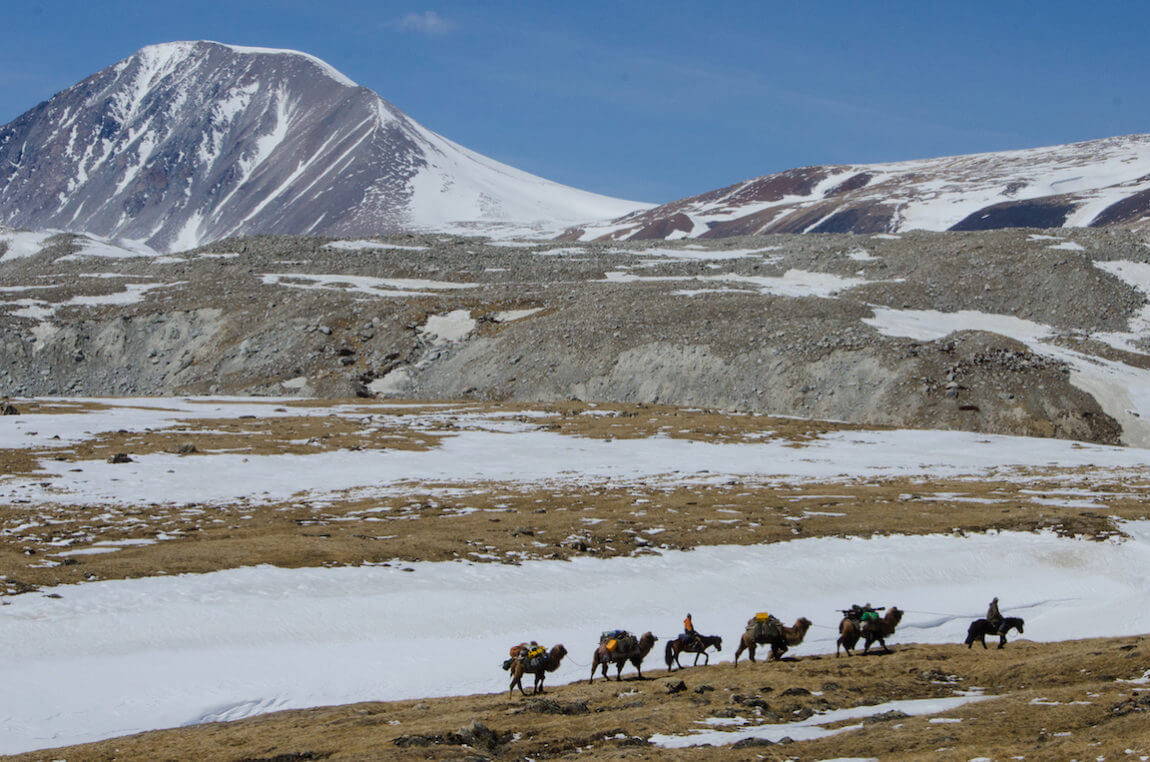 CAMEL TRAIN APPROACHING CAMP AT THE TOE OF THE GLACIER. MALCHIN IN THE BACK GROUND, MONGOLIA.
The first full day on skis brought us to the summit of Malchin, on the border of Mongolia and Russia. The apocalyptic windstorm we had witnessed on the drive in had scoured the high-mountain snow. Conditions varied from what might, in warmer weather, have been good corn snow, to walls of unskiable blue ice, with every imaginable form of challenging conditions in between. My skis rattled across hardpack snow and sastrugi on the descent from the summit of Malchin, a reminder that I was only four months out from a major injury.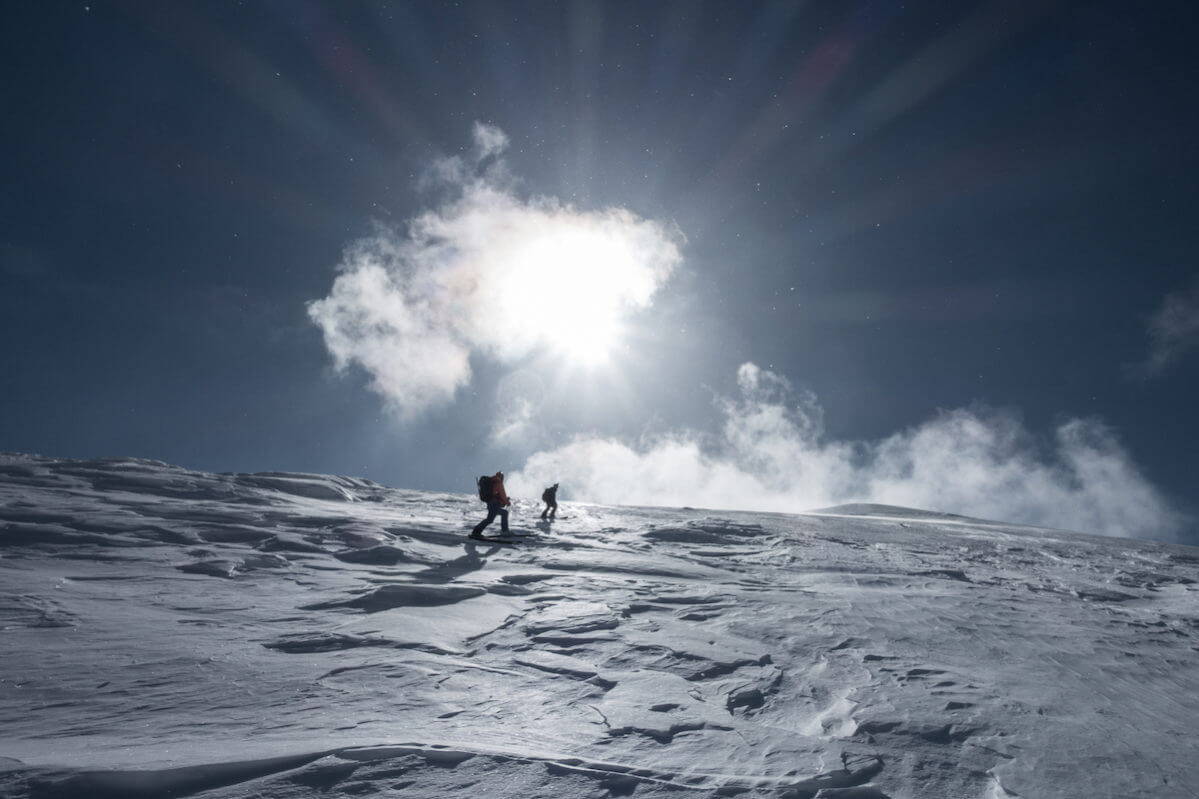 VARIABLE SNOW ON MALCHIN PEAK, MONGOLIA.
Descending Malchin, we eyed a good approach to Khüiten. One clean-looking ribbon of snow wound upward, past the rapidly receding glacier through the moraine that we dubbed "The Ribbon of Slog." With clear skies and high pressure in the forecast for the next day, we decided to go for Mongolia's tallest summit and set our alarms for 2:30 the next morning. We made our way past the summer base camp and onto the glacier. We roped up, and, one stride at a time, skinned toward the east face of this massive peak. It was difficult to determine if the route ahead was indeed skiable, or if we'd find vertical snow resting precariously on ice. Rather than risk the avalanche chute, we followed the standard climbing route along the north ridge, negotiating crevasses and gale force winds to the summit.
JORDAN AND KEITH DESCENDING KHUITEN 'COLD' PEAK, ALTAI TAVAN BOGD, MONGOLIA.
We'd hoped for a powder run, but slogged back to camp after another icy descent. The weather began moving in, and we decided we could go for a rest day. The weather varied wildly for the next few days, but it did bring fresh snow. Forgoing our high-peak objectives, we found better quality snow and some fun couloir skiing on an unnamed peak we called Spider Face. From Spider Face, we scoped the east face of Bürged (Eagle) Mountain which dominated the skyline. This became our next objective. Though it would take us two attempts, we were rewarded with soft snow and a long, steep descent. It was everything we had hoped for when we originally set out on our Mongolian ski adventure.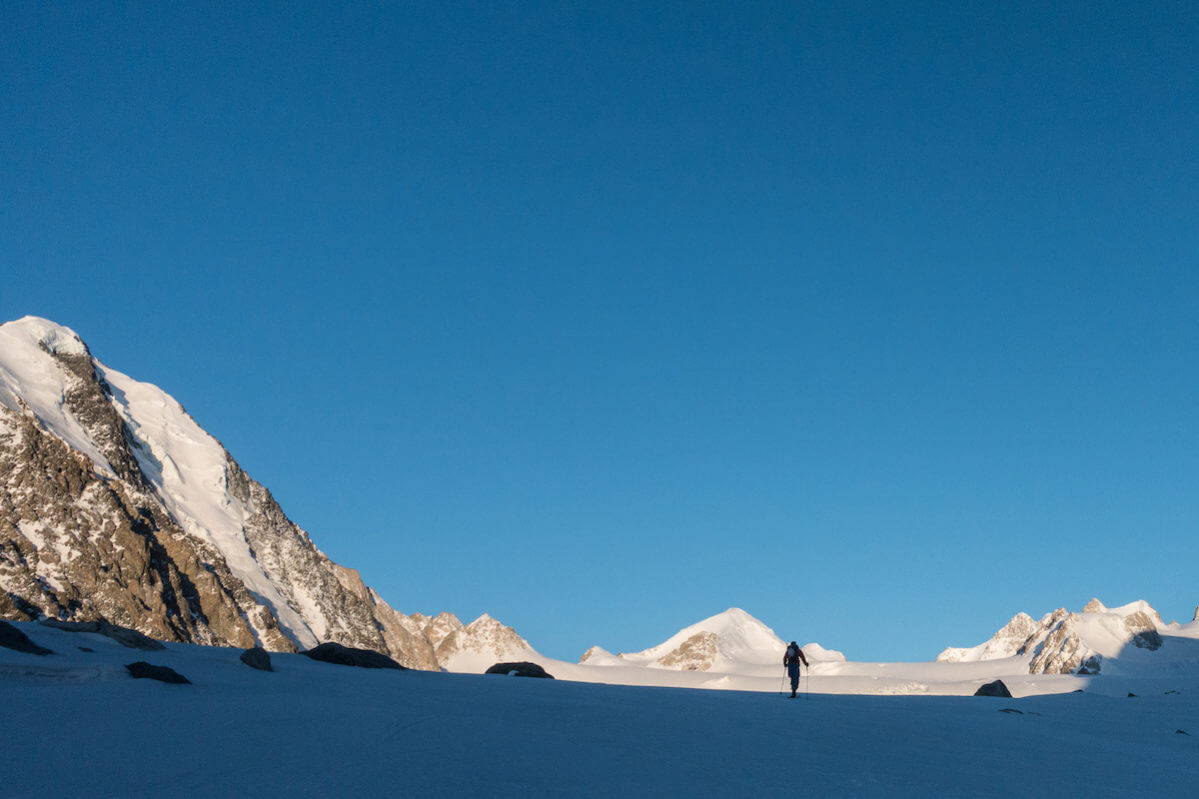 JORDAN WHITE, HEADED TOWARD BURGED OR "EAGLE" PEAK. ALTAI TAVAN BOGD, MONGOLIA.
The weather and our limited supplies allowed for one more big ski descent of Naran (Sun) Peak before we had to begin our circuitous retreat. The trek out took us past large lakes and vast grazing lands, eventually crossing the arid landscape of the Gobi Desert. The road led to Mongolia's bustling capital city, Ulaanbaatar. Another adventure down. Time to start planning the next.
HEADER IMAGE: JORDAN NEARING THE TOP OF THE RIBBON OF SLOG, KHUITEN IN THE BACKGROUND, TAVAN BOGD, MONGOLIA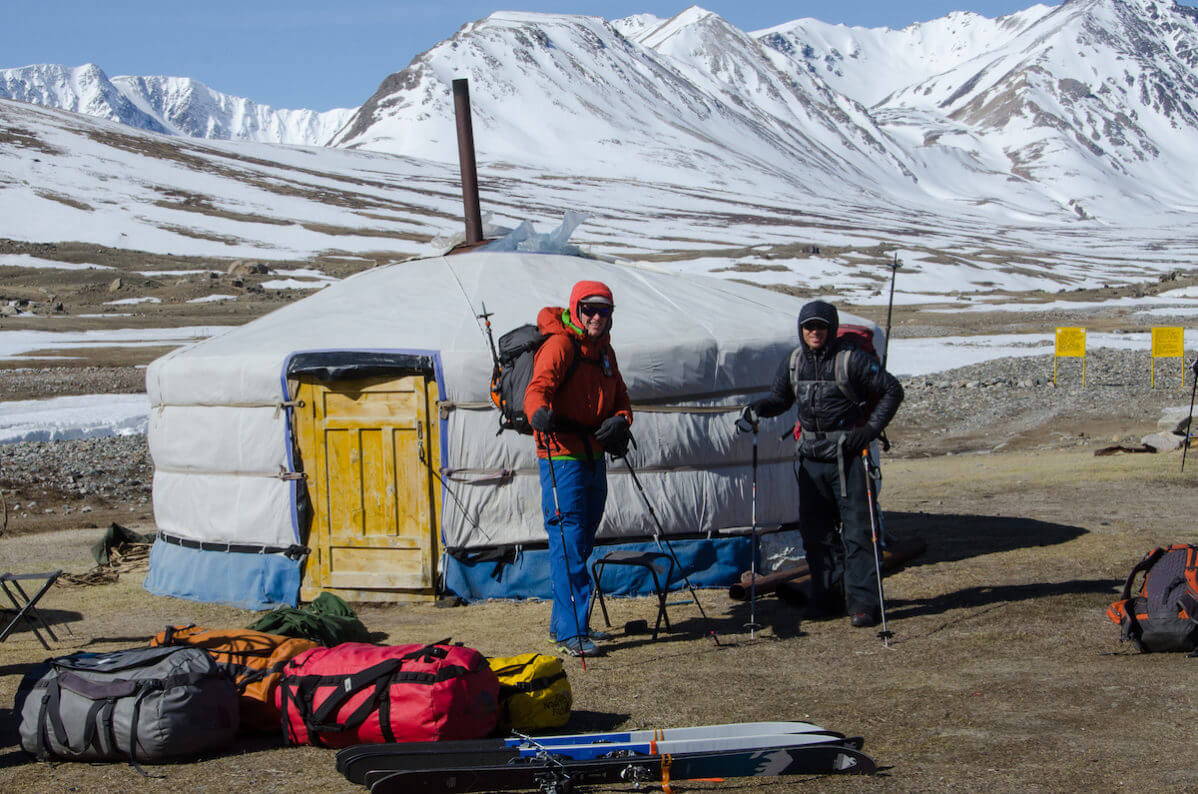 Jordand and Keith ready to hike from the Ger, Tavan Bogd boarder, Mongolia.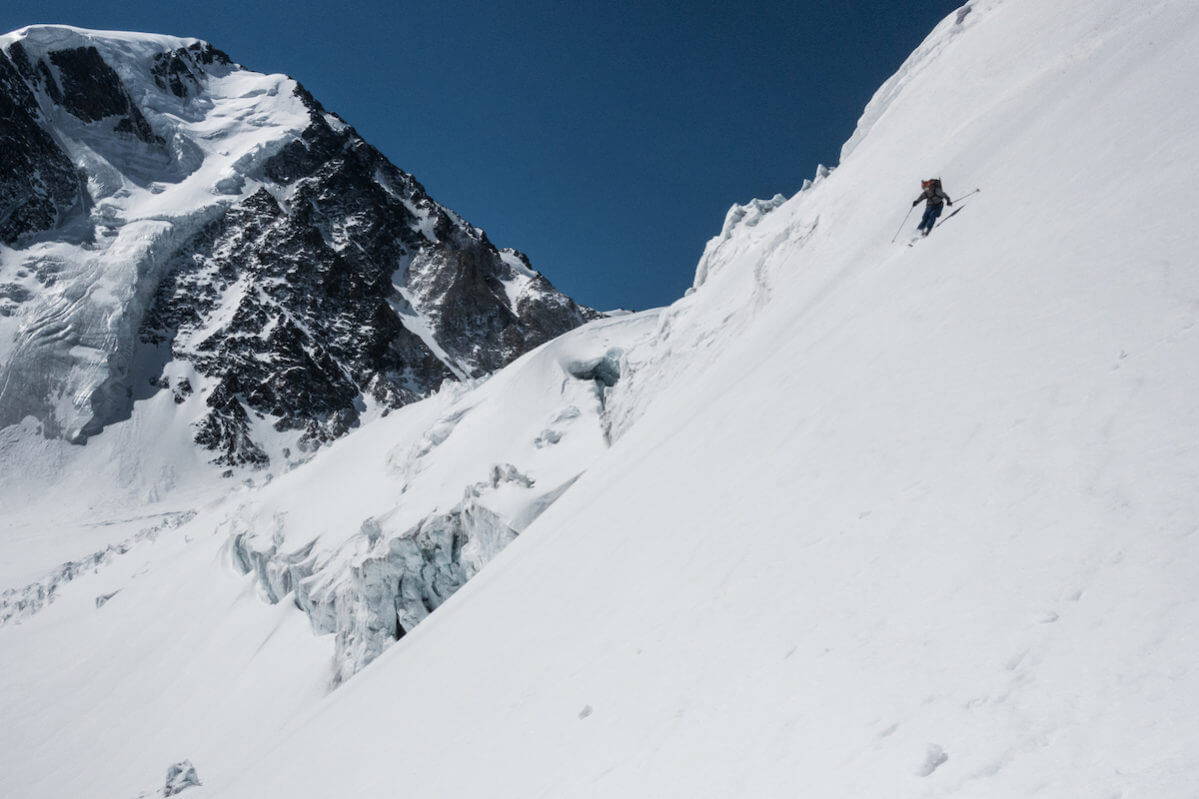 Jordan White harvesting corn on the lower flank of Burged, Tavan Bogd, Mongolia.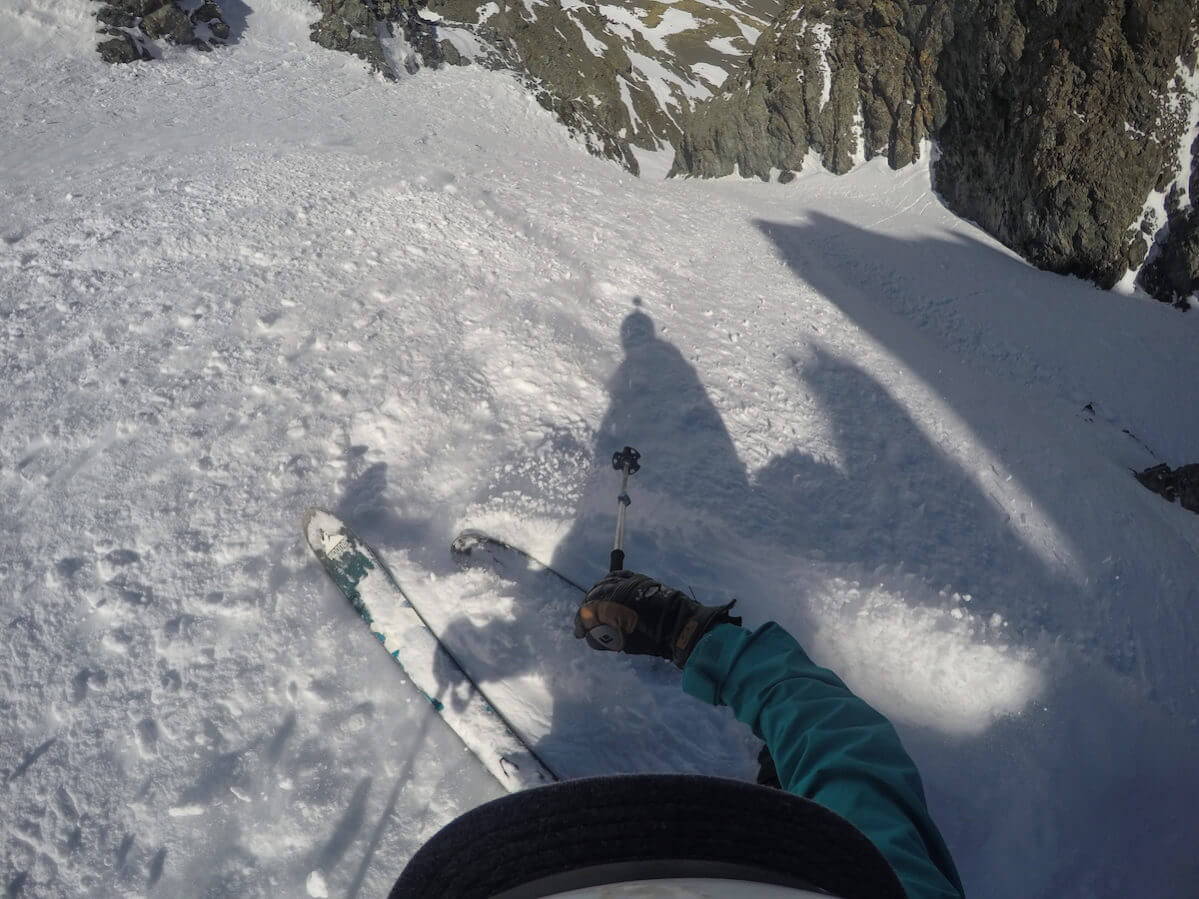 GoPro POV skiing "spider face" Altai Tavan Bogd, Mongolia.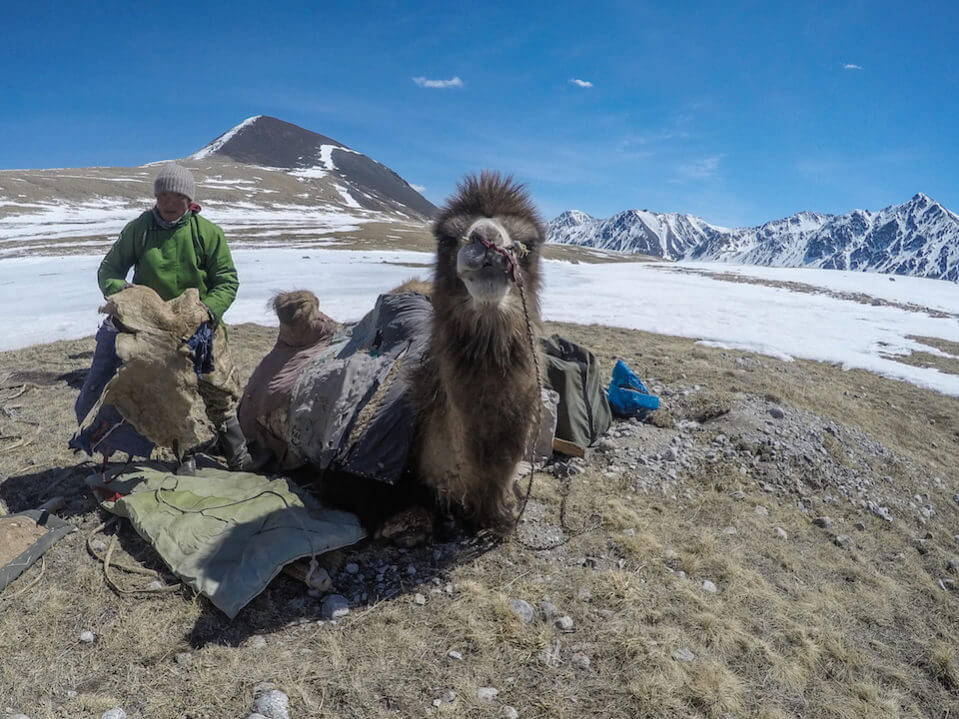 Chason Russell has since passed. Our condolences go out to his family and friends. Thank you Chason for sharing your wealth of knowledge and passion with us, the people you coached and the communities you touched. We miss you Chason.