Skiing Swedish Lapland
by Wagner Skis / Feb 26, 2020
A Ski Trip Above the Arctic Circle
It's mid-morning and I'm hanging out the open door of a Eurocopter at 8,200 feet, watching the wintery landscape of Swedish Lapland below. My body and brain say to step back and sit down, but Gunlög, the skydiving instructor, orders me to step out onto the landing skid. We share a tandem harness, so I have no choice.
"Gun" taps me on the shoulder three times, the signal to let go my death-grip, and we push off into emptiness, the wind rushing past us and my goggles pressing against my face. The fear evaporates, overtaken by awe as we plummet at 100mph. The landscape rushing toward us is a vast canvas of hills, mountains and frozen lakes, inscribed with a few roads. A railroad track that connects the mining town of Kiruna to the south and the northern port of Narvik in Norway.
I arrived at Kiruna several days earlier after a 90-minute flight from Stockholm. My goal was simple: to ski above the Arctic Circle. So much more happened, my expectations were blown away. My first night, at the Ice Hotel, was lit by the magical Aurora Borealis (I stayed in a warm room and only visited the frozen ice rooms). The following morning I drove north alongside the railroad tracks, passing iced-over lakes and frozen tundra. A few miles before crossing into Norway, I stopped at the ski resort of Riksgransen, best known for its side- and backcountry access.
My good friend Hella Stening has, for the past few years, organized the weeklong Extreme Sports Gathering (ESG), bringing together two of her passions: winter sports and canopy sports. Her event is underway and participants are skiing and snowboarding but also snowkiting on the frozen lake, swooshing across the ice with their kites high in the sky. Others are speedflying down the mountain, using a small canopy while skiing, soaring through the air and skiing powder each time they touch down.
Before settling into our rooms at the Riksgransen Hotel, we hit the lifts for some freshies. There's ungroomed and fresh powder all through the afternoon, and on the sunny backside we start apres-ski hour at the Nordals Bar.
No fewer than three heli operations serve Riksgransen. Arctic Guides, based out of Bjorkliden, is about a 15 minute drive south. A few years back I traveled with the owner and chief guide, Anders Bergwall, to the island of Svalbard for a week long touring expedition based on a boat. Then there's Mountain Guide Travel. Yet another option, just five minutes away, is Niehku Mountain Villa, a boutique hotel with their own helicopter for guests. Niekhu means "Dream" in Northern Sámi, the indigenous language, and it fits.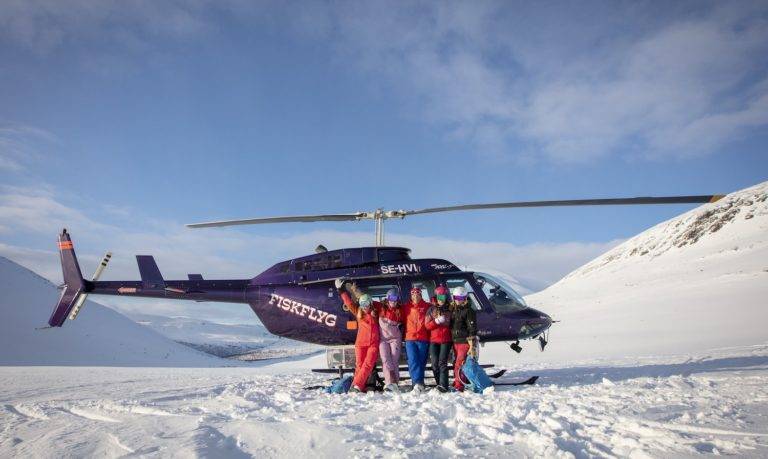 The crowd at the Riksgransen Hotel is varied and global. Young Brits and Americans mix with Swedes visiting from Stockholm, in a spirit of mountain camaraderie.
A new dusting of snow fell overnight. Two lifts service the front side of Riksgransen with plenty of vertical and a chance to discover the sidecountry terrain. After lunch, we joined Hella and ESG for a quick introduction to snowkiting.
On day three we had planned our first heliski outing with Andreas and Mountain Guide Travel, but a storm grounded the helicopters so we drove to the Norwegian fishing town of Narvik and chartered a fishing boat, which took us out to explore the fjord of Ofotfjord.
Back on the mountain the next day, we enjoyed views of the snowcapped mountains with clear sun and blue skies. We got our equipment ready, loaded our avalanche packs and made sure everybody was wearing a beacon. The van dropped us off at the helipad, just on the border with Norway. After a quick safety briefing we all piled into the helicopter with tangible excitement and took off, flying over the lake, past Riksgransen and into the mountain range behind it. Once out in the wild, we flew over an abandoned village and a herd of reindeer crossing the valley. We ascended in wide circles to arrive at the top of our first run.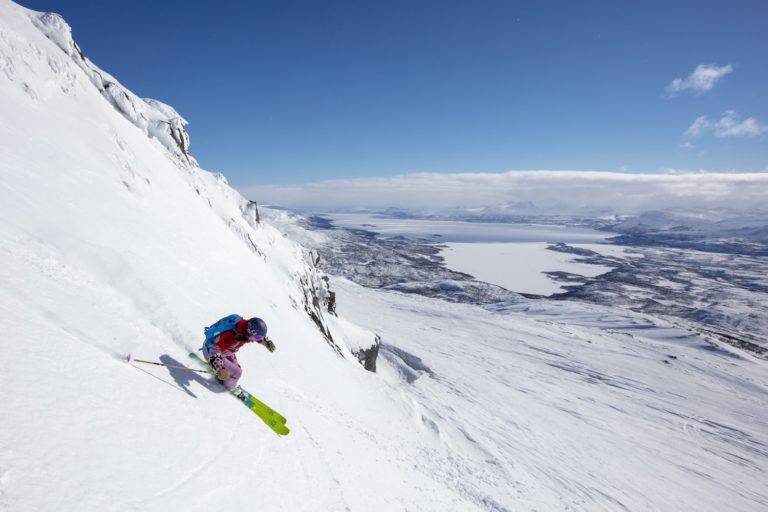 Once the pilot took off, we admired the immensity of the landscape. Brilliant mountains, like giant marshmallows separated by soft valleys, stretched as far as the eye could see. The top was wind blown and we quickly clicked into bindings, hoisted our backpacks and huddled to discuss our descent. Following our guide, we stayed at a safe distance skiing behind each other until we got to the next rendezvous point.
We stopped after a few runs for snacks and warm drinks. We continued to fly around what seemed an endless mountain range, heading back north little by little and skiing into the sunset, with views of the Norwegian fjords in the distance. Everything seemed to slow down, the light was softer, the energy was still good and our whole group was in awe of our last run, down the east side of a range, into a gully where we let the skis run free to arrive once again at the helicopter for a last flight back to our base at Riksgransen.
The next few days were filled with more skiing, snowkiting and a snowmobile outing to a remote cabin where we spent the night.
Before ending this adventure, we had to check off the skydiving box. And so, on our last day we joined Hella and her team at the teepee where I met Gunlog. I will not forget this week and will be back again next year to meet up with Hella, Gunlog, Andreas and whoever might want to join me.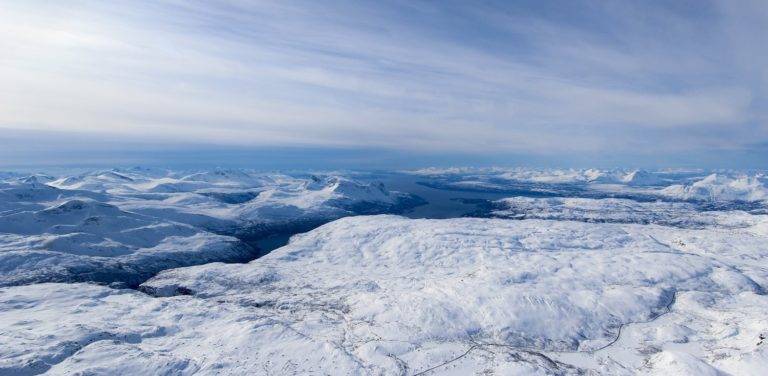 2020 will mark my fifth year visiting Swedish Lapland, with friends, of course. To find out how to join this trip, please email Nils Schlebusch nilsphoto@gmail.com or call 1-917-364-2973.
By Nils Schlebusch
Nils Schlebusch has managed to take all of his passions — photography, skiing, writing, and world travel — and pack them into a single exciting career. He has photographed runway models in Paris, freeride skiers in the Andes, and nightlife in the finest Caribbean resorts, been published in both print and online travel magazines, and several times a year he hosts adventure ski trips to Andorra, Swedish Lapland and Chile. Follow Nils' adventures on Instagram here.
Back to JOURNAL