MUSIC INSPIRED SKIS
If you are ever lucky enough to meet Alan Bernholtz, ask him about jumping over fire at the Mardi Gras Parade in Crested Butte when he was mayor. You won't have to ask him about his Wagner Custom Skis quiver, because we've already done that for you.
Bernholtz grew up in Southern California, where he frequented the mountains on the weekends and grew a love for the sport of skiing. When he graduated high school, it made sense to take advantage of his youth and appreciation of adventure, so he moved to Aspen where he lived for two years out of his van (down by the river). When Aspen grew old, Bernholtz hitchhiked across the country a few times to find his dream home. Unfortunately, with no success.
In the fall of 1988, however, he headed west to Crested Butte for the annual Fat Tire Bike Festival. He was awestruck when the people on the street would stop and say hello to him. He didn't know them, they didn't know him, but the friendly atmosphere made him feel right at home. The icing on the cake came when Bernholtz discovered that people could sleep in their vans outside of the town of Crested Butte. He didn't know a soul, but Bernoltz made the move from Aspen to Crested Butte soon after his first visit.
While working for the ski school and on ski patrol, Bernholtz started learning a great deal about ski guiding from the head of the Crested Butte Ski School (Jean Pavillard), who happened to be Swiss and owned his own guiding company. A few years later, Bernholtz left the ski resort to discover the backcountry skiing possibilities right in his backyard. Clocking over 100 backcountry days each season, he was able to ski the entire region and build his skill set.
In 2001, Bernholtz purchased his mentor's guide company, and by 2003 he had pretty much taken over all the guiding permits in town. Crested Butte Mountain Guides, whose slogan was, "We're Out Here," was a strong business, and Bernholtz soon found himself guiding all over the world.
As if that wasn't enough, in 2005 Bernholtz ran for Mayor (he had been on CB Town Council since 1999) and was elected. In 2007 he had twins, Archer and Zebadiah, and needless to say, he had a lot going on. Soon after, two of his guides approached him about buying his business, which he sold to them in the fall of 2007. Three months later, Irwin Guides asked him to help start their new ski guiding business and Bernholtz has been with them ever since, though now the operation is run by Eleven Experience.
Fast forward to today, Alan Bernholtz holds the coveted job as the Eleven Experience Global Experience Developer. He travels the world planning over the top guest experiences. He spent two years in Sainte Foy, France, opening Chalet Pelerin, and most recently has been dialing in Eleven's newly opened Deplar Farm in Northern Iceland. He's a liaison, a ski guide, a mountain operations director and runs heli-ski programs. He and Billy Rankin were instrumental in onboarding Wagner Custom Skis to the Eleven Experience properties and Bernholtz's collection of Wagners is one of the greatest.
The man is essentially the minister of fun. He's there to make sure everyone is having a good time, all the time. But enough about Bernholtz himself, let's talk skis. Each of his Wagner Custom Skis has a story and he would like you to know that each pair is very good to him.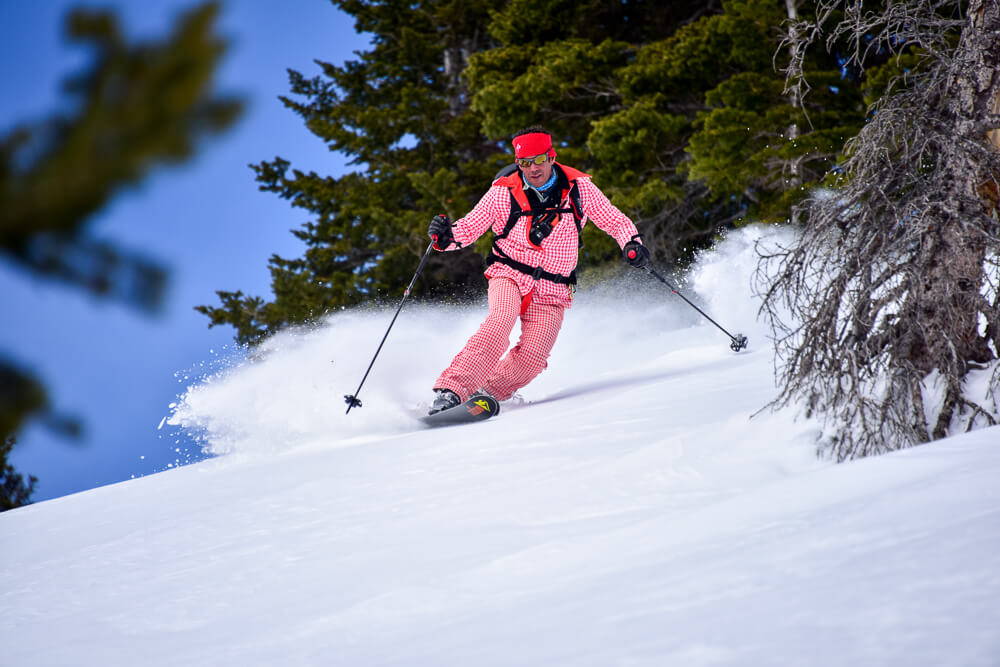 DYLAN SKIS
Bernholtz is a huge Bob Dylan fan. There was a photo of Dylan he remembered from his youth that he thought would look perfect on his first pair of custom skis. At Wagner, we told him that he had to get permission to use the photo. Well, Bernholtz did just that. After a bit of research, he found out that Milton Glaser (a professional designer in NYC) was the artist, so Bernholtz reached out to him to see if he could use the image on a pair of skis. Glaser said no problem and sent him a high resolution photo. These skis are a Bernholtz go-to.

JERRY SKIS
What was the appropriate band for his next topsheet? The Grateful Dead. And Jerry was the subject of choice. Bernholtz originally wanted a photo of Jerry riding a camel in Egypt, but when he reached out to the photographer, the image wasn't available in a large enough format to print on skis. So, this is what Bernholtz went with. These skis are for deep days. When Jerry comes out, you know it's going to be one for the record books.

ICELAND NORTHERN LIGHTS SKIS
These skis went on the first exploratory mission for Eleven Experience to Iceland with Alan Bernholtz. They were even rescued by a local after they flew off a hill (and Bernholtz thought they may never be seen again). They still live in Iceland.

GONZO SKIS
When Bernholtz ran for Crested Butte Mayor the second time, nobody ran against him. In true Bernholtz fashion, he used the Hunter S. Thompson poster for his campaign, but modified the text. Transferring the art to skis was a natural next step. Bernholtz says these skis are for tricky days, when the snow gets weird.

BEATLES SKIS
Next, Bernholtz wanted something fun and giddy. He loved the Yellow Submarine movie, so went with that theme. The bright colors and fun pattern are working well for big, open 'em up skiing. Bernholtz loves them for heli-skiing in Iceland where they are accompanied by the Northern Lights.

LED ZEPPELIN SKIS
Most recently, Bernholtz was seeking a light touring ski. He picked the Hermit and the ZoSo because so many stories surfaced about it when he was a kid. These are his latest and greatest, and he'll let you know what he thinks of them soon!

Tag along with Bernholtz on all of his adventures on Instagram at @alanbernholtz.
BETTER SKIING IS IN
YOUR DNA.
Wagner Custom Skis takes your skiing to the next level by focusing on your Skier DNA to create a ski just for you, and you alone. We want you to click in and immediately feel at ease. Let us help you design your perfect-fit, custom skis. It's easy.