SKIWI: GETTING THE SNOW IN NEW ZEALAND
Skiing in New Zealand
You have to work for your snow in New Zealand. Trust us, this is a good thing as the rewards are many.
New Zealand's Southern Alps carve an impressive spine down the South Island, are 45 million years in the making, and dramatically thrust skyward from azure alpine lakes dotted with working farms along their shores. It is here that the snow sits high above the tree line and requires some steel nerve driving on heart rate raising roads to get there.
But remember, this is the country that brought the world Sir Edmund Hilary, who was the first man to summit Mt. Everest along with Sherpa mountaineer Tenzing Norgay, so a pesky little dirt road with serious drop offs isn't going to deter the average intrepid Kiwi skier from accessing the white gold.
Whether you like your snow packed and groomed within an inch of its whiter than white life, or untouched and clinging to a steep couloir begging for your jump turns, New Zealand will not disappoint so long as the weather is on your side. The country boasts a series of microclimates and can swing from blizzards to blazing sun, rain and sleet. The trick is to act like a local and go with the flow, bro.
Do expect historical club fields tucked away in mountain top bowls with nutcracker rope tows, shared chores boards and bunk beds built by the locals back in the day; ski resorts on active volcanoes; glamorous night life in the resort town of Queenstown and side orders of heli skiing from luxury working sheep station lodges.
Sweet as (that's Kiwi speak for 'no worries mate').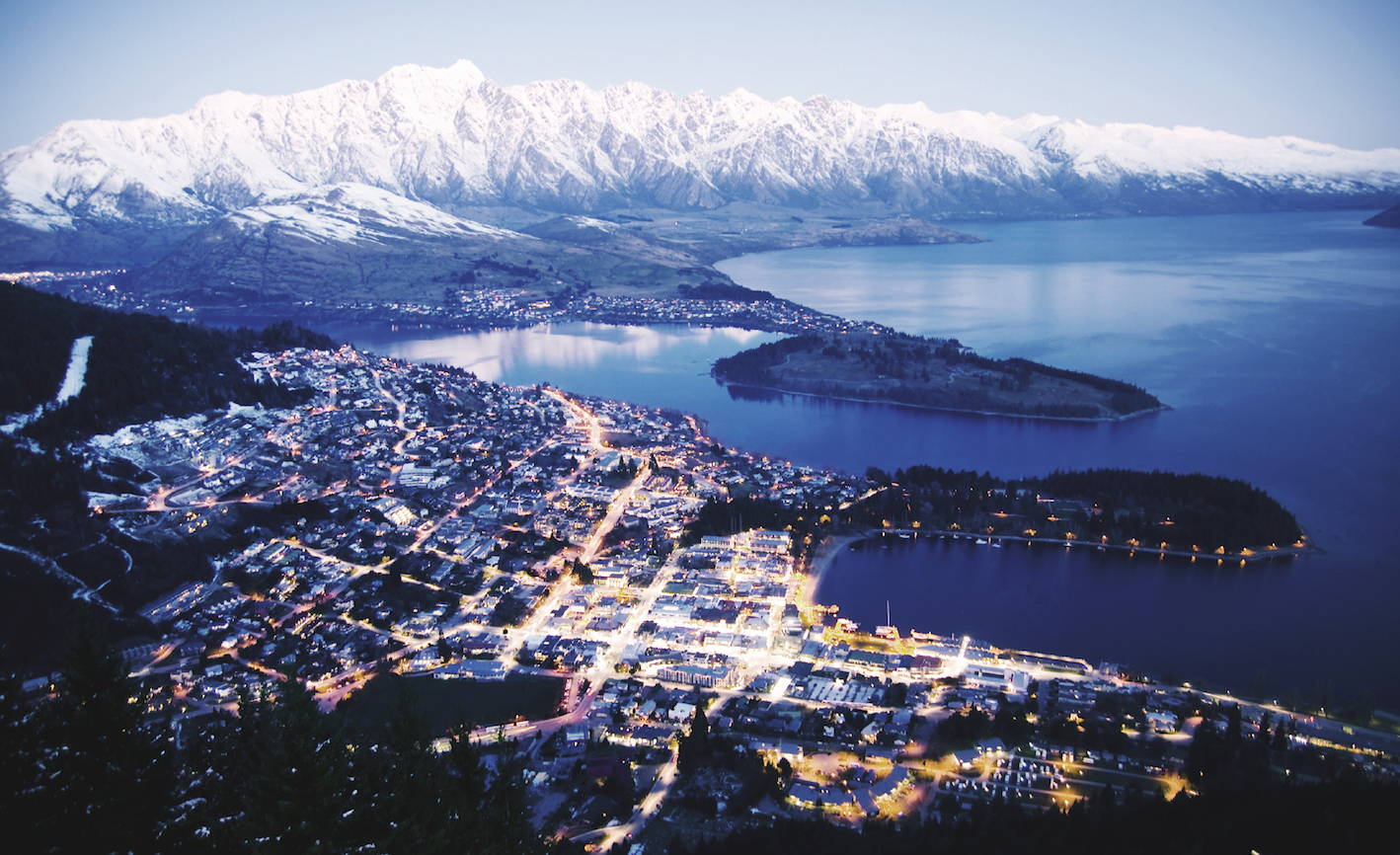 SOUTH ISLAND
The South Island is where the big guns come to play – cashed up leisure skiers and cash poor time rich ski pros. Don't be surprised if you see Kiwi Freeride World Tour big mountain skiers Sam Smoothy and Janina Kuzma at Federal Diner when you grab a flat white to go.
The US Ski team regularly train at Coronet Peak and Treble Cone, the world's best terrain park aficionados compete at Cardrona, and the likes of Seth Morrison and Glen Plake have already discovered the quirky rope tow accessed backcountry meccas known as 'the club fields.'
Pick a personality and just follow in their footsteps.
Pick of the Club Fields
---
Mt Olympus
Mtolympus.co.nz
This is one crazy mofo of a mountain. If you survive the sheer drop off unpaved drive up and then figure out how to hook your harness belt onto the seriously sporty rope tow to make it to the base lodge, then you'll be greeted by multi generational members of the best kept secret in Canterbury, Mt Olympus.
There's a hot tub, a big assed hot tub, at altitude, that many a skier or boarder has launched themselves over. There is also a dress up box in the bunked out lodge for when the party momentum takes you. Plus a resident chef who plans the meals with guests all chipping in to cut, peel, slice and dice, and a barman with a heavy hand to ensure the dress up box gets a work out.
Skiing is epic and ungroomed, a giant playground of powder terrain, simply pick your line. Be warned, you may not want to leave, which can be arranged as lift pass, lodging and board is super cheap thanks to shared bunk rooms and that aforementioned chores board.
If you are lucky you'll be there during a curling evening when the mid mountain frozen over pond gets a curling workout with a pond side ice bar serving whiskey. It's all very loose and skiing down is then done by headlamp.
Craigieburn
Craigieburn.co.nz
This beast of a mountain is accessed via a bush bashing 4wd trail through lower slope forest. The (are you seeing a theme?) nutcracker rope tow here is run by a tractor set up on bricks in a shed half way up the mountain. The ignition is turned over in the morning and voila, the cable is moving and you hook yourself on. Three rope tows will get you to the top of the peak with access to some seriously wicked finger chutes and steep face open bowls.
This is all backcountry terrain, no groomers here, so wear your beacon. If you're game, you can make a short hike over the ridge and cross over into the neighboring Broken River club field accessible on your Craigieburn ski pass. There's a mid mountain day lodge with a bbq where locals cook up fresh venison hunted within the region.
Temple Basin
Templebasin.co.nz
Luggage gets the five star works at Temple Basin car park where it is loaded onto a goods lift that takes it to the top and into the lodge. Skiers and boarders, however, have to hike around forty-five minutes to the top. It is the only way in to this 320 hectare (nearly 800 acre) remote club field near Arthur's Pass in Canterbury.
You'll find rope tows accessing four main basins and a hell of a lot of hike to terrain that will reward your efforts with steep pitched descents. Lodging is again, basic and bunks. Kitchen is communal and the club field is a favorite of local university students, so expect big parties.
Ohau
Ohau.co.nz
Vistas are a thing in New Zealand. Every mountain has one and they just get better and better. Ohau has a doozey, a stunning lake provides the eye candy as you head down the ski hill.
Found half way between Christchurch and Wanaka, Ohau is a hybrid of intrepid club field and commercial resort. You won't find nutcracker rope tows here, you will find chair lifts and a lodge at the bottom of the access road that provides comfortable accommodation in ensuite rooms with views of the lake and the restaurant serves up gourmet meals where you don't have to roll up your sleeves to help.
But like a club field there are no lift lines and no alternative accommodation to what is on offer. Terrain is 20% beginner, 50% intermediate and 30% advanced over 600 hectares (nearly 1,500 acres).
Commercial Fields
---
Mount Hutt
Mthutt.com
Everyone has a nickname in the farming town of Methven an hour from Christchurch – Cheesey, Bluey, Red – resulting in a plethora of salutations not related to the person's actual real name. You'll meet them at the originally named Blue Pub, or at the Brown Pub named after, yep, the colors of their exterior walls.
You can be guaranteed if they're not farming then they're working for Mt Hutt, the 365 hectare (900 acre) commercial ski field a half hour drive up a windy access road from town. The resort has a 4-meter average snowfall and is known for getting more snow than its sister resorts further south. There is plenty of steep off piste pitches, as well as uber-groomed runs favored by the Austrian ski teams who used to train here in the early mornings.
While you're in town make sure you drop in to Primo e Secondo café, run by an old world eccentric Kiwi woman with a wicked sense of humor. The coffee is the best in town and complimented with home baked fare and fuelling breakfasts all set in the bowels of a second hand bric and brac vintage, store so you can pick up a 12 inch vinyl, a set of pineapple condiment shakers, or a fetching scarf on your way out the door.
Treble Cone
Treblecone.com
Let's start by saying no view from any ski resort in the world beats Treble Cone. Some have tried, some have come close, but no view has beaten the vista that overwhelms the eyeballs when you stand atop of the peak and look out to Lake Wanaka and the surrounds.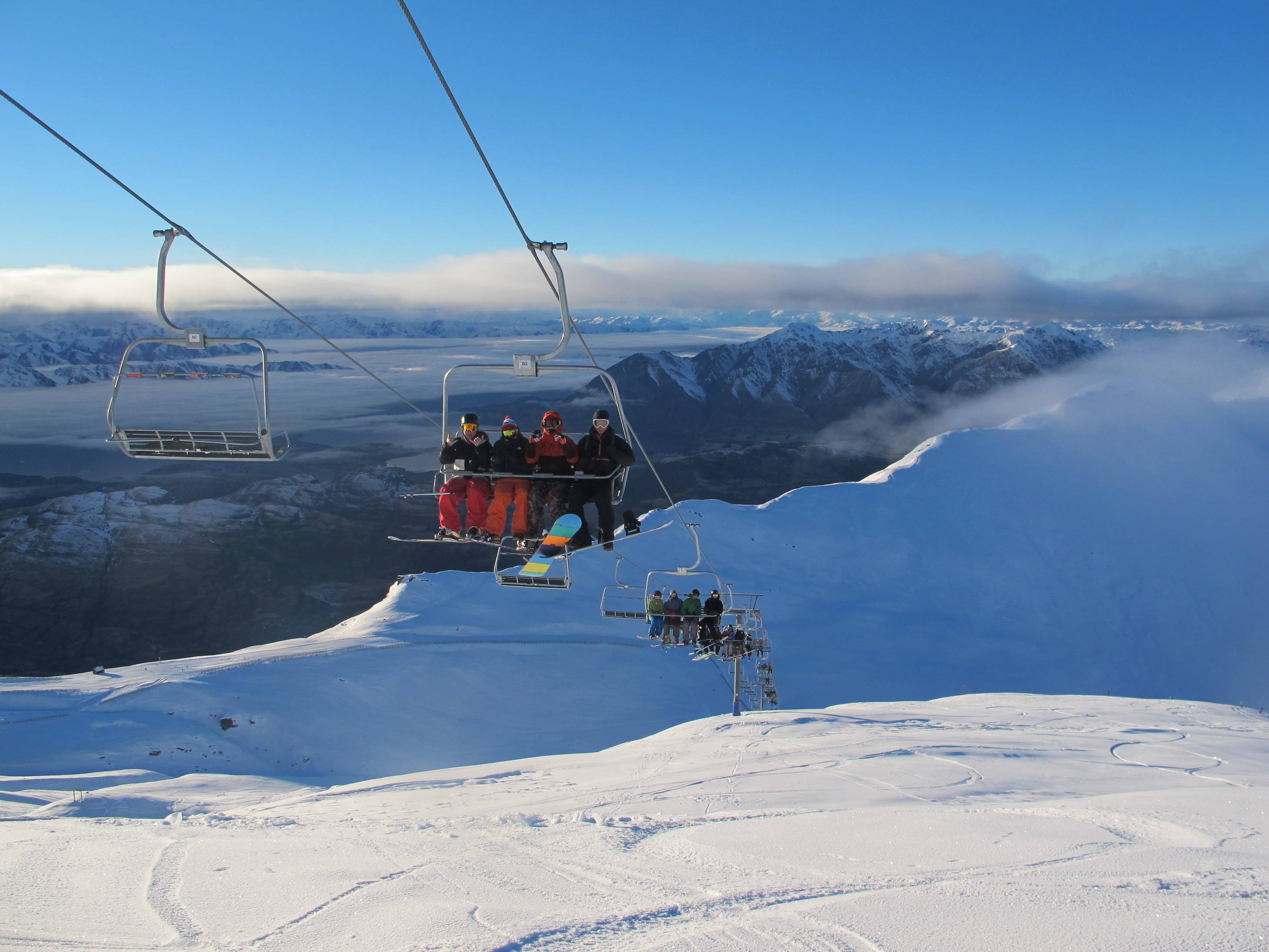 We won't go on about the road, all the access roads to New Zealand ski fields are not for the feint hearted. Instead we'll tell you about the Saddle Basin that fills with squeaky fresh powder snow and has backcountry gate access to the Matatapu Chutes for the expert skier and boarder. There's groomers, terrain parks and hike to terrain over 550 hectares (nearly 1,400 acres) with 700 meters (2,300 feet) of vertical with 45% dedicated to intermediate and 45% dedicated to advanced.
One of the best things about TC (as it's known) is Wanaka. Think of Wanaka as the quiet creative cousin of rowdy Queenstown. This is where you'll find the core skiers fuelling up with coffee and famous cheese scones at the funky Federal Diner downtown. It is also where you'll find your accommodation as there is no accommodation on the mountain.
TC's closing day is legendary with costumes to rival Halloween. Olympic coach Victoria Beattie dressed up as a GoPro one year and Sam Smoothy once hauled up a wood fired pizza oven and served up pizzas all day and night.
Cardrona
Cardrona.com
Midway between Queenstown and Wanaka over the Crown Range sits the schmick ski field of Cardrona with a world class Olympic super pipe, an international half pipe and six terrain parks from mini to extra large. Did we mention the 350 hectares (860 acres) of skiable terrain from groomers to rocky chutes?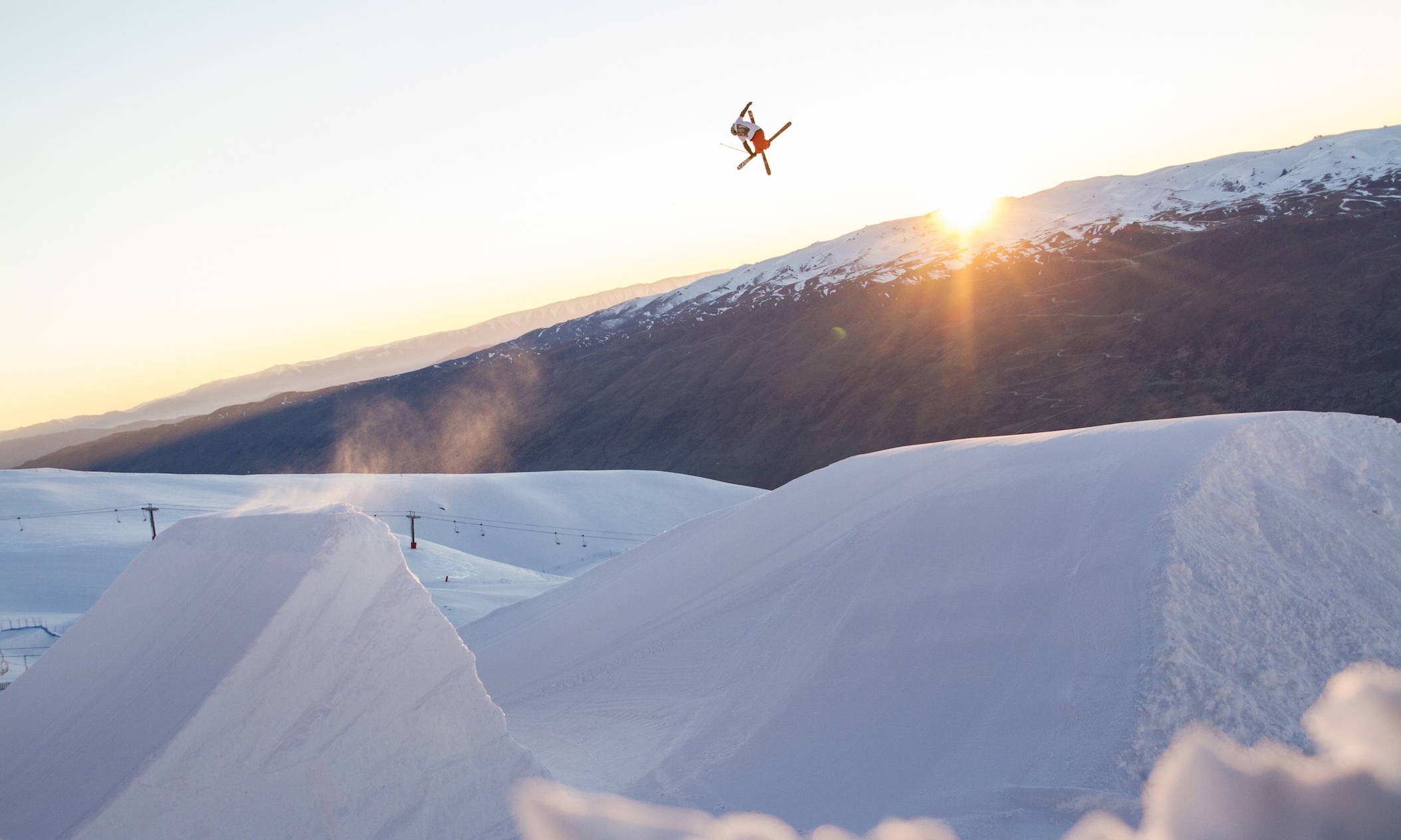 Cardrona is the only commercial ski field with on site accommodation in New Zealand thanks to a series of Cardrona apartments on snow, so if you are uber keen for first lifts then bed down up high. The rest of us take the dirt access road (yes another one) after carb loading in Queenstown at local's swanky gourmet favorite Public Kitchen or devouring the Persian eggs at the mad cap The Chop Shop at Arrowtown.
One tip, it is considered sacrilege not to stop at the historic Cardrona Hotel at the end of a Cardrona ski day (and the bottom of the access road drive down) for a mulled wine in the giant outside beer garden with open fires. Drive by at your own risk.
The Remarkables
Nzski.com
Those who fly into Queenstown International Airport will feel as though they can reach out and touch the exposed granite of the jagged Remarkables Range. These mountains are omnipressive from every view point in the lakeside resort town. The ski resort of the same name, (The Remarkables), nestled high within these peaks is a forty-five minute drive from downtown.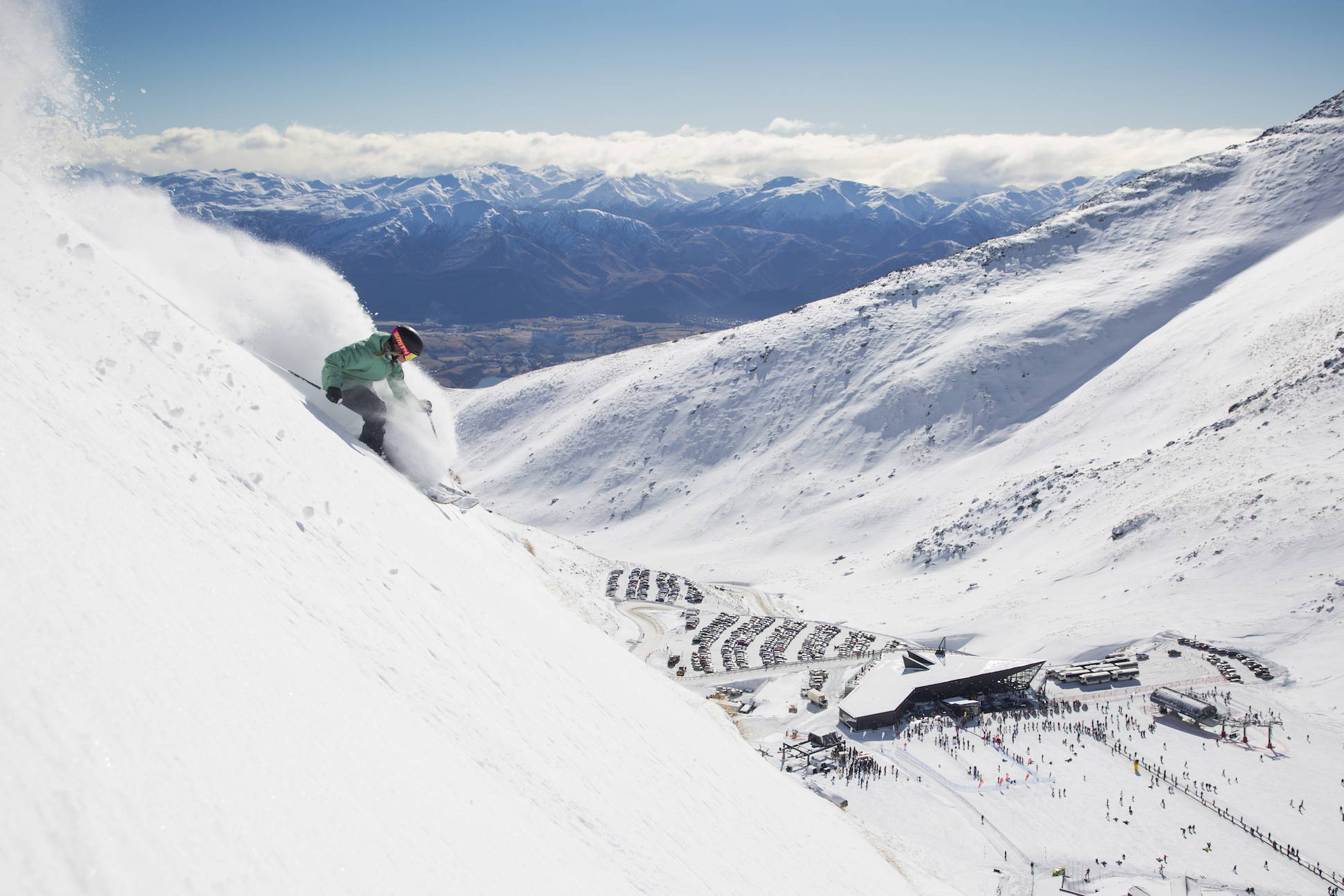 The resort has had a fair bit of moolah pumped into it in recent years. Over $20 million to be precise. A new base day lodge is the focal point of the ski field with food outlets, lounges, views forever, rentals, retail and an outdoor ice bar on the top of the mountain. Again, no accommodation on the mountain.
Expect over 220 hectares (540 acres) of skiable terrain and some great off piste accessed from the top of the Curvy Basin chairlift. A short hike from the top of the Shadow Basin Chair will give you access to the finger chutes down to Alta Lake.
Homeward Bound is a local's off piste favorite that takes the skier or boarder back down to the road, so you'll need a driver to pick you up and bring you back up or hitch a shuttle ride.
Coronet Peak
Nzski.com
This is the Queenstown local's ski hill of choice due to its proximity to the town (a 25 minute drive) and an easy access road (fully tarred the whole way). Many locals will come up for a ski before work for early 8am tracks or hit the night skiing after the working day.
The altitude is slightly lower than the other resorts, though an extensive snowmaking system takes care of that. There's no accommodation on the mountain but there's plenty of that in Queenstown. If you're on someone else's credit card, then hit up Matakauri Lodge where Prince William and Kate Middleton stayed.
There is, however, a members club with members only boot locker, café and parking. So if you can find a member to hook you up even better.
Coronet is a solid 320 hectare (nearly 800 acre) mountain with rolling terrain and good transition from beginner to intermediate to advanced accessed by a six seater express, two quad chairs and a t-bar. There is also backcountry out of bounds access off the backside of the mountain if that's your thing, but you'll have to hike out once you get down.
Helicopters and Beyond
---
New Zealand may not have tree skiing but they have heli skiing and lots of it. Kevin Boekholt spends his northern winters guiding for CMH in Canada and his southern winters running his Methven Heli Ski operation out of the town of, well, yes, Methven.
His tenure includes some of the best heli skiing terrain in the country on the Arrowsmiths Range. It's big, it's steep, and it catches bucket loads of fresh powder snow. You can choose to stay in the luxe cottage on the working sheep farm where the heli pad is, or bed down in Methven and be driven to the site in the morning.
If the massive peak of the country's tallest mountain, Mt Cook (Aoraki) has caught your eye, then you can heli ski around there too. You'll need to head to the truly minute Mt Cook village and wait a few days, or not. The weather here is notorious for playing havoc with the best laid plans, so give yourself some contingency days. Once you get up it will be worth it with big glacier skiing.
While at Mt Cook you could also invest in a Ski The Tasman fixed wing flight for a day of mellow skiing through blue ice caves, or you could hike out on a multi day ski touring adventure with Alpine Guides, who intimately know the mountain huts around these parts.
Further south in Wanaka and Queenstown there are a number of heli ski operators vying for attention for day trips or private charters. The guys at Southern Lakes Heli Ski and Alpine Helicopters have joined forces to take private groups to the super lush (and remote) Minaret Station for multi day heli ski trips akin to those found in Canada.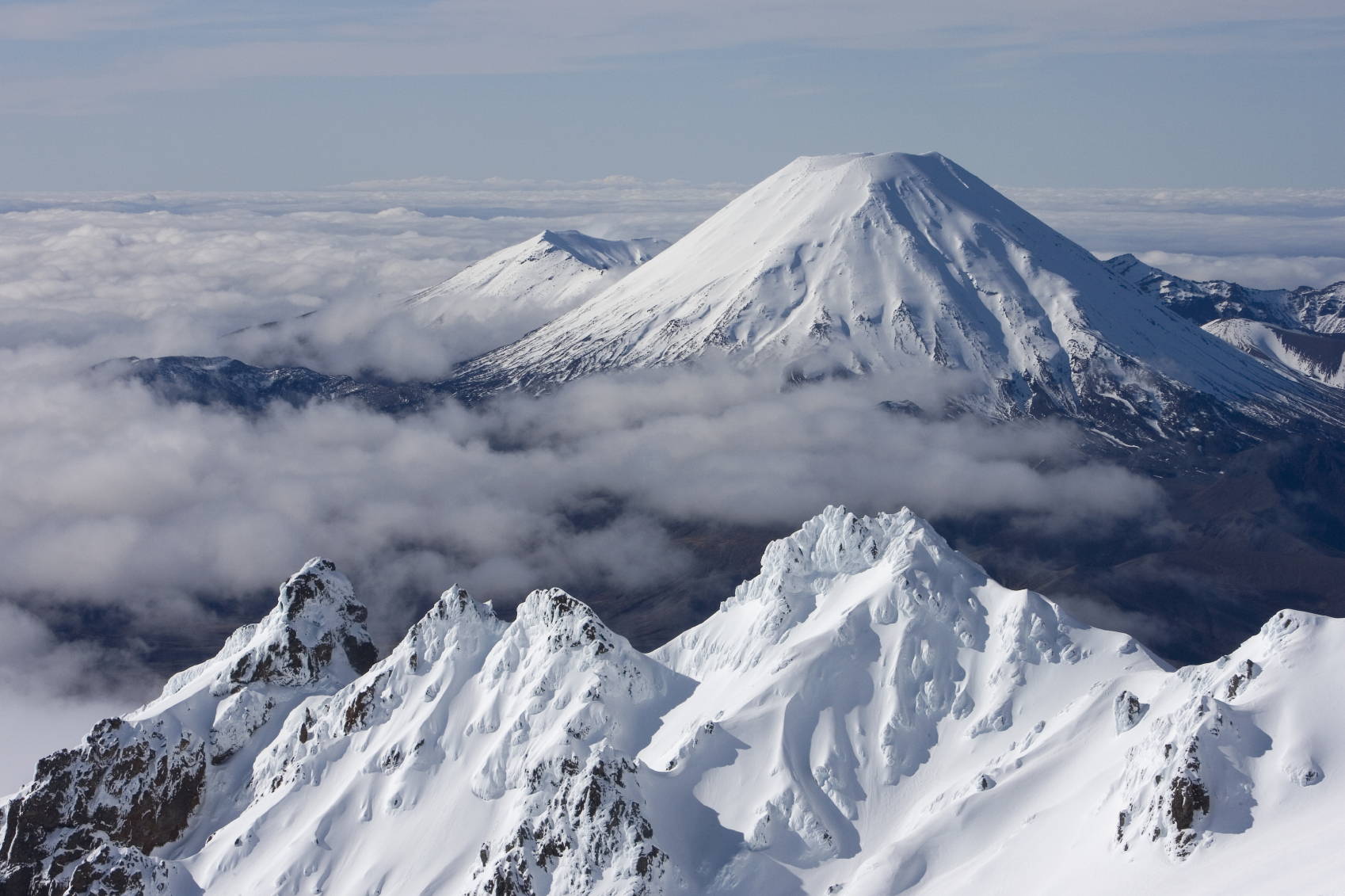 NORTH ISLAND
Few people know you can ski an active volcano in New Zealand in full view of the mythical land of Mordor in Lord of the Rings.
Mt Ruapehu rises from the middle of a plain and boasts not one, but two ski fields, the most vertical rise in New Zealand's commercial resorts, and the longest ski season. But you have to get to it first.
Think of Ruapehu as the belly button of the North Island (though obviously an outie, not an innie) mid way between Auckland and Wellington. The Turoa Ski Field side is serviced by the town of Ohakune, otherwise known as the carrot capital of New Zealand, which explains the giant fiberglass roadside carrot as you drive into town.
Ohakune has a strip of fun bars and pubs only open during winter, with some roadside food trucks and a handful of hearty cafes, plus enough accommodation options to keep you warm and comfortable.
The Whakapapa (pronounced far-ka-papa, yes, we've heard the jokes) ski field on the opposite side is serviced by National Park Village and is a good forty-minute drive from Ohakune. There's nothing much to do at National Park Village (though you can stay at The Chateau) so we'll just leave it there.
Ruapehu is an active volcano that last erupted in 2006. Don't worry, it just adds to the adrenaline excitement. However, the exposed nature of the mountain means that when the weather comes in it can hit hard, and you may find yourself spending some down days in the pub.
Turoa has 722 meters (2,400 feet) of vertical on 500 hectares (1,235 acres) including natural lava set half pipes and some wicked backcountry terrain. Yes you'll have to drive 20 minutes from Ohakune, but the road is fully sealed.
Whakapapa is the country's largest ski field at 550 hectares (1,360 acres) and offers more jagged big mountain style terrain with chutes for the daring, 30 groomed trails and a separate beginners area for those new to the mountain. A series of old world ski clubs have lodges dotted along the access road and club members can bed down here.
It is from Whakapapa's slopes that you can see Hollywood film director, Peter Jackson's Mordor mountain.