Skiing in Australia
With COVID-travel restrictions easing and Australia starting their 2022 season with record snow, August or September would be a good time to head to Australia for some Southern Hemisphere skiing. The aptly named Snowy Mountains are part of the country's Great Dividing Range (another apt name) and are only a six-hour drive south of Sydney or four from Melbourne.
Once known for the wranglers who lassoed wild brumby horse herds on their rugged slopes, the mountains are now home to National Parks and six major commercial ski resorts across New South Wales and Victoria.
Skiing Down Under is unique. The tree stashes are held by native eucalyptus gum trees, ski patrollers stop slope traffic to let wild wombats and echidnas cross, and emus and kangaroos are regularly sighted roadside attractions.
The commercial resorts mostly boast ski-in/ski-out villages with historical ski club lodges that date back to gold-mining days. Satellite towns showcase local produce, and distilleries (try the Wild Brumby Schnapps near Thredbo) and breweries (The Bright Brewery near Hotham is worth a visit) put an Australian twist on traditional winter libations.
Intrepid skiers can venture out into the roof of Australia, known as the Main Range, and camp out overnight for the kind of wicked terrain you would expect more from North America. Snowfall per season is up to 3 meters, and the season is traditionally short from mid-June to mid-September.
And though day passes are expensive (upwards of $150 AU), the current exchange rate means the Aussie dollar is more like a peso. So for those coming in from overseas, the skiing will seem cheap as chips (as they say down there).
NEW SOUTH WALES


Thredbo
Thredbo.com.au
Sydney's social elite descend upon Thredbo every winter to mingle with the same people they mingle with in Sydney, just in a setting sponsored by Mumm champagne. Thredbo is very much a core skier's mountain with 480 hectares (about 1,200 acres) of terrain, a 670-meter (2,200-foot) vertical rise, and a 5.9 km (3.7-mile) Super Trail.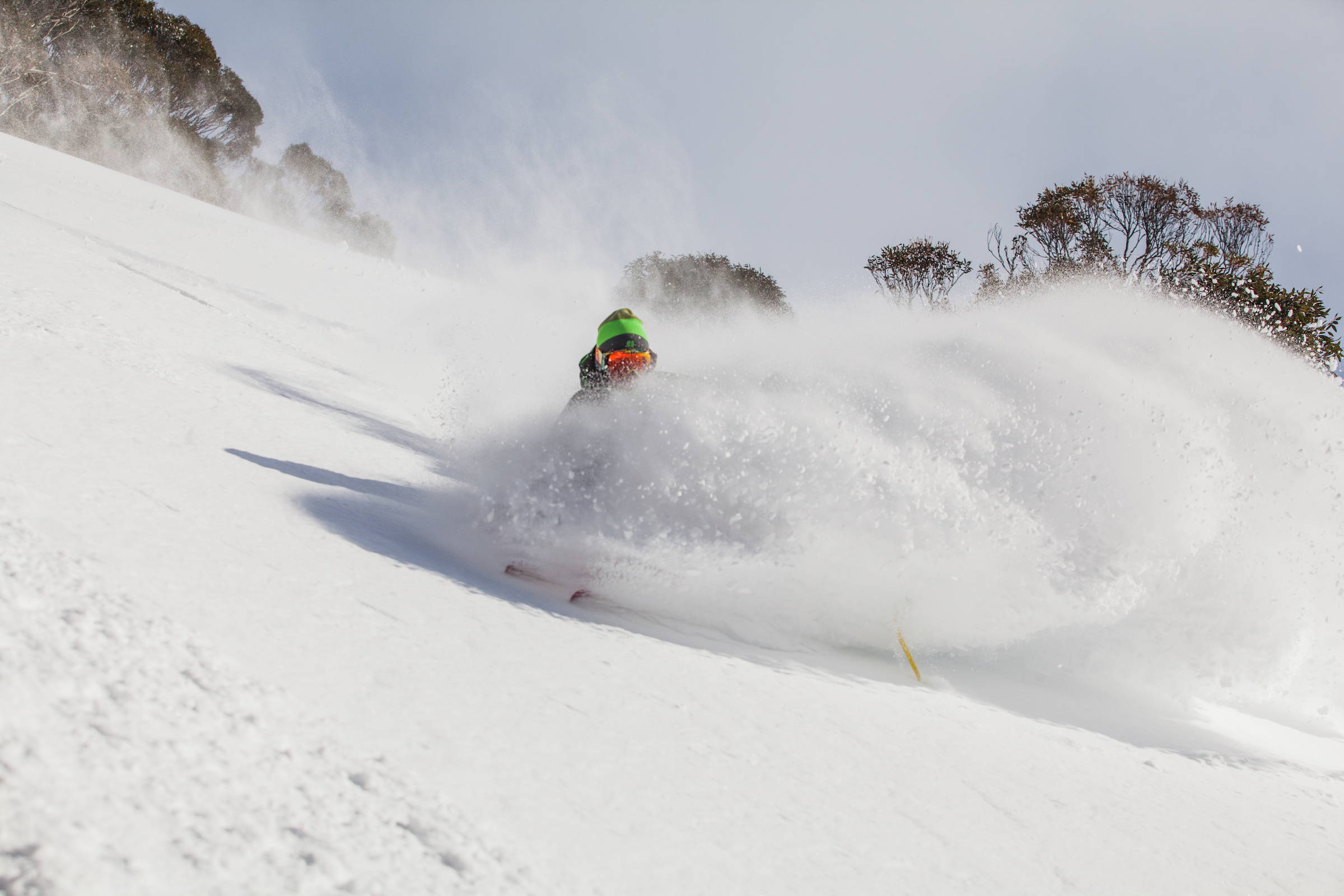 The mountain is dotted with ski-in/ski-out food outlets, including the infamous Kareela Hutte, where après can start at midday. The village sits at the base of the mountain and serves up a combination of members-only ski club lodges, boutique bed and breakfasts, hotels, condominiums, and chalets.
Après is taken seriously here. Saturday night, for example, is flare run night. Sign up and grab a flare to hold while skiing down in formation behind the resort's instructor teams from top to bottom after dark. If it's your first time, they'll toss you in the air. Literally.
One of the best secrets of Thredbo is the sidecountry. Dead Horse Gap is a fun backcountry run accessed from the top of the resort boundary. Ski through fun rollovers and forests down to a creek (which will need to be crossed), where hopefully you have some people waiting for you with a car to drive you back. Locals will often set up a barbecue by the creek for those coming down.
Perisher
Perisher.com.au
If you like a lot of terrain, then Perisher is your place. But 1,245 hectares (3,000 acres) across seven peaks comes at a price. The vertical rise is less than half that of neighboring Thredbo at 355 meters (nearly 1,200 feet), and the resort takes a fare bit of negotiating through T-bars and traversing. There are, however, a few high speed chairs thrown in to ease the pain, and the ski tube train links different areas if you don't fancy skiing all the way back.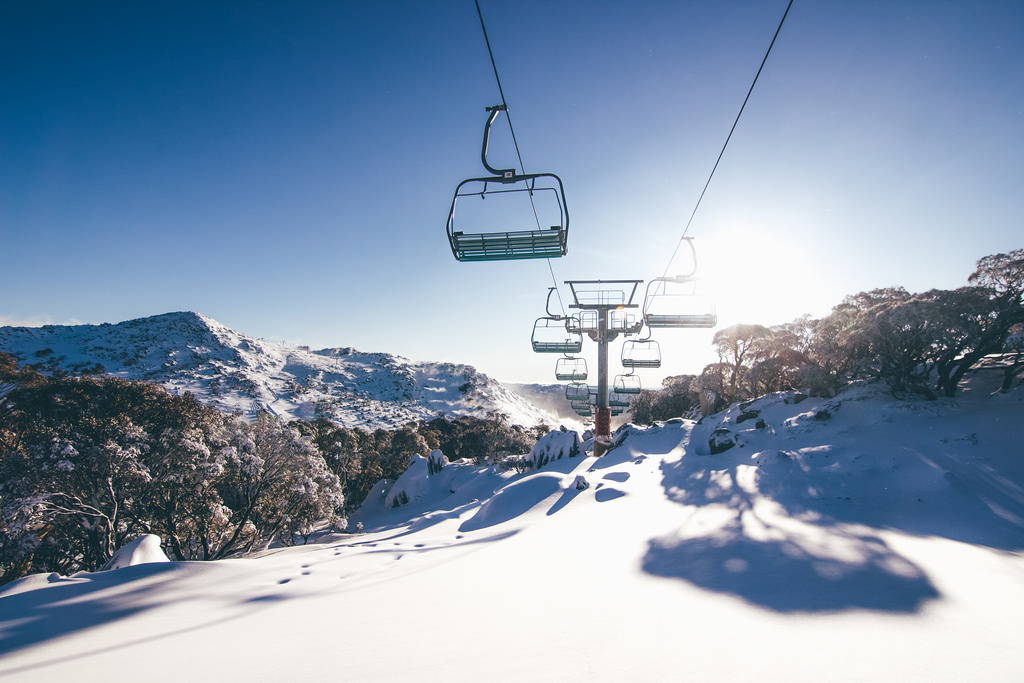 On a powder day, Perisher is a rocking resort with super fun roll overs, pillows and drops, but the resort is as dedicated to grooming as it is to off-piste, and is often the first to open thanks to an extensive snowmaking network. Terrain park skiers and boarders salivate every year over the terrain parks designed by international parks manager Charles Beckinsale, who has built some of the best big air and competition parks in the world.
Pros such as Bobby Brown, Joss Christensen, Eric Willett, Scotty James, Jamie Anderson, Torstein Horgmo and Seb Toots all trained at Perisher's terrain park.
Vail Resorts purchased Perisher in 2015 and Epic Pass holders get to ski here for free. And a local tip is to ski over to Guthega Pub for hearty fare with a spectacular view. It's a must.
VICTORIA
Falls Creek
Skifalls.com.au
Who doesn't love a pedestrian-only ski village? Cars are not allowed in Falls Creek. They are left at the resort car park and guests pile their gear into over-snow vehicles to get to their lodge, hotel, condo, or chalet. The resort is completely ski-in/ski-out, boasts over 30 bars and restaurants, and is by far the prettiest ski town in Australia.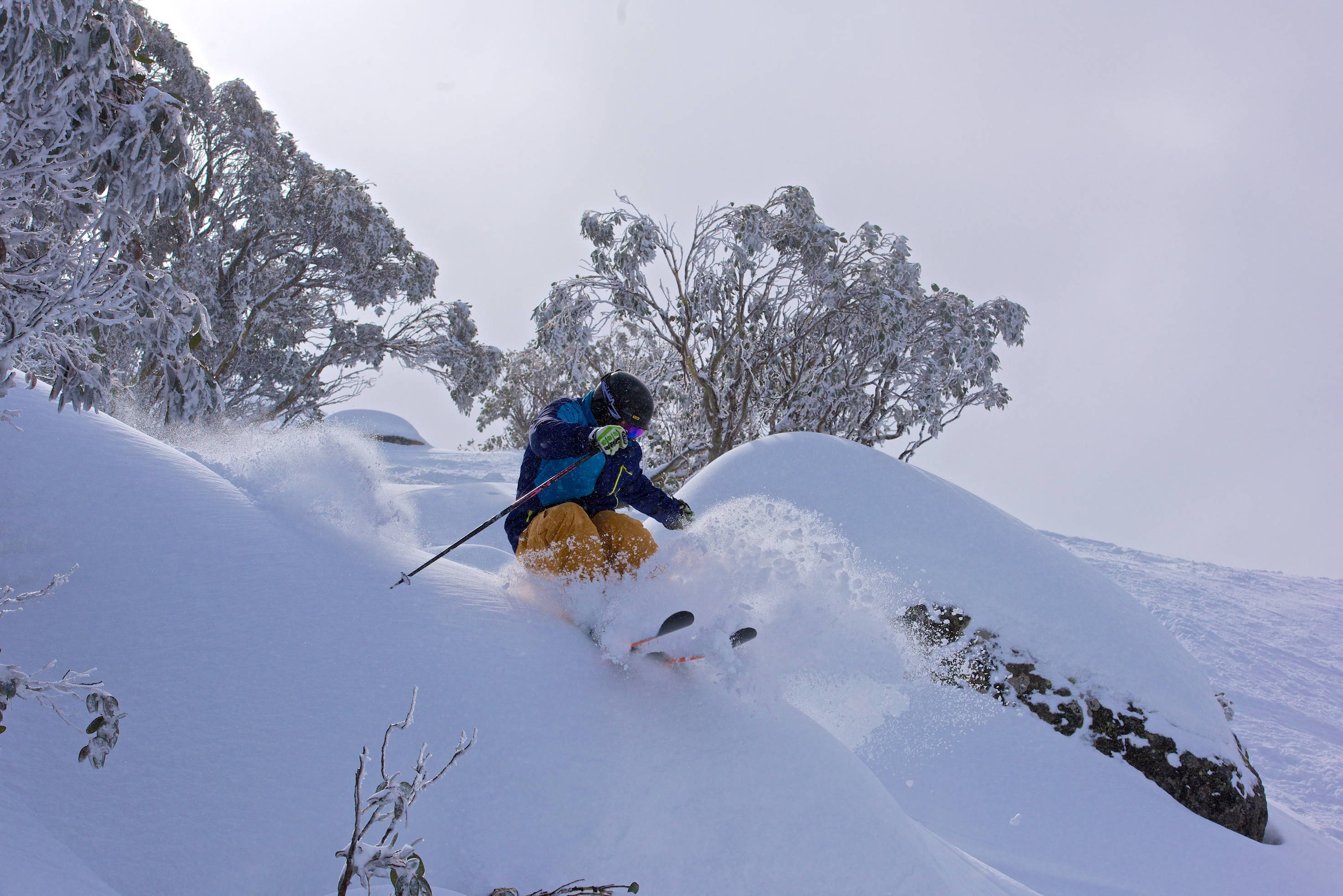 The largest ski resort in the state of Victoria with 450 hectares (1,100 acres), Falls Creek may not have the longest or steepest runs, but it does have excellent terrain parks and some fun off-piste runs in an area called The Maze.
Although local Olympic ski racer Steve Lee suffered a devastating stroke in 2020, his backcountry tours still continue. Skiers and boarders hop on a specially designed sled and are taken out via snowmobile to the region around Mt McKay for fresh powder turns in open bowls, chutes, and glades. Check here for updates.
The local tip is to check out Elk at Falls for their Asian-fusion menu.
Hotham
Hotham.com.au
Hotham is perched upon the top of the mountain, which means the first run of the day is down to the chairlift. The mainly ski-in/ski-out village services 320 hectares (790 acres) of the steepest lift accessed terrain in Australia. Skiing and riding here is split between 40% intermediate and 40% advanced, and the beginner area is separate to the main ski areas.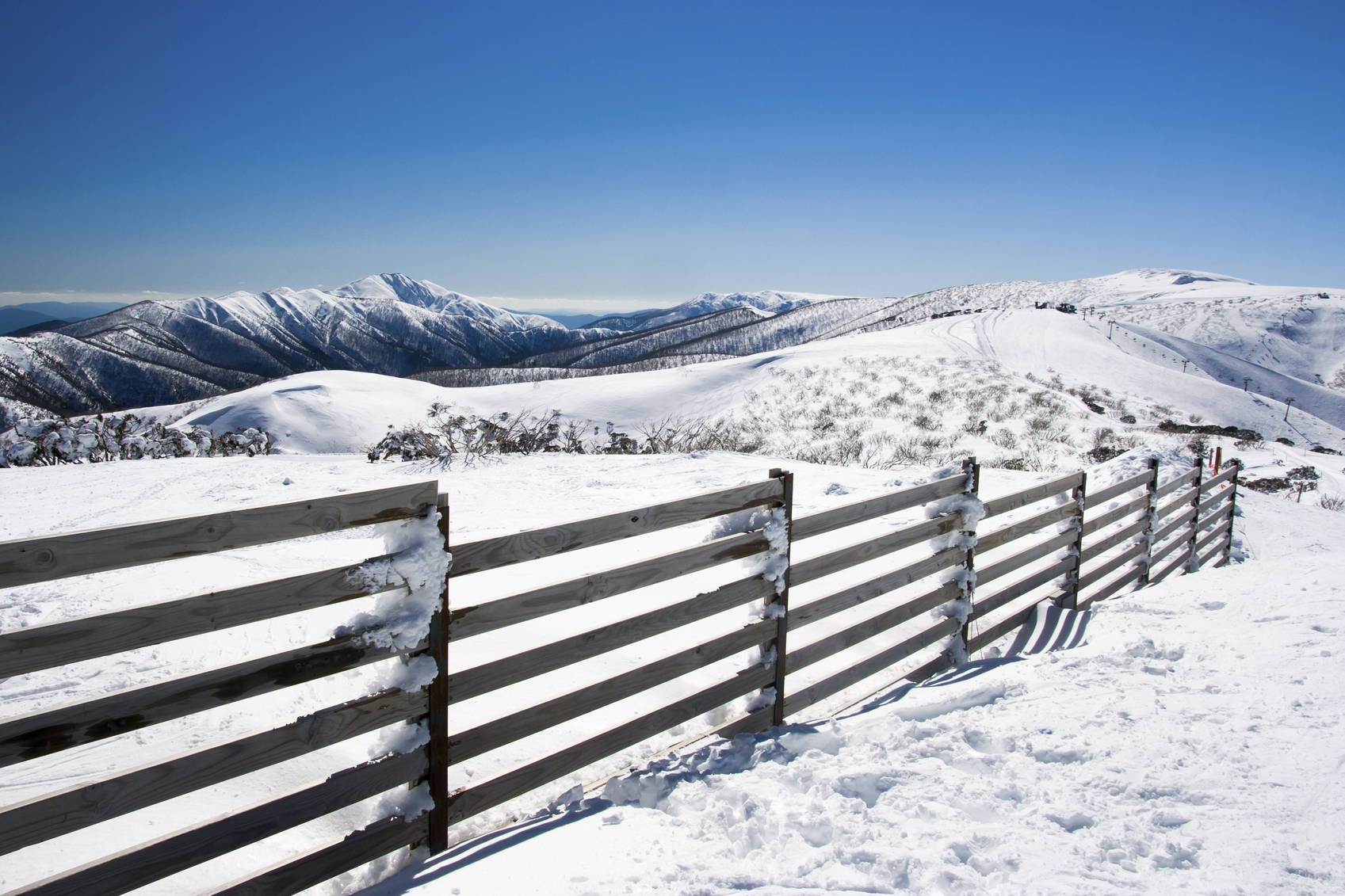 Hit the Orchards after a storm for some fun tree skiing or head out to One Tree Hill and beyond for pure off-piste powder turns that end up on an access track back to the resort. In a good year, a cat runs from the resort out to this area, so you don't have to hike.
Fifteen minutes down the road from Hotham sits the purpose-built village of Dinner Plain and a Japanese onsen–inspired day spa, plus the best lunch in town at The Mountain Kitchen.
DJ Eddy nights at The General is the stuff of legend; you might see him around town, too, wearing tights under cut-off denims and a mustache that Starsky and Hutch would covet. 
Hotham and Falls are owned and operated by the Vail Resorts, so you can jump on a helicopter transfer over to Falls (and vice versa) for a day skiing on the same ticket.
Mt Buller
mtbuller.com.au
Melbournites in black Range Rovers and turtlenecks simply love Mt Buller. They are loyal to their home mountain, a mere three-hour drive from the CBD. Home to the Australian aerials team, skier and boarder cross Olympians and the annual ABOM Moguls event, Mt Buller is steeped in Australian skiing history. Drop by the National Alpine Museum when you have a spare moment.
Three hundred acres of skiable terrain are divided between 20% beginner, 45% intermediate and 35% advanced with some seriously steep terrain only accessible in prime conditions. The mountain gets less snow than its Victorian counterparts, but the location is what brings in the crowds and the resort has invested heavily in snowmaking.
Hans and Lotte Grimus own the resort's Pension Grimus, a slopeside boutique hotel inspired by Austria. Get into the schnapps here and Hans may bring out his accordion and some snuff. It would be rude to say no, right?
--
This article has been updated from its original publication in 2016. Written by Rachael Oakes-Ash. Find out more about her here.
---
BETTER SKIING IS IN YOUR DNA.
Wagner Custom Skis takes your skiing to the next level by focusing on your Skier DNA to create a ski just for you, and you alone. We want you to click in and immediately feel at ease. Let us help you design your perfect-fit, custom skis. It's easy.