THE REAL SKIER'S GIFT GUIDE
by Wagner Skis / Dec 01, 2019
Holiday Ski Gifts
The holiday season is upon us, and let's face it, gifting can be hard. We've gathered a few of our favorite ski items to help make the holidays just a little bit easier this year. Treat your favorite ripper to one of our fan favorites.
For All Skiers
Hotronic Ski Boot Dryer
Having to put on cold or wet ski boots is a big fail and something that no skier should ever have to do. We can't recommend using boot dryers after a ski day to air out and fully dry boots enough. Really, it's a game changer. If you love warm boots, ski vacations or epic adventures, the Hotronic Micro Dry should be at the top of your list. It's compact, silent and easy to use. You can purchase now on Amazon.
Jacket & Pants
It's hard to pick the perfect ski kit these days with so many options on the market. Lately, we've been really inspired by Stio out of Jackson Hole, Wyoming (you know you can trust gear tested in the Tetons). The Men's and Women's Environ Jacket and Pants are our favorites. They are built ready to tackle a full day on the resort complete with wet chairlift rides and epic snowstorms. They also transition nicely for days in the backcountry with built-in breathability. Both the jacket and pants have all the necessities you need to keep warm and dry for a full day out in the mountains. Any skier would love to unwrap this jacket or pant on Christmas Day!
Hats
Skida started as a side project for Corrinne Prevot in high school, making cross-country hats for her teammates and friends. Today, the brand is still committed to local production, limited edition products and a fresh perspective. Their product line recently expanded to include cashmere products (who doesn't love soft, cozy fabric on your head) and we're pretty obsessed. We recommend the High Pile Hat for the ladies and the Dhari Cuff for men.
Gloves & Mittens
Free the Powder was started by a backcountry skier who's hands easily got cold (I'm pretty sure we can all relate). The company was founded with price point and quality in mind. Their small team of designers, leatherworkers and dedicated skiers have created warm, long-lasting gloves that don't break the bank. We suggest the SX Pro Glove or RX Pro Mitten for super cold and snowy days.
Helmets
Pret Helmets was established when a group of ski and snowboard enthusiasts, professional athletes, engineers and veterans of the industry came together to create the ultimate helmet. Their perfect combination of weight, fit and style is why we picked them for our gift guide. We love that the earpieces are detachable and how light they feel on your head. Our pick for men is the Cirque X while we suggest the Lyric X for ladies.
For the Adventurer
Hut Trip Ski trips are the best and last winter we found the perfect alpine lodge to rip backcountry turns and sleep in comfort. Red Mountain Alpine Lodge is located off of Red Mountain Pass between Ouray and Silverton, Colorado. The perfect location offers incredible access to the best backcountry terrain in the San Juan Mountains. Let's get something straight, Red Mountain Alpine Lodge is not your average run-of-the-mill hut. This is a brand new, premium off-grid timber frame backcountry lodge has amenities galore (fondue after skiing might be our favorite). The lodge features three private rooms and a large loft for a combined sleeping capacity of up to 20 people. Upon entry, you'll experience the sensation of a rustic luxury as you gaze at the amazing exposed posts and beams of the custom timber frame structure. Constructed using 19th Century tools and processes with Douglas Fir timbers, it creates the unmistakable look and feel that are the hallmarks of this type of construction – cozy, rustic, soulful. Plus, you can add on guided backcountry skiing. Learn more and book your backcountry experience at: redmountainalpinelodge.com/ (don't forget to tell them Wagner sent you!).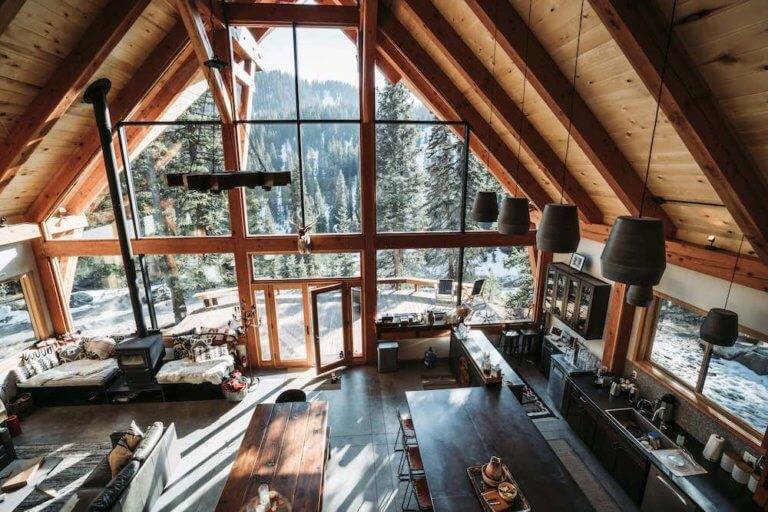 Multi-Tool
Any skier who frequents the backcountry should have a solid multi tool if things go wrong. Leatherman's Signal multi-tool is designed for adventure in mind. It features a fire starter, hammer, one-handed blade and emergency whistle in addition to the standard tools (pliers, wire cutters, a combo knife, saw, bit drive, carabiner and more). It packs up nicely and only weighs 7.5 oz. Nothing beats being prepared.
The Ultimate Ski Gift
If you really want to take your skiing to the next level this season or want to give the ultimate gift, we suggest a pair of Wagner Custom Skis. Each pair of skis we build are unique to that individual skier and are designed to improve balance, control, and efficiency on snow. Adding custom graphics allows your gift to become truly memorable and unique. Ready to pull the trigger? Head to the Wagner gift shop for more information and to get started.
For the Ladies
Fashion-Forward Accessory
I've never met a lady skier friend who doesn't like Astis Mittens. They keep your hands warm and really make a statement on the slopes. For rippers and spa-goers alike, these are the perfect present for the fashion-forward lady in your life. Side note: their short-cuff gloves are also fun for men. Check them out and learn more here. Base Layers Does your favorite ski bunny easily get cold on the slopes? Mons Royale makes some of the warmest base layers we've ever used, and their product selection is super cute (come on, it's for the ladies!). We recommend the Cascade Merino Flex 1/4 Zip and Cascade Merino Flex Legging. Each piece is made with Mons 250 merino wool, their warmest baselayer weight. Mons' versatile base layers are cute enough for coffee meetings but burly enough for the coldest days on the mountain. Their men's collection is pretty great, too.
The Coolest Ski Trip… Ever
We've been drooling over Tordrillo Mountain Lodge's Kings & Corn offering since we first learned about it a few seasons ago. This is by far our ultimate dream trip. Start your day off skiing untouched corn in the Tordrillo Mountains of Alaska and finish your day with guided fly-in fishing for the legendary Alaska King Salmon at the headwaters of the Talachulitna River. All this fun is topped off with the luxuries of Tordrillo Mountain Lodge: gourmet meals, immaculate backcountry accommodations, and all on-property amenities including wake-setting boat for waterskiing and wake surfing, SUPs, sauna and a hot tub. If you've been waiting for the trip of a lifetime, we're pretty sure this is it. Learn more about this drool-worthy gift here.
Happy Gifting!
Back to JOURNAL