The Wagner Process: Our Perfect Fit, Your Perfect Day
THE CUSTOM SKI PROCESS
Wagner Custom makes one pair of skis at a time, each unique and perfectly fit for each individual based on their personal Skier DNA. We want you to ski with more confidence and control, with less fatigue, and more than anything we want you to spend more time having fun on the slopes. Here's how it works.
At Wagner, we have painstakingly developed a unique set of tools to accomplish the perfect one-of-a-kind ski. We call it our Skier DNA. It's starts with a brief set of questions so we can get acquainted with you as a skier (find the Skier DNA here). These simple questions include:
Where you ski most often?
What conditions you most frequently encounter? 
What you are looking for in a ski? And more.
From there, we invite you to chat with us for about 30 minutes over the phone to find out more about your personal skiing style and the past skis you have liked/disliked and why. With your feedback, our expert staff will create a unique ski design created just for you, with a one-of-a-kind mix of specific materials, and a specialized flex pattern and shape to suit your skiing needs.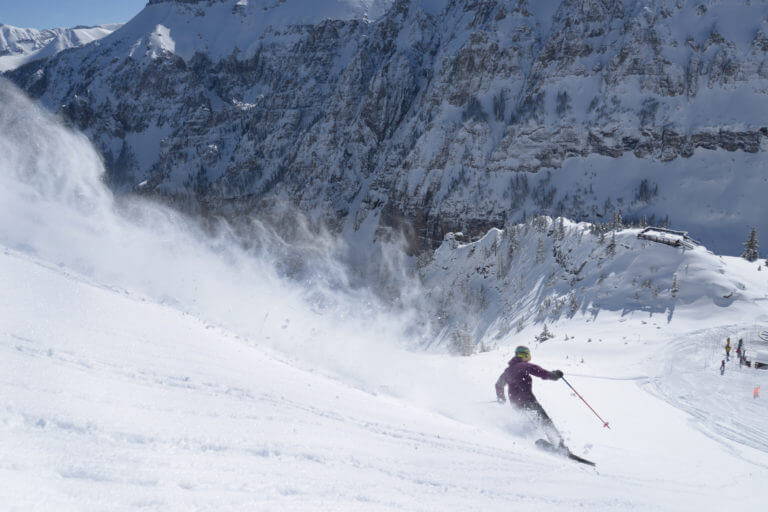 While this process is taking place, you also get to embrace your creative side and choose your topsheet. Pick from:
A full custom topsheet designed with your input by our graphic designer (read more here)
An elegant wood veneer topsheet (view options here)
A stock topsheet or solid color topsheet, designed by our graphic designer
For many, this is the favorite step so let your imagination run wild.
Once you have chosen a topsheet graphic and reviewed your specific ski design recommendation, your skis will enter production. Each pair of skis start out side-by-side and your unique shape is cut from only the best materials available. We precision-craft the custom skis to fill your perfect fit prescription. At the Wagner factory, old world craftsmanship meets 21st Century technology to ultimately help you become a better skier.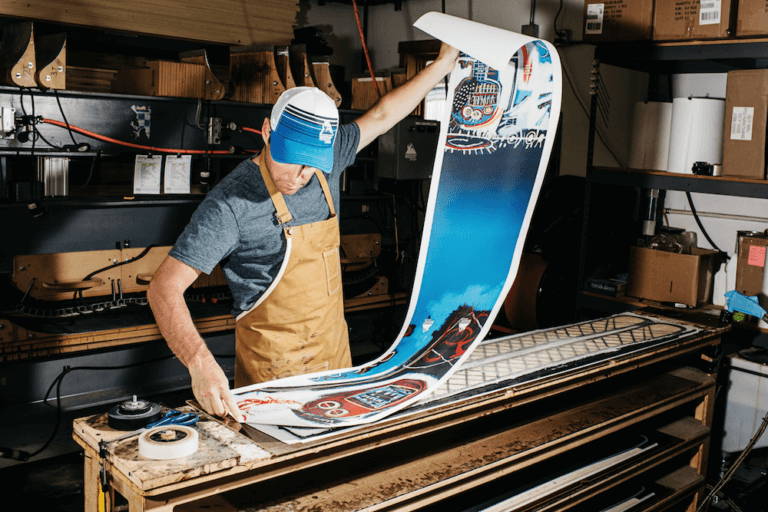 After curing, the skis are cleaned and expertly hand tuned, ready to go directly onto the snow. Our custom process takes about three weeks to complete and we keep you in the loop every step of the way. We prefer to mount your skis so they are perfect, and then ship them to meet you anywhere in the world.
Wagner skis are built to withstand nature's elements and deliver when you need to rely on your skis the most. We are certain your new skis will improve your balance and precision on the slopes, which will lead to more comfort and control. Skiing should always be the fun part. We are so confident in our product that we offer a 100% guarantee. If you aren't satisfied with your finished product, we will rebuild your skis or offer you a full refund.
Don't just take our word for it, check out testifications from:
Are you ready to make skiing more enjoyable? There's no risk in getting started, discover your Skier DNA today.
BETTER SKIING IS IN
YOUR DNA.
Wagner Custom Skis takes your skiing to the next level by focusing on your Skier DNA to create a ski just for you, and you alone. We want you to click in and immediately feel at ease. Let us help you design your perfect-fit, custom skis. It's easy.