WHAT YOU NEED TO KNOW ABOUT CUSTOM SKIS
by Wagner Skis / Aug 12, 2019
Custom Skis
A great pair of custom skis are specifically designed for an individual skier. The goal is to make skiing easier, especially in more challenging snow and terrain. One result is a much wider comfort zone, which in turn leads to acquiring more advanced skills. The end result is that skiing is more fun.
WHAT ARE CUSTOM SKIS AND HOW DOES IT ALL WORK?
The world's top professional ski racers (think Mikaela Shiffrin, Marcel Hirscher, Lindsey Vonn, and the likes) all use custom skis – skis built for them by the racing workshops at their sponsor factories. These specially-built race skis may share only cosmetics with the mass-production skis sold in shops. Skis created for top-level racers are built to be fast, of course, but also to perform to the racer's own tastes on specific race courses. Mikaela Shiffrin, for instance, has at least a dozen different slalom skis to choose from for each race of the season, plus a dozen different giant slalom skis and the fastest downhill skis her factory can build. A crew of service people travel with her to tweak her skis until, when she slips into the starting gate, she has absolutely no reservations about her equipment.
How does this translate to common-folk skiers like you and me? In fact, beginner and intermediate skiers benefit the most from custom skis because they help them progress faster.
If you are ready to take your skiing to the next level, you may already have had custom work done on your boots, to make them fit perfectly. The next step is to design the ski itself to fit the way you want to ski.  
CUSTOM SKIS AND PROPER FIT
The proper fit fine-tunes every characteristic of your ski, including design aspects you may never have thought about. These include the length, width, stiffness, sidecut profile, camber and/or rocker profile, weight, glide speed potential, stability/agility compromise, tip and tail shapes, and topsheet graphics. If all of these pieces are matched to your strength, skill level and terrain preferences, the end product will improve your balance, give you better control in challenging snow and terrain, let you turn at will without effort, and ski all day without fatigue. You'll notice better power and precision on the mountain and ski with more confidence.
The best attribute in a ski that fits you just right is having a big "sweet spot," meaning the skis will work for you in a broad range of snow conditions and terrain options. Custom ski designers achieve this through a forgiving tip and tail which allows the skier to easily initiate and release from turns. However, the ski is still stable underfoot, maintaining stability at higher speeds and in challenging conditions. Ski shape and stiffness are the drivers to achieving a big sweet spot.
Another important design goal is to achieve the right feel on snow. Perhaps you prefer a light and nimble ski that helps you make quicker turns and achieve agility in tight terrain, like trees, bumps and chutes. On the other hand, maybe you want stability, for more confidence in variable snow conditions. The proper feel depends on the core and laminate materials you choose in consultation with your ski designer.
THE PROCESS
To start the custom ski design process, first take a look at the equipment you've been using. Take note of the length, width and sidecut profile (the tip, waist and tail widths), and do a little research on the materials (almost all modern skis use fiberglass layers, but it's useful to know whether your skis also contain aluminum alloy and whether the core is of foam or wood). Full information about the skis you're used to will provide a useful starting point for a conversation with a ski designer.
What do you like and dislike about your current skis, or about any skis you've owned in the past? Are there situations where you would have liked the ski to have better edge-hold, or easier turn entry, or feel smoother in rotten snow? The defaults in the equipment you have now point to design and material improvements for the future. As an example, if you find that your skis are mostly good but they chatter a lot when you ski fast or in difficult snow conditions, you may need a ski with less rocker, or that is stiffer (created by the materials). Or, if your skis are harder to turn in tight terrain (trees, bumps, steeps), you might need a ski that has a more forgiving flex and / or a shorter length. Maybe you love spring skiing and don't like it that your skis get bogged down in wet powder or corn snow – you may need a better-quality base material and an aluminum-based glide-speed construction.
Think about how you want to improve your skiing. A great custom ski manufacturer will have a diagnostic system to guide you to your perfect fit. You shouldn't have to make all the decisions and you should not have to choose amongst fixed shape, length or material options. The ski should be 100 percent designed for you.
In choosing a custom ski maker, look for a company offering a multitude of options and materials. Find out how many construction variations they can produce – that is, what spectrum of materials do they offer, and how can they be blended or combined? If they only have a few options, their final product might not be optimally compatible with your goals. Evaluate the company's finished product. Are their skis tuned to perfection? Are the graphics clean and perfect? Make sure you choose a company with a high level, precision-crafted product.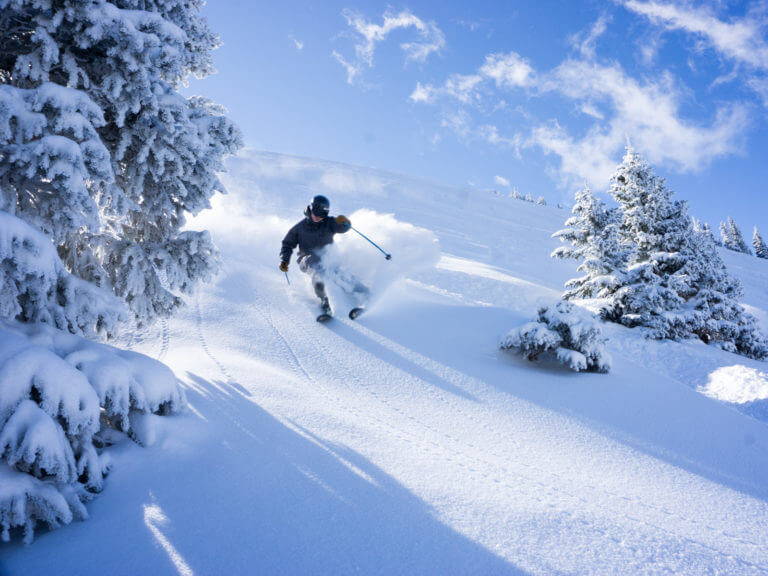 CUSTOM SKI BENEFITS
There are literally hundreds of mass-produced ski designs to choose from in any given year, and let's face it, that's a lot of options (even for industry professionals). You could spend an entire season demoing skis and still not know which pair to purchase. One problem with demoing a lot of skis is that you'll inevitably test a number of skis you don't much like – thus ruining at least a few runs. To short-circuit the process, have a long heart-to-heart with a ski designer and get a pair of skis guaranteed to work for you on the first run.
Pick a ski manufacturer that has a high level of sophistication, knows how to source the best materials, pays devoted attention to detail, and produces a precision-crafted product. Let the custom ski designer help you determine your perfect-fit skis so you can spend more time enjoying skiing and progress to a higher level.
Want to learn more about our process? Check out our factory tour video series:
Back to JOURNAL