WHY BUY CUSTOM SKIS?
by Wagner Skis / Sep 26, 2019
We've Got Answers!
Firstly: Have More Fun More Often
In any sport, when your equipment is dialed it's easier to enjoy what you are doing. That's especially true in skiing. You won't have fun if your boots hurt, or if your skis are too long, too stiff, too straight, too twitchy. If you've ever demoed an unsuitable ski, you certainly remember the struggle for control. You can't turn at will, your skis buck you around, you feel like you could cartwheel forward, and so on.
How to find the right ski without wasting days trying random demos? Each ski we handcraft at the Wagner factory in Telluride is custom crafted based on the customer's Skier DNA (demographic info, skiing ability level, terrain preferences, and even resort choices). The DNA questionnaire, with its follow-up interview, guides us to the perfect, individualized ski geometry. Geometry, combined with the right ski materials and flex pattern, improves balance, control over the ski, and therefore comfort on the slopes. When your ski geometry, materials, and flex pattern align, you experience more power, precision and efficiency. You'll ski longer without fatigue. Ultimately, you have more fun.
Experience More Comfort
When your skis are designed specifically for you, each design element works in your favor. A ski built just for you has a bigger "sweet spot" than an off-the-rack ski built to the common denominator. It puts you immediately at ease, performs better in a broader range of terrain types and snow conditions. The ski is more versatile.
A ski that outperforms other skis in a variety of terrain and conditions requires less muscle while skiing. Skiing becomes more comfortable, and you can relax. You will ski longer days, ski terrain once out of your comfort zone, and progress at a faster rate. Plus, you won't be as tired on your second, third, fourth, and 85th ski day.
Save Time
Our process is simple: Start by filling out your Skier DNA. We ask you a few questions online (so you can answer them wherever you may be in the world). This is followed up with a phone call with one of our expert ski designers. From there, we personalize a ski design just for you. We can always tweak the design if you have varying thoughts from what we put together. The last step before your skis enter production is to dial in your topsheet design with one of our graphic designers. When your skis are completed, we can ship them anywhere in the world – to your home base, to the hotel of your next ski vacation, to your office or anywhere else. We make it easy to buy the right skis.
Any ski vacation should be spent enjoying yourself, getting to the good snow and cruising with friends and family. Don't waste your precious vacation time demoing skis or waiting in line at the ski shop for rental gear.
Get Creative
While we really enjoy the technical aspect to ski design (length, width, turning radius, flex pattern, materials choice), we find that most of our clients get really into their topsheet design. We have stock topsheet designs, classic wood veneer options, artist collections, and our in-house graphic designers can create full-custom art – perhaps of your own design or based on art or photographs you send in. We've put kids' artwork on skis, wildlife and landscape photos, club logos — If you can dream it, we can make it happen! You can learn more about our custom graphic design process here.
Support Craft Business
Wagner Custom is a craft ski building business located in the heart of Telluride, Colorado. We use only the best materials and employ the most skilled craftspeople. We don't use typical ski molds because each pair of skis we produce is unique, with its own dimensions. A lot of love, time and attention goes into each pair of our skis. Ultimately, Wagner skis are more durable and show strong attention to detail.
In the industry today, it's pretty unique to have a team of dedicated engineers, graphic designers, ski builders, and artisans working to create your skis. Consider that top ski racers get custom skis from the prototype labs in the big factories. On custom skis you can consider yourself in the good company of top stars like Mikaela Shiffrin and Marcel Hirscher.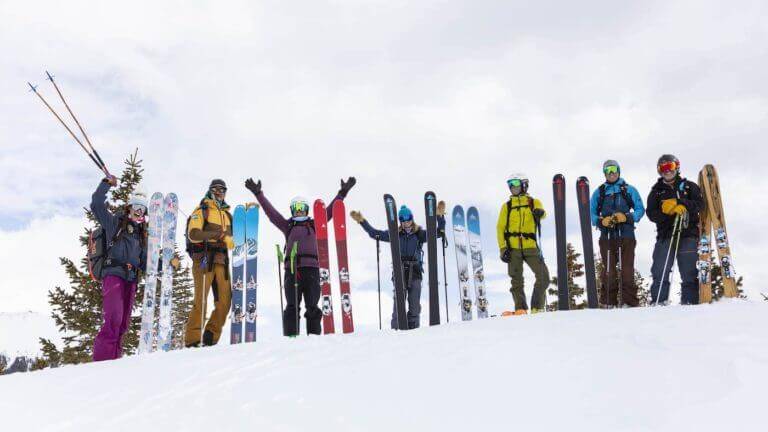 But Am I Good Enough?
Sure, we get it. You may think that custom skis are for expert skiers only. That's just simply not the case. Custom skis can help at any ability level. Because we match your skis to your Skier DNA, you'll immediately step into your bindings and hit the slopes with ease. If you're learning, or still progressing, our custom skis will actually help you to improve skills at a faster rate. Gaining new skills is easier when you don't have to fight your own skis.
If you're an expert, custom skis will help you feel like a pro even in adverse conditions. Having a bigger sweet spot builds confidence in terrain you don't necessarily love to ski.
100% Guarantee
At Wagner Custom, we believe in happy skiers. If you aren't 100% satisfied with your custom skis, we will happily build you a new pair (or give you your money back). Skiing is supposed to be fun. If you find yourself fatigued, wasting time on your ski vacation, or not fully enjoying your ski day, it's time to look for a new pair of skis. Custom skis can help you progress your ability level, have more fun and experience more comfort. We hope you'll give us a try.
Wagner Custom Skis takes your skiing to the next level by focusing on your Skier DNA to create a ski just for you, and you alone. We want you to click in and immediately feel at ease. Let us help you design your perfect-fit, custom skis. It's easy.
Back to JOURNAL