Winter Camping Tips & Tricks
WINTER CAMPING
As spring approaches, it's natural to start thinking about peak bagging, corn skiing and camping overnight in order to reach your objectives. If your ideal routes involve hard to reach zones or multi-day adventures, we have a list of tips and tricks to keep the stoke high and adventure continuous. Once you decide on an objective and head into the hills, here are a few things that can help you make the most out of your overnight adventure.
When determining where to camp, aim for the sun. Think about good eastern and western exposure for early and late day sunshine. Stay out of valleys and river beds. When the weather is clear, there is typically an inversion, meaning cold air sinks to the lowest possible place. Snow benches are a great place to camp as they can increase your temperature by 10 to 20 degrees. Now that you know how to locate a good camping zone, next we dive into advice on setting up camp.
Once you've located a good camping zone, consider these tips to ensure your campsite is set up efficiently and ready for the elements:
Steer clear of avalanche terrain. That might seem obvious, but make sure you identify potential hazards and avoid runout zones. Ask yourself, if a slide did occur, where would it go and would it avoid camp? Learn how to calculate your

 

Alpha Angle

 

to help you understand runout zones.
Do your best to avoid windy areas. Note where the typical wind direction comes from and use that information to hide behind boulders or beyond tree outcroppings.
Once you have found your home away from home, stomp out the snow to create a platform for your tent and any communal areas you might decide to set up. Let it sit for about 30 minutes, this platform will help stabilize camp and make it easier to walk around.
If you observe the elements and decide wind might be a problem, go the extra step and dig out your platform a few feet below the snow line. This, or a wind wall built out of snow chunks, will help eliminate wind nuisance throughout the night.
Now that your general zone is dialed, it's time to set up your tent. Start with a ground sheet underneath in order to avoid ripping. We suggest positioning the tent 90 degrees from the wind and with your entrance pointing downhill. This will help keep you protected from the elements and keep cold air near the door. Be sure to anchor your tent very securely by burying anchor points in the snow (letting them freeze works wonders).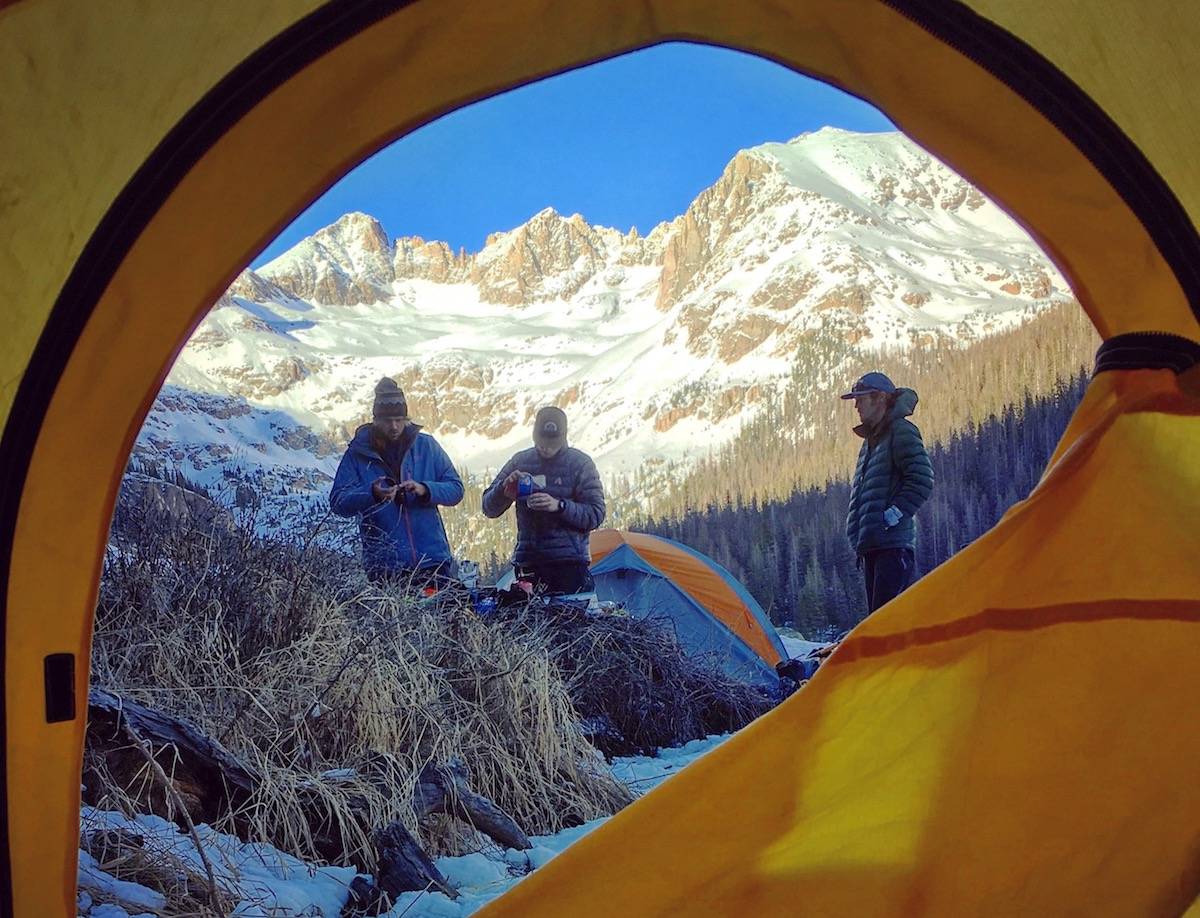 Once your camp is ready to go, here are a few other helpful tips to make the most out of your adventure:
Sleep with your boot liners in your sleeping bag to keep them warm. That goes for socks, electronics (beacon), food for the morning, and anything else you want to keep from freezing.
Use two sleeping pads, one foam and one inflatable to make sure you are well insulated and off the snow.
Your best bet for drinking water is to boil snow. If the snow has a lot of debris, bring coffee filters to strain the particles. Drink water as often as possible to keep hydrated. Often time you can find running water if you dig down far enough in the snow. This will save on stove fuel.
Speaking of drinking water, make sure you have a designated pee spot so you aren't collecting yellow snow to melt into water. Snow is cold, but does work well to wipe… if you know what we mean.
In the evening, don't hold it in–use the restroom. The body burns calories keeping a bladder warm, so holding it in will make you colder. Consider a pee bottle for night time, just make sure you mark it well.
If it isn't snowing, turn your sleeping bag inside out and hang over your tent to dry during the day.
Your metabolism is like a wood burning stove, start with kindling (sugar) and stoke the fire often. Put on good logs (carbs) to keep the fire burning throughout the day, and before bed use hardwood (fats) to make sure the fire burns all night long. Eat a lot of butter, chocolate and cheese. Calories are heat, so don't be shy.
If it's cold, consider putting in a small Nordic track around camp so you can easily throw your skins on to stay warm. There are only two ways to produce heat, exercise and metabolism. If you are cold, do a few laps and then eat some more calories.
Use hand warmers in your sleeping bag to help keep it warm.
Pack out all of your trash.
When heading into the mountains, be sure to evaluate the weather, check out a skier's guide to predicting a powder day here. And, check your local avalanche center's website to get beta on the snowpack. Here's a great article on how to think like an avalanche professional. Time to start planning.
Thanks to Billy Rankin at Eleven Experience for many of our winter camping tips. Learn more about winter camping from our friends at MSR here.