David Gorsuch: Life, Skiing & So Much More
For those not familiar with the name David Gorsuch, he is a pioneer of the ski industry. He is an accomplished ski racer, former member of the US Olympic ski team and founder of Gorsuch, LTD with his wife Renie. Gorsuch is the epitome of a hard worker and someone who created an incredible and fascinating life around skiing. Here's a look back at his upbringing, how the retail outlet of Gorsuch got started (hint: it started in a gas station in Gunnison), and David's tips for generations to come.
David Gorsuch
It took a bit longer to connect with David Gorsuch than I expected. For the past week he had been cutting hay on the family ranch near Crawford, Colorado. The weather was nice and the cutting needed to get done, so we missed a couple of appointments to chat. Then bad luck gave me a break: the cutter got stuck and the weather changed, so David had an hour free to fill me in on skiing, work ethic, and life in general.
David Gorsuch was born September 22, 1938 in Climax, Colorado, a small mining town perched at 11,468 feet, 12 miles north of Leadville. That year his father, Jack Gorsuch, made a deal with the mining company to build a rope tow across the road on Chalk Mountain. In late 1942 the 10th Mountain Division arrived at Camp Hale for training, and mountain troopers could drive 25 miles to ski at Chalk Mountain. David remembers skiing alongside his heros, guys like Pete Seibert and John Woodward. This was the beginning to a lifelong passion for skiing.
"Skiing was everything," David told me. "I have great memories skiing at Chalk Mountain with my dad as a kid. We would turn the lights off at the top of the t-bar and ski off the back side of the mountain under the moonlight. Sometimes we would even get a little powder." He took many of his skiing experiences for granted. "You can't find those kinds of things anymore."
David started ski racing in 1945 during the Winter Sports Carnival in Steamboat Springs. "It was the start of a lot of fun," recalls Gorsuch. He wanted to make the Olympic team, and hard training paid off: he won the Junior National Combined Championship in 1954, and repeated in 1956. In 1958 he was named to the U.S. Ski Team competing at the World Championships in Bad Gastein, Austria (where Steamboat's Buddy Werner finished fourth in slalom), and in 1960 he raced in the Squaw Valley Olympics.
While attending the 1954 Junior Nationals in Jackson Hole, David met Renie Cox, and following the 1960 Winter Olympics, they got married. David started college at the University of Denver, but the couple found city life unbearable and, after his freshman year, transferred to Western State College in Gunnison. There they launched a small ski shop in an old gas station. In 1963 Gorsuch won the NCAA downhill championship and the following year placed second in slalom and third in giant slalom.
DAVID & RENIE GORSUCH
The old gas station needed a lot of work. David collected old barn board and burlap to transform the building into a ski shop. When they outgrew the place, Gorsuch Ltd. moved to the Gunnison pool hall. When David graduated in 1964, the couple bought an old house in Crested Butte. They fixed it up so it had heat and lived upstairs while the ski shop was housed downstairs. They couldn't really afford to have two stores, so on Friday afternoon they would pack all the Gunnison inventory into a Volkswagen bus and drive it up to Crested Butte for the weekend.
David became the mountain manager at Crested Butte. The area, opened in 1960, had fallen into bankruptcy and David recalls going months without getting paid. At a ski show in Denver, David and Renie met a fellow from Aspen named John McBride. He had recently built the Clock Tower complex in Vail and wanted help opening a ski shop there. David and Renie didn't have the funds at the time. Luckily, they found someone in Gunnison to purchase the Gunnison and Crested Butte stores, and were able to move to Vail on June 1, 1966.
Fast forward a few decades. Renie and David now have three sons: John, Jeff, and Davey, and a multitude of grandchildren.
Gorsuch, Ltd
If you've ever set foot in a Gorsuch store, you know how it reflects the essence and spirit of skiing – especially in the European décor. David and Renie love the Alps and Renie patterned the store design after Swiss and Austrian lodges.
When I asked David how Gorsuch progressed to where it is today, he claimed there had been very little planning involved, and that he and Renie took advantage of opportunities that presented across the years. But the business really grew on the taste, talent and hard work of its founders.
"Renie has really good taste and knowledge about quality products," David said. "We've learned that nice things last longer, and are fortunate to have clientele that can afford nice things. We've also developed great relationships with a lot of foreign brands and small ski companies. We have a great staff and a unique selection of items that you can't find anywhere else." From the beginning, Gorsuch Ltd has told a true mountain story through their shops.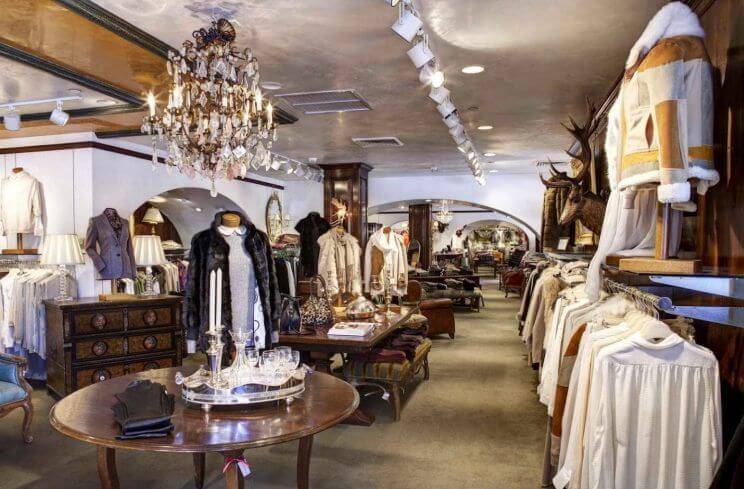 David's Advice
Before I let David get back to his hay cutting on the ranch, I asked him what advice he would pass along to the next generation of mountain lovers.
"That's a tough one," he said. "When I grew up, where I grew up, and the people I came in contact with were all part of my journey. The people in Climax taught me a lot: Never be afraid to take chances, and listen to other people's advice. Today, if you want to succeed, you really have to work hard at it. Find something you really love and try to take care of it. Put your phone down and enjoy the day. Get outside and take a breath of fresh air. I hope there are still people out there with a strong passion for what they do."
It was a true pleasure to be able to chat with David Gorsuch about skiing, life, and business. David and Renie have created an inspiring niche in the ski world and have worked in overdrive to get where they are today. If you haven't yet, map out a few minutes to walk through their mountain fairytale the next time you are near a Gorsuch store. In the meantime, it's back to cutting hay.