OUR "CUSTOM"
MEANS CUSTOM.
We are the only company that custom designs and builds 100% of the ski just for you.
THE ESSENTIAL WAGNER SKI | $1,995
Every ski starts with the Essential Wagner Ski:
Extra-thick sintered P-tex base
Straight-grained wood core
Fiberglass structural layers
P-tex sidewalls
Oversized hardened-steel edges
House graphic
WAGNER SILVER PACKAGE | +$400
The Silver Package starts with the Essential Wagner Ski plus:
Fast-gliding World Cup base or extra-tough DuraJet base
Choice of powerful AMAG titanal alloy laminate or light, whippy carbon-fiber torsion box construction
Aramid impact resistance
WAGNER ULTRA PACKAGE | +$800
The Ultra Package starts with the Essential Wagner Ski plus:
Fast-gliding World Cup base or extra-tough DuraJet base
Choice of powerful AMAG titanal alloy laminate or light, whippy carbon-fiber torsion box construction
2-4 ultralight core
Calibrated visco damping
Aramid impact resistance
Ballistic ski travel case
CUSTOM VS. OFF-THE-SHELF SKIS
When your skis are designed specifically for you, each design element works in your favor. A ski built for you has a bigger "sweet spot" than an off-the-rack ski built to the common denominator. You will experience more balance, control, versatility, comfort, ease, and – most importantly – fun on the hill. Guaranteed.
Better Performance
Wagner Custom Skis match your skiing preferences so you get better, faster.
MORE VERSATILE
Wagner Custom designs skis to handle groomers, powder, ice, and anything in between.
MORE COMFORTABLE
Skis built for you – and only you – mean less strain on knees, ankles, hips, and knees.
WORTH EVERY PENNY
Wagner Skis are built to last. You won't have to replace your skis every few seasons.
We use the highest quality materials, from extra-durable bases to ultralight cores, for every ski.
HOW WE CUSTOM YOUR SKIS
All Wagner Skis use the same select materials, but there are a thousand combinations to make your custom skis uniquely yours. Our ski designers will work with you to explain the choices available and let you know why certain materials will better suit your strengths and skiing goals.
A: TOPSHEET
We have over 100 options for your graphics – but if that isn't enough, you can work with our designers to create your own.
More about Graphics
B: STRUCTURAL LAYERS
Wagner skis have many structural layers to ensure durability without compromising form. From fiberglass, to carbon fiber, to titanal, we've got you covered.
More on Layers
C: CORE, SIDEWALLS, TIP AND TAIL WALLS
This is the meat of your ski. We curate a variety of woods, fiber/resin sheet, titanal alloys, and p-tex sidewalls to get the perfect mix for you.
More About Cores
D: SHAPE
Because we can manipulate every component of the ski, we can create your unique ski shape to compliment your individual skiing.
More About Shape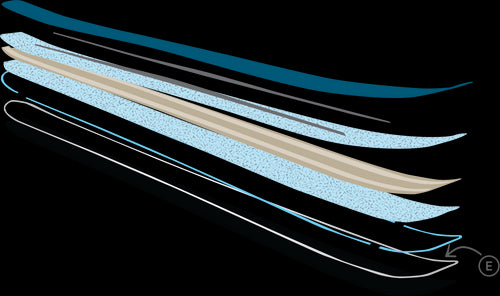 E: EDGES
No matter how or where you ski, we don't compromise on our edges. All Wagner skis have over-hardened steel edges to up your ski's durability and life.
More About Edges
F: BASES
Do you ski big terrain and need protection from unseen nicks or coreshots? Or do you need faster glide speed on the groomers? Wherever you ski, we have the base options to cover you.
More about Bases
STANDARD WITH EVERY SKI
Every ski starts with these materials. If you have any questions regarding upgrades, your ski designer can help.
EXTRA-THICK BASES AND OVERSIZED HARDENED-STEEL EDGES
Benefits: Get more tunes out of your skis with our extra-thick bases and oversized, hardened-steel edges. More tunes = longer life for your skis!
FIBERGLASS LAYERS
Benefits: Adds strength to your skis without adding weight or torsional stiffness.
P-TEX SIDEWALLS
Benefits: The sturdiest, most resilient material for sidewalls, p-tex armor reduces the chance of sidewall blowouts and helps your skis last longer.
AVAILABLE CONSTRUCTION UPGRADES
CARBON FIBER TORSION BOX
Benefits:Lightweight feel with great torsional stability. Ideal for wide skis or agile bump skis.
AMG TITANAL ALLOY
Benefits: Smooth and stable tracking on hard snow, as well as exceptional crud busting performance. If you like the feel of metal skis, this is for you.
CALIBRATED VISCO CARBON
(Viscoelastic damped carbon fiber construction)
Benefits: Get the buttery smooth tracking of metal with the super light weight of carbon fiber.
DURA JET BASE
(Extra-tough and durable high-carbon base)
Benefits: Less base damage from rocks, trees, boxes, and rails.
WORLD CUP BASE
(P-tex 4000 Electra high-carbon base)
Benefits: Faster acceleration, less deceleration, fewer recoveries in wet and heavy snow, better glide when skating and traversing.
ARAMID IMPACT RESISTANCE
(Aramid reinforcement of sidewalls, edges, and bases)
Benefits: Greatly improved resistance to core shots, compressed edges, and blown sidewalls. Smart choice for people who are tough on their gear.
ENDLESS GRAPHIC OPTIONS
We know the true beauty of Wagner Custom Skis lies in the construction...but our topsheets sure are show-stopping. Select from a house graphic, the James Niehues collection, artist series, or wood veneer, or work with our graphics team to create your own custom topsheet.
HOUSE GRAPHICS | STandard
Choose any of our stock graphics for your ski build.
ARTIST & NIEHUES COLLECTION | +$300
Support artists! Rock an amazing artist series graphic.
WOOD VENEERS | +$300
Show off a unique wood veneer topsheet.
(Not available on Factory Skis.)
CUSTOM GRAPHICS | +$300
Get inspired! Work with a designer to create your own topsheet.
(Not available on Factory Skis.)
Can Custom Skis improve my skiing?
Perfect-fit skis can help your skiing! Learn more in our Buyer's Guide.
Want Even More Detail?
Check out our on-line Factory Tour and watch exactly how your skis are made.
Got An Idea for Your Graphics?
Learn more about how to create the best graphic for your Custom Skis.
Feeling Generous?
This year, give your beloved skiers the gift of custom skis!