Digging in Deeper to Specific Ski Materials
by Wagner Skis / Oct 21, 2015
You've read our Buyer's Guide article about ski materials, but now you want even more about specifics about each material we use and why we use it. 
You can find the Buyer's Guide article here. But let's dig a bit deeper:
Hardwood Cores
By far the best all-around material to use as a ski core is straight-grain laminated hardwood. Wagner uses tough furniture-grade wood in five weight classes:
Sugar maple
Hard, dense, tough and springy, laminated sugar maple looks a lot like butcher block. It's relatively heavy with a long grain structure and is a great choice for strong skiers who want the ultimate in power, stability, feedback and durability.
Sugar maple laminated with white ash
Ash is springy, tough and resilient, but lighter with a shorter grain than sugar maple. The maple-ash core is a versatile choice for expert skiers who like power and responsiveness with a lighter feel.
Sugar maple laminated with aspen
Aspen is lighter than ash and has a damp feel in skis. The maple-aspen core provides the responsiveness and toughness benefits of the sugar maple in a lightweight layup. This core works great in combination with aluminum alloy structural layers for a smooth and stable ski at a reasonable weight.
Laminated aspen
Pure aspen makes for a resilient, damp, agile, and easy-to-handle ski. This material works great for lightweight skis and pairs nicely with aluminum alloy structural layers or a carbon-fiber torsion box for high-performance light-on-your feet skis.
Ultralite wood
Where light weight is a critical design criterion, Wagner has created a unique engineered core made from a fast-growing Eastern Canadian species. For strength, we soak the wood in an organic resin to create a tough "skin" that glues beautifully to fiberglass or metal layers. This is a great choice to control the weight of extra-wide skis made for deep powder, touring, and mountaineering applications.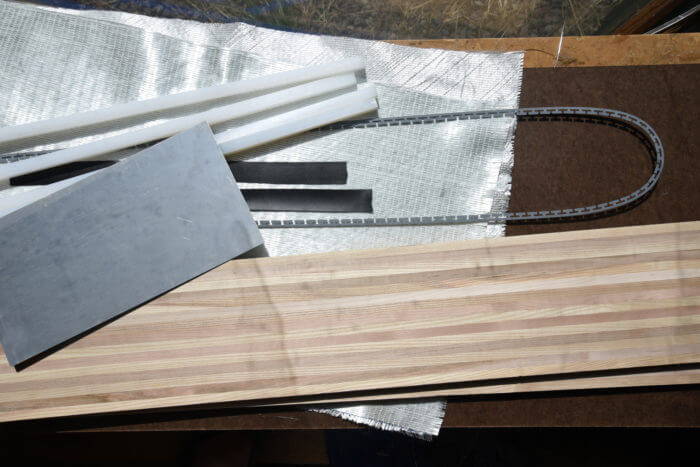 A few of the layers found in our skis.
Structural Layers
The major flexing loads in any ski are carried by very hard structural layers with high tensile strength. Wagner offers four high-tech options plus a kevlar durability upgrade:
Aerospace fiberglass
Our standard laminated (sandwich) construction features a blend of glass fiber and epoxy resin originally developed for building aircraft parts. In a ski, it creates a light, whippy, high-energy structure with amazing life-cycle durability.
Carbon-fiber torsion box
Even lighter than our fiberglass layup, Wagner's unique torsion box construction features carbon fiber ribbons wound in an open-weave double helix around your chosen core. The open weave avoids the harsh ride associated with carbon/graphite structures. The carbon box construction is a good choice to reduce the weight of very wide skis, or for lightweight experts who want a high-performance, agile ski.
Titanal aluminum
Titanal is the trade name for a very hard aerospace-grade aluminum alloy, created specifically for use in high-quality metal skis. Despite the name, the alloy contains no significant quantity of titanium. Choose a Titanal construction when stability and glide speed are prime considerations — for instance, in skis meant for back-bowl cruising in heavy wet or broken snow, or for high speed performance on ice. The tradeoff in using metal is that it's relatively heavy. You may choose to offset the weight penalty by using a lighter core material.
Calibrated Visco Carbon
One option to achieve smooth tracking and stability in a lightweight ski is Wagner's unique Calibrated Visco Carbon construction. We weave a viscoelastic material into a carbon-fiber fabric. Our proprietary process allows us to calibrate the damping per your ski design and unique needs. It's expensive, but very light and controls vibration beautifully, for a silky ride even with a very light ski.
Kevlar
Kevlar, aka "aramid", used in making bulletproof vests and stretch-proof sails for America's Cup yachts, is available as an armor plate layer to prevent core shots in skiing rocky terrain. It's good insurance for off-piste skiing and low snow-coverage ski areas.
Learn more about our wood cores and structural materials here. We take you to our factory, and show you how these ski materials are chosen and what the process looks like firsthand.
Bases
Extra-thick, high-durability steel edges and high-speed P-tex base materials form the bottoms of Wagner Custom skis. Wagner uses an industry standard P-tex (sintered ultra-high-molecular-weight-polyethelyne) and has two types of high carbon upgrade options:
Super-durable base
This is a higher density, high-carbon base material that is the toughest, most durable base available. A great choice for those who ski in rocky terrain, or are tough on their equipment.
World Cup base
This is the highest-performance base material made, and the same material used on World Cup race skis — P-tex 4000 Electra. The material offers improved efficiency: You'll use less energy on traverses, cat tracks, and run-outs. P-tex 4000 E also reduces grabbiness in spring conditions when transitioning from cold, dry snow to warm, wet snow. It tunes and repairs more easily than other materials.
Check out our more in-depth look at base materials and steel edges in our factory tour video series here.
The Process
Once you've signed off on the design parameters and materials, we'll get to work building your skis. A computer-numerical-control (CNC) milling machine cuts all the parts very precisely, so that they interlock together like a 3-D jigsaw puzzle. This eliminates the need for (and the limitations of) traditional ski molds.
The parts are then assembled and coated with resin and assembled for pressing by one of our small staff of expert craftspeople. Skis go into the press as a pair to assure identical curing time and temperature, and a perfectly matched pair..
After curing, the skis are cleaned up and expertly hand tuned, ready to go directly onto the snow. We recommend all of the tuning specifications, but it you have specific preferences we're happy to comply. If you've ordered bindings from us, we'll mount them. All you'll need to do upon receiving your Wagner is to open the box, have the bindings adjusted, and go skiing.
Back to JOURNAL