South American Ski Adventures
by Wagner Skis / Jul 07, 2022
Beat the heat this summer and head south. We put together the ultimate two adventure trips for you: a unique, first-class heli-ski operation and a sled skiing trip complete with glamping tents.
Not your speed? No worries. We also covered the basics for planning a ski vacation to any resort in Argentina or Chile. No more excuses—it's time to start planning.
Custom Chilean Heli-Ski Trips with Third Edge Heli
Third Edge Heli operates around the globe, but (in our opinion) their most unique trips occur south of the equator in the Chilean Andes. Their trip offerings are incredibly nimble and turnkey, meaning you decide on the duration of the trip and pick the add-ons you find enticing. No request is too big or small for the team at Third Edge.
Their trips base out of both remote lodges in the Andes mountains and out of downtown Santiago. Yes, you read that correctly. While you overnight in lavish lodging at The W and dine at Santiago's finest restaurants, you indulge in a full-on helicopter skiing experience by day. The ASTAR picks you up on the top of a skyscraper near your hotel and ushers you to the mountain in a mere 20 minutes. The alternative lodging option is staying in remote, five- star lodges near the villages of Farellones or La Parva. These intimate ski chalets offer lavish meals and wine selections, relaxing spas, and perfect views.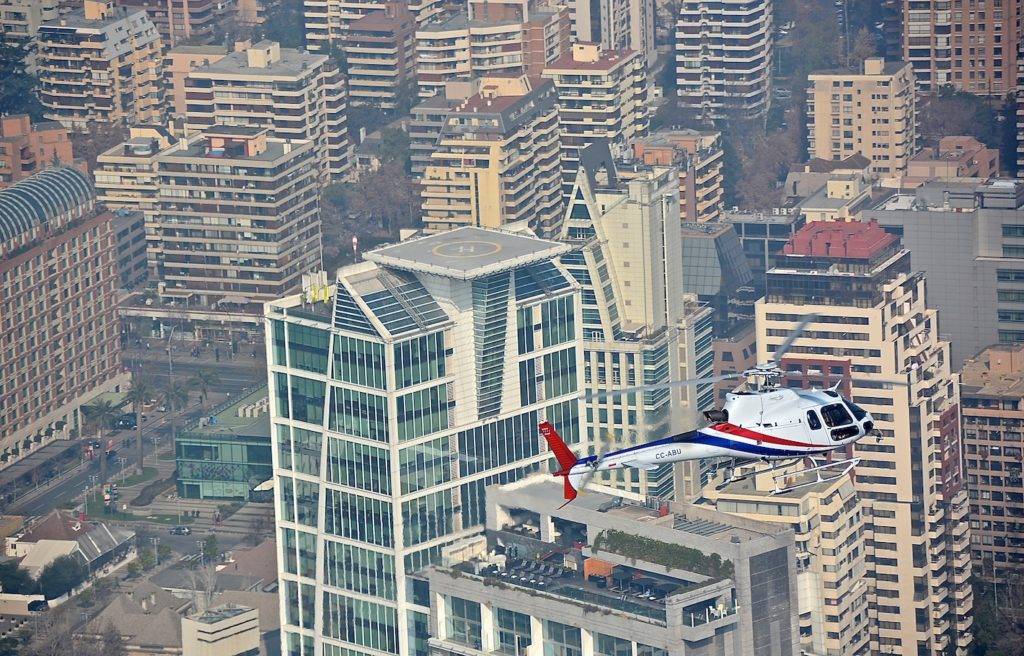 Downtown Santiago, Chile with helipad for Third Edge Heli
Sure, incredible lodging is certainly a plus, but the skiing with Third Edge Heli is the real deal. Their South American adventures come standard with two skilled guides for every three skiers, and only utilize private helicopters which eliminates wasted time and slow pokes. The skiing encompasses the world's largest volcanoes, couloirs, steep ramps, and some of the longest heli runs on the globe. This high-altitude terrain boasts quality powder snow which allows for up to 70,000 vertical feet of skiing per day. Third Edge Heli has more heli-ski guiding experience in South America than any other operator, they are intimate with the topography and know exactly where to take every type of skier. The operation has
access to over 5 million acres of skiing, most of which is higher than the local resorts in the region. This translates to powder skiing for you, even when the resorts are dry.
The added bonus to near-perfect skiing is Third Edge's distinct love for documenting your trip. Their guides are constantly tucked around the next bend snapping images for you to take home and cherish long after your ideal Chilean ski adventures comes to an end. We also love their alternative activities when it's too stormy to ski: heli-vineing and heli-surfing to name a few. If you can't ski, the helicopter can take you on a world-class wine tasting adventure or to the coast for perfect waves. We love skiing in Chile because the jet lag is minimal and the accoutrements are ideal. Did someone say fresh beef and red wine?
Mallin Alto Sled Skiing & Glamping
Mallin Alto is located just outside of Bariloche, in Argentina's Patagonia region surrounded by incredible vistas and ideal snowmobile skiing. The adventure begins as you are greeted by 4WD in Bariloche and driven up the dirt track, across rivers and over rocks to the snowmobile transfer. Upon arrival at the glamping tents, snacks and bevvies await, and by that point, they are a welcoming sight. The lodging is unique. Powderhounds describes it as basic refugio style, a bit of glamping and a lot of views. The main dome tent incorporates the kitchen and dining areas, bathrooms and showers. There are sleeping zones above this area and also a private suite.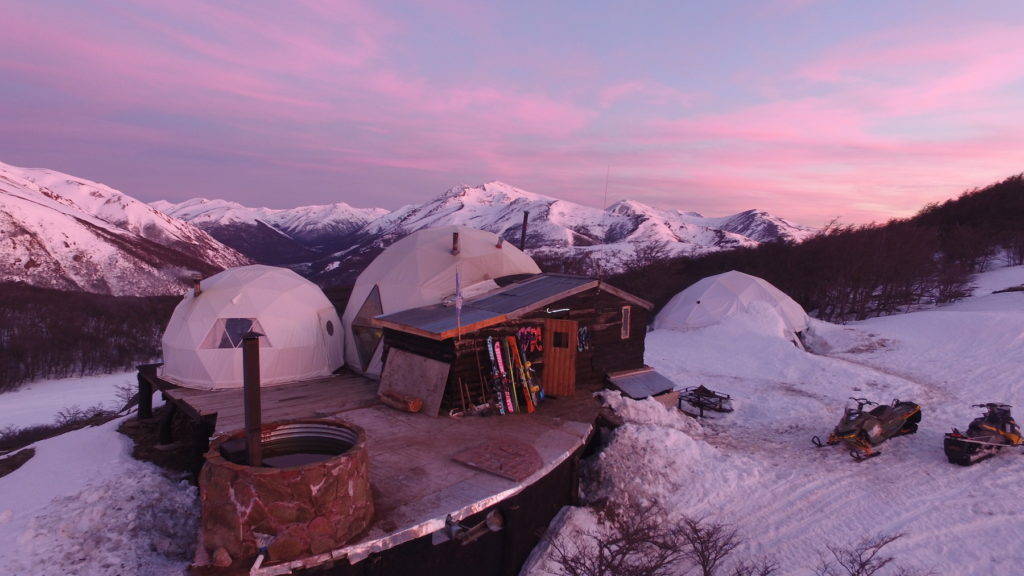 Glamping tents with Mallin Alto Sled Skiing
The terrain is diverse, offering something for just about everyone. The skiing is primarily in open bowls, but fun features and gullies are sprinkled everywhere. There is also a bit of tree skiing available, perfect for storm days. The backcountry guides at Mallin Alto are Argentinean locals with IFMGA mountain guide qualifications and an intimate knowledge of the best spots to ski. Whether you hit Mallin Alto during a powder cycle or a corn harvest, you are bound to have a good time.
The reality is that the skiing is only a small portion of the experience. Staying high in a remote part of the Argentine mountains in incredibly unique lodging with phenomenal views, delicious food, and fun people is icing on the cake. After a day of skiing, the ideal relaxation occurs in the wood-heated sauna adjacent to the dome. To cap it off, a chef prepares three gourmet meals a day plus snacks on the wood-fired stove. There's pretty much nothing like ending a day of skiing out your back door with sipping a local Mendoza wine and taking in a pink sunset high in the mountains of Argentina.
Snowmobile accessed skiing packages start from a single day, but we highly recommend the full two- or three-day experience. Packages include lodging, full board, all meals, and alcoholic beverages. A Mallin Alto trip is perfect for people looking to get out of the lift lines and into an adventurous mountaintop ski setting.
South America Ski Trips Made Easy
Looking to head south for some skiing but unsure where to go? Join the team. There are so many awesome resorts to choose from, it's hard to pick just one. Enter the professionals at Ski.com. The beauty of their booking platform is that you don't need to know anything about skiing in South America (or wherever you next ski trip takes you). They guide you through the process and suggest resorts based on your preferences. Via their online platform, you can compare resorts, get personalized quotes, and live chat with their team. You also have the option to call and chat with a team member who can answer all your questions.
Ski.com takes care of everything from your plane ticket, to lodging and lift tickets, airport transfers, and event extras. There is no need for you to spend countless hours researching your trip—one phone call with a mountain vacation specialist will answer all of your questions.
Here are our top pro tips for your South American ski vacation:
Plan your trip for August or September. There is a higher likelihood for good snow, plus the big Brazilian holidays will already be over. That means more powder skiing for you.
Consider booking your trip during one of the various Wine Weeks. More info on Wine Weeks (and vacation packages with Ski.com) can be found here.
Trail Maps don't do the ski resorts justice. For example, the Ski Portillo map doesn't look very special, but once you are there, the mountain is far more expansive.
Consider adding the Atacama Desert, the driest desert in the world, to your ski vacation. The Atacama Desert has volcanoes, salt lakes and caves to explore, plus the hotels are incredible.
People always talk about skiing in Chile. Don't forget about Argentina.
Ready to Book?
Whether you decide on helicopter skiing via skyscrapers in Santiago, adventure skiing out of glamping tents, or indulging in Wine Week, we hope to see you enjoy everything South America has to offer. Have a glass of wine and juicy steak for us!
To learn more about a custom trip with Third Edge Heli, visit their website here, or call Cassia directly at 970.456.7757 and mention Wagner Custom Skis.
For more information and to book sled skiing with glamping tents, check out the Powderhounds review of Mallin Alto here.
Claim the ultimate bragging rights with your co-workers this summer by heading over to Ski.com or by calling 800-916-9463 to get started. Most of their South American ski vacation package start around $2,500 per person.
--
Header Image: Third Edge Heli 
Back to JOURNAL