Past Artist Series: Cecilia Lundgren
by Wagner Skis / Mar 11, 2019
(Although you can no longer buy Cecilia's ski graphics directly, we can get in touch with her to see if she can give one-off permission for her archived pieces. Please contact us for more details.)
Swedish artist Cecilia Lundgren sees the world around her in terms of pure emotion, and translates this vision into her work, creating bold and colorful illustrations designed to be felt before they're even understood.
In her work for the Traffic Artist Ski Collection, a collaboration between the artists of Traffic NYC and Wagner Custom Skis, Lundgren captures the rush of speeding down a slope through swift lines and vibrant hues.
Bursting with color and energy, her organic, color-rich, multi-layered artwork captivates at first sight, and stays with you for a long time afterwards. Cecilia studied graphics at Forsberg, Stockholm, received her BA from University of Kalmar, Sweden, and her Masters in Design from Domus Academy, Milan. Her unique style has made her a favorite amongst elite international clients such as Apple, Mary Kay, Bergdorf Goodman, Singapore Airlines, Viking Line, and Sony Ericsson.
"Introspection" by Cecilia Lundgren
We caught up with her to find out more about her art and process:
Wagner: Where can people find your art?
Lundgren: The beauty of being an artist comes from the range of opportunities I get. My art can be found as framed art, printed on fabric, and now, embellishing skis.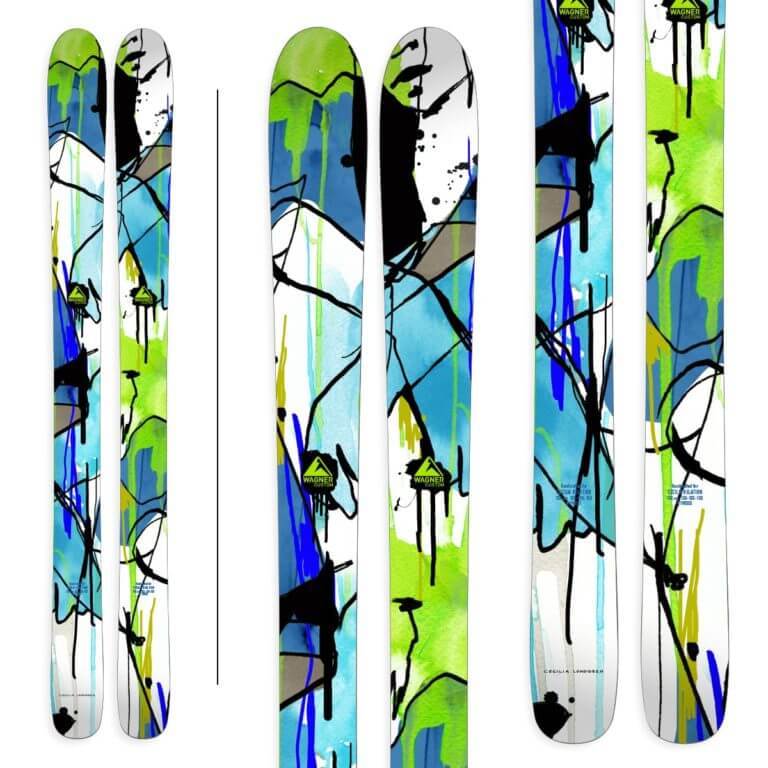 "Color Rhyme" by Cecilia Lundgren
Wagner: Tell us about your process.
Lundgren: I begin all my work by hand, making each mark with care and intention, then polish it digitally.
Wagner: What's your favorite work of art?
Lundgren: I love minimalism—less is more! The perfect motion of a brush stroke across the canvas…Lucio Fontana is a great example of an artist who uses minimalism to the maximum effect.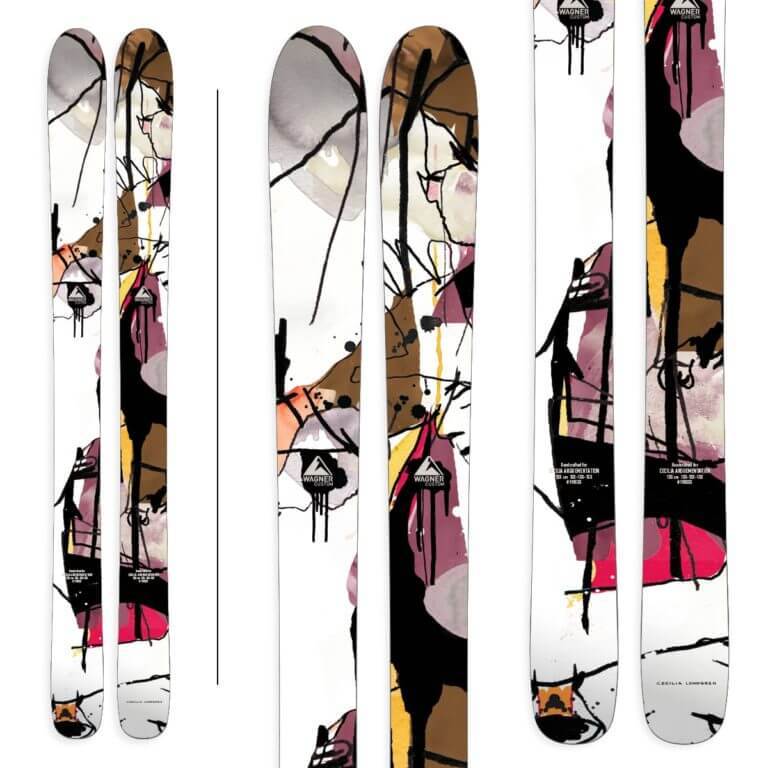 "Space Relations" by Cecilia Lundgren
Wagner: What is it like to see your art on skis?
Lundgren: I love it! Since I was a kid riding the ski lift up to the top of the mountain, looking at all brightly colored skis around me, I've imagined designing a pair myself.
Wagner: Do you have a favorite from the five pairs we put together?
Lundgren: My favorite would have to be the red pair, Straight Talk. It gives me the feeling of speed and power!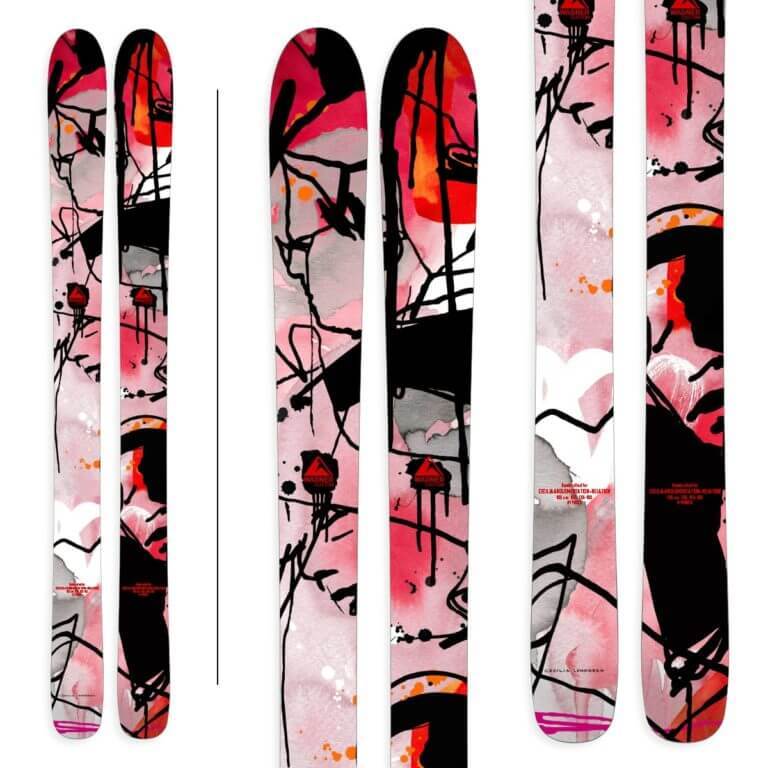 "Straight Talk" from Cecilia Lundgren
Wagner: Sounds like you're an avid skier.
Lundgren: Yes, I started skiing when I was three years old and since then I try to ski at least once a year. This year I'm going to try to teach my three-year-old daughter!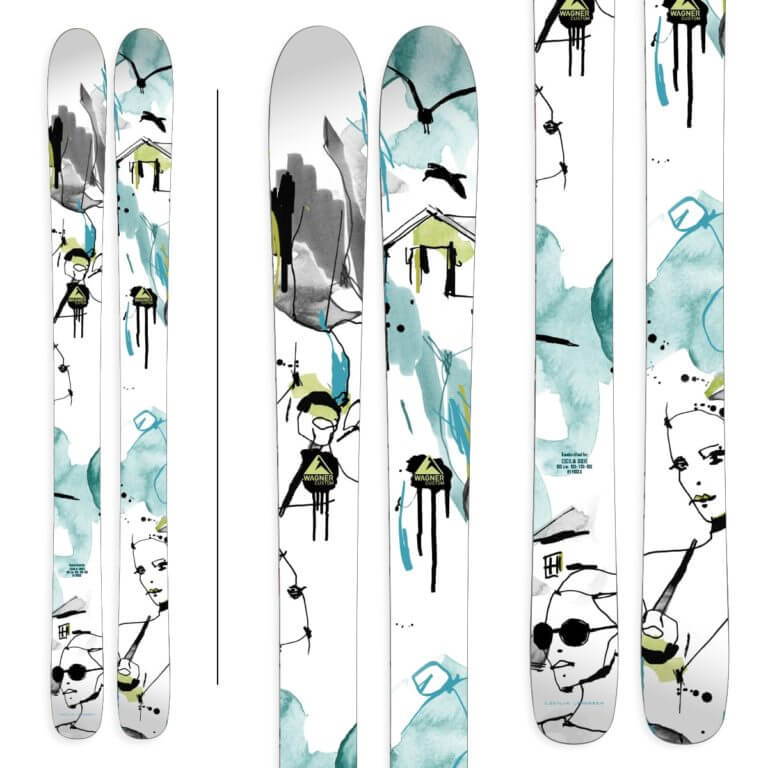 "Dixie" by Cecilia Lundgren
Website: www.cecilialundgren.com
Instagram: cecilialundgrencom
Facebook: Cecilia Lundgren Illustration
LIKE WHAT YOU'VE SEEN? BE SURE TO CHECK OUT THE OTHER ARTISTS IN THIS SERIES:
Monsieur Z
Mia Marie Overgaard
Miranda Pissarides
Wendy Plovmand
Adolfo Correa
Rikke Jorgensen
--
Back to JOURNAL