Past Artist Series: Mia Marie Overgaard
by Wagner Skis / Jan 21, 2019
(Although you can no longer buy Mia's ski graphics directly, we can get in touch with her to see if she can give one-off permission for her archived pieces. Please contact us for more details.)
Danish illustrator Mia Marie Overgaard has always been an artist at heart, but her path towards a professional career in the arts has been long and winding.
Now a sought-after professional living in Toronto, she enjoys coffee in the morning (especially the Hawaiian kind), freestyle knitting, long hikes through the woods, searching through thrift stores, vintage sweaters, and listening to podcasts about psychology. Recently, she designed five pairs of skis for Wagner Custom Skis, in a collaboration series between Wagner and Traffic NYC Creative Management.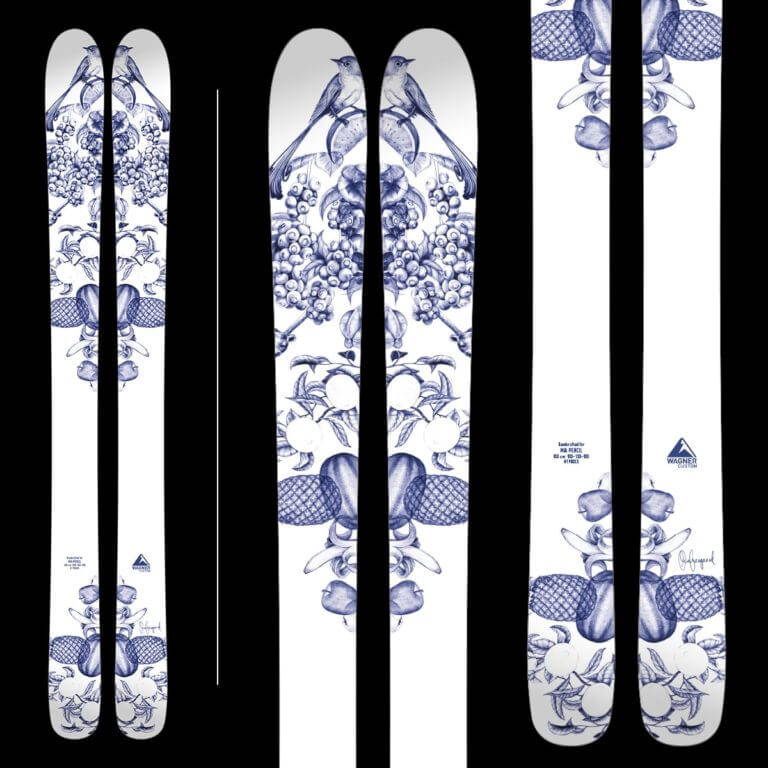 "Cornucopia" by Mia Marie Overgaard
We had a chance to chat with her on her creative process:
Wagner: Tell us a little about you.
Overgaard: I grew up in Copenhagen, Denmark, in a very creative environment, and was especially influenced by my mum who was a super artistic person. Eventually I studied fashion design at the Royal Danish Academy of Architecture and Design. I took several illustration classes in the visual arts department at the Academy and realized how much I enjoyed telling visual stories in two dimensions. So, this was the beginning of my path to becoming an illustrator.
After graduating in 2006, I spent two years in upstate New York, then returned to Denmark and have been working as an independent artist for an array of international brands and magazines ever since. Life as an artist is ever evolving—when you set out on a path that is not clearly defined, you have to define it for yourself as you go along.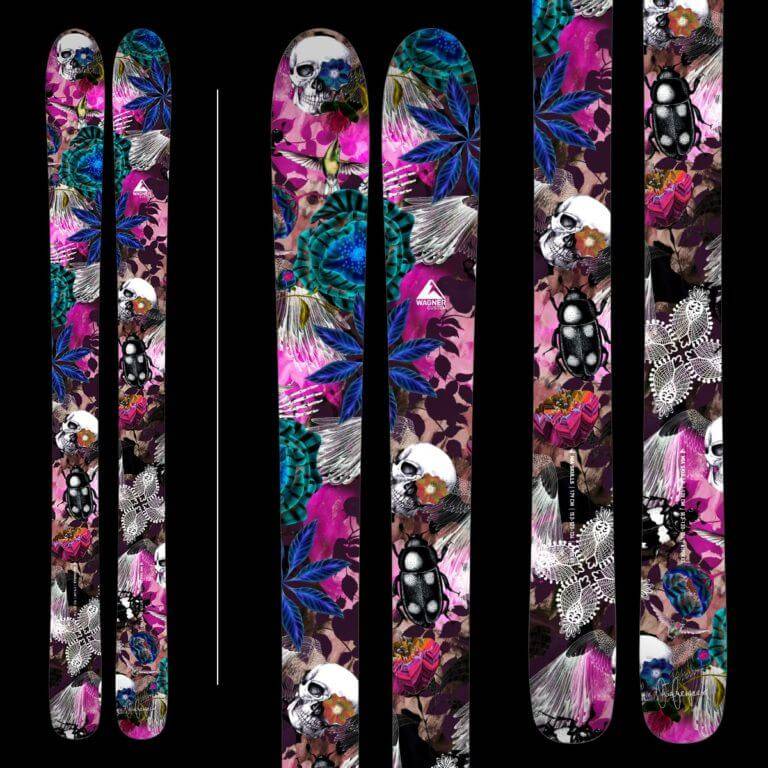 "Lifecycle" by Mia Marie Overgaard
Wagner: What kind of artist do you consider yourself to be?
Overgaard: I guess the terms artist, commercial illustrator, and designer all apply. For a long time, I was recognized for my fashion illustrations and therefore perceived as a fashion illustrator, but I've never really felt comfortable with that title. I love high fashion and haute couture for its imagination, creativity, and play with identity, but I've never wanted it to be the main focus of my art.
I consider myself a multifaceted artist. I love the challenge of creating artwork for a wide variety of products. I love the decorative aspect of illustration which makes things appear more beautiful and personalized. The commissions I get from clients are usually, though not always, of a more commercial kind, and require work from a specific source with a specific purpose and audience in mind.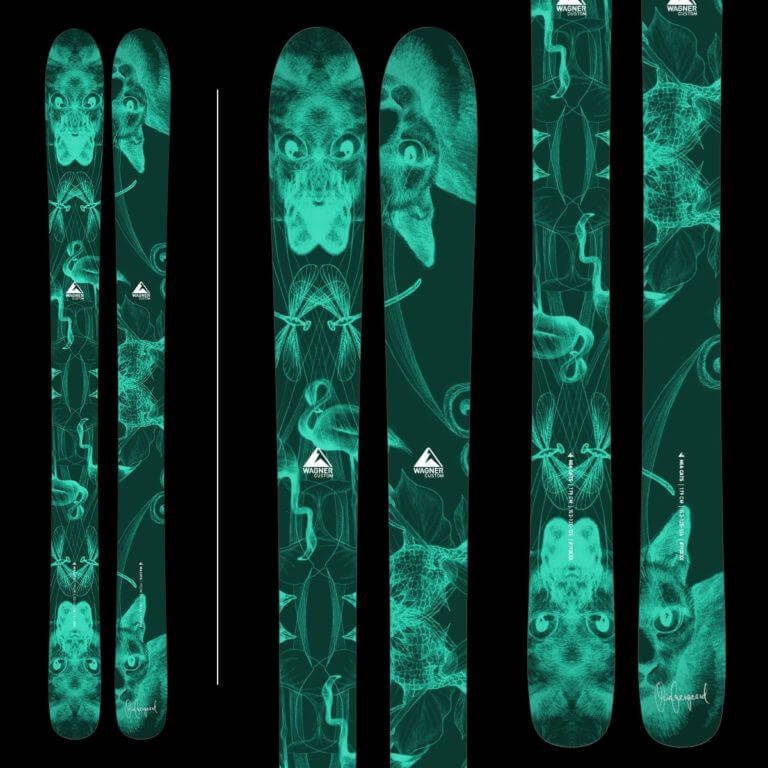 "X-Ray" by Mia Marie Overgaard
I think creativity flourishes within boundaries, and I try to always bring some authenticity and personality into the work. Right now, I'm giving my personal work a high priority. This is where I have the most freedom to work with topics that are more personal and make decisions about formats, themes, and mediums based on my gut feeling.
My personal thoughts and views on life inspire my personal art, which I would call art at a 'deeper level'. Though I try to think of the two volumes of work as separate, it's impossible to avoid one spilling into the other. And that's not necessarily a bad thing.
"Beauty" by Mia Marie Overgaard
Wagner: What is it like to see your art on skis?
Overgaard: It's awesome—I hadn't previously envisioned my art on skis, but when we hooked up and I am so excited how great it looks! The skis are of the highest quality and I think the artwork makes the skis appear more like a personalized statement than just a function for skiing, if you know what I mean.
Wagner: Do you have a favorite from the five pairs we put together?
Overgaard: I have two favorites; the Dodo and the Cornucopia.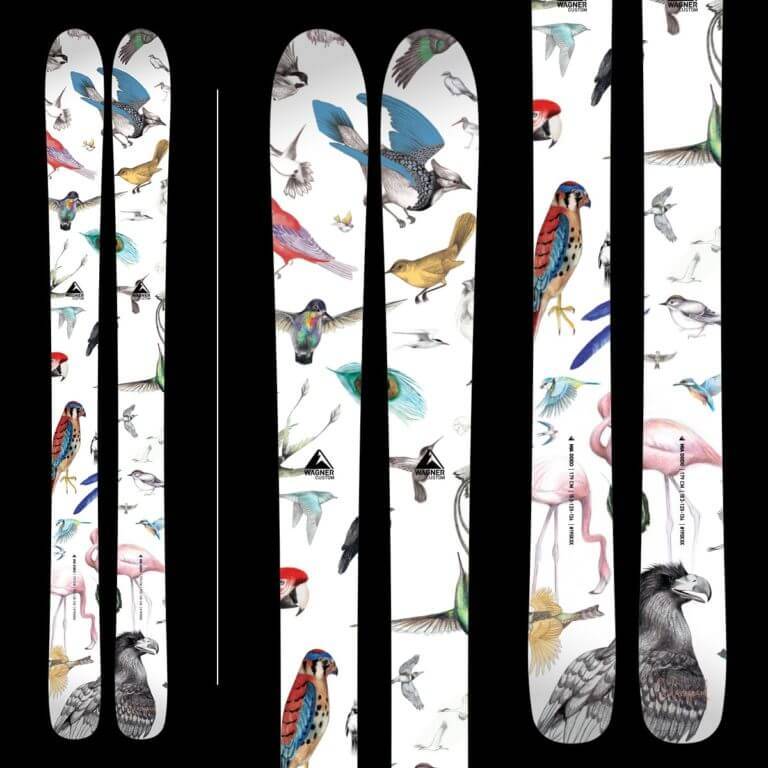 "Dodo" by Mia Marie Overgaard
Wagner: Are you a skier?
Overgaard: Yes—I have been skiing for about ten years, but obviously I started late, so I'm not one of those who see it as second nature. I love the spectacular view from the top of a slope, but I have a deep respect for the potential risk of going down the mountain at high speed, and always feel a bit challenged. But the greater the challenge – the greater the achievement, right!?
Back in Denmark, Vallåsen in Sweden is the nearest place to ski and since I have small kids we go there in the wintertime, but I wouldn't consider it the best place to ski if you are more of the adventurous kind.
I think the best place I have been Mont Tremblant in Montréal or Val Thorens in France. We are going returning to Mont Tremblant in February and I can't wait!
Like what you've seen? Be sure to check out the other artists in this series:
Monsieur Z
Cecilia Lundgren
Wendy Plovmand
Miranda Pissarides
Adolfo Correa
Rikke Jorgensen
--
About the Artist
Mia Marie Overgaard is Danish-born and currently resides in Canada. She works with top brands like H&M, Guess, Essence, GAP, Marie Claire Magazine, Wall Street Journal, Volkswagen Neiman Marcus, Air Canada, The Perfect Kiss Records. Mia studied at Holbaek Kunstskøjskole and the Danish School of Design.
Instagram: miamarieovergaard
Back to JOURNAL