Past Artist Series: Reed Weily
by Wagner Skis / Nov 18, 2019
(Although you can no longer buy Reed's ski graphics directly, we can get in touch with him to see if he can give one-off permission for his archived pieces. Please contact us for more details.)
Reed Weily is fascinated with nostalgia, obsolete technology and ephemera from the late 20th century.
A self-taught artist, his influences include 1980s and 1990s popular culture, color television, cable television, music television, satellite television, PPV, ESPN, Nike, futurists, optimists, Bruce Leroy, Chris Knight and Pharrell.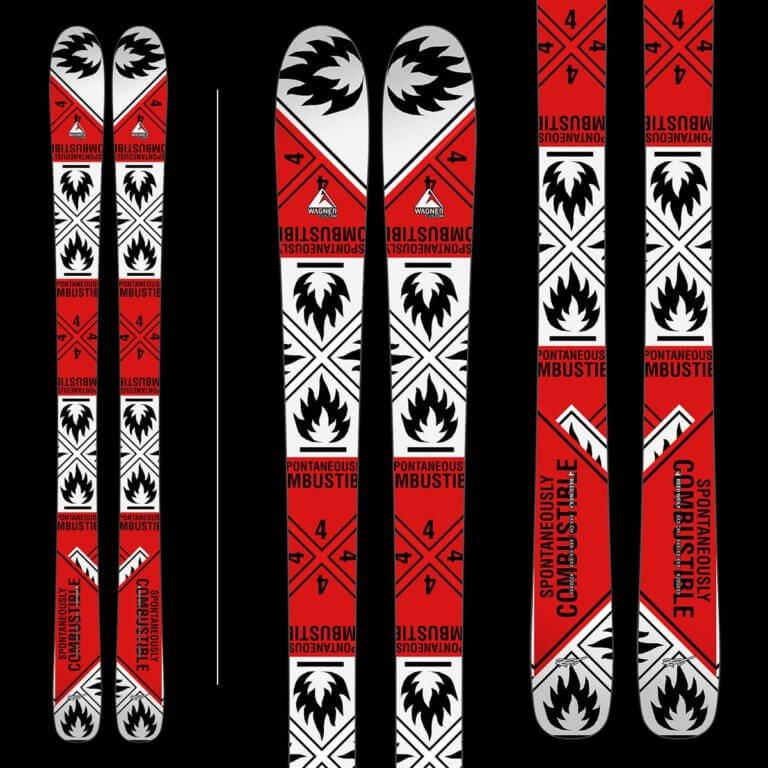 93 'Til Infinity by Reed Weily
Weily's work is also informed by the decade he spent traveling in China. "Shanghai and Hong Kong are the most inspiring places on Earth. The skyline colors on the Bund and Victoria Harbor embody the vast and extraordinary capability of unleashed human potential. If you lose faith in humanity's ability to reinvent itself and redefine the future, go to China."
Weily is best known for his "humanoid" or "robot" collages made from internationally sourced vintage stickers. These sculptural, skull-like collages, are comprised of thousands of stickers, layered on top of one another to create dimension.
An immigration lawyer by day, we caught up with Reed for a few minutes to discuss his "other" work.
Snow Beach by Reed Weily
Wagner: What kind of artist do you consider yourself?
Reed: I consider myself a very lucky artist.
Wagner: Where can people typically find your art?
Reed: Station 16 Gallery in Montreal.
Wagner: If you wanted a reader to know one thing about you, what would it be?
Reed: I enjoy wearing pants, but shorts are good too.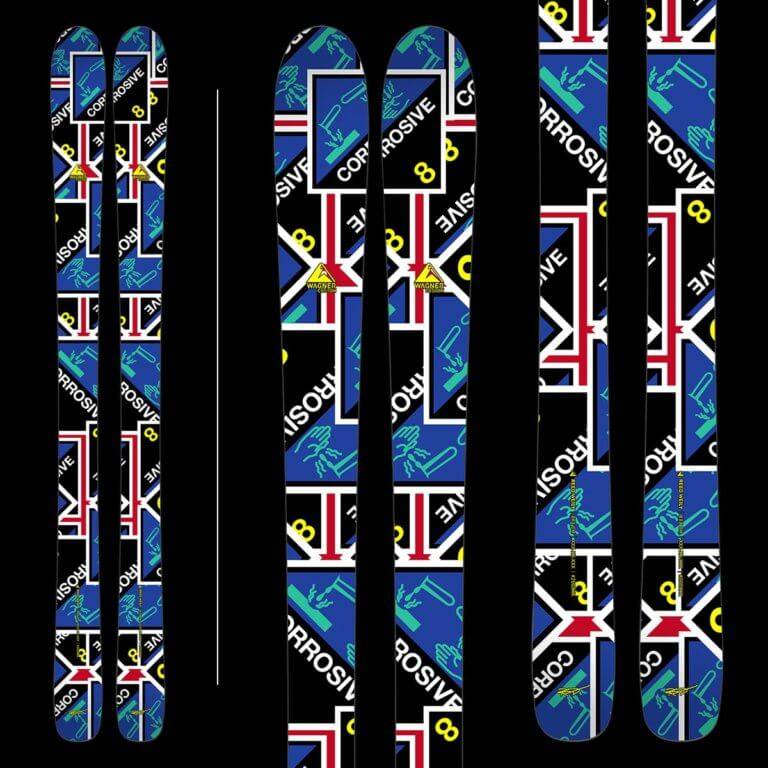 Outdoor Education by Reed Weily
Wagner: If you wanted a reader to know one thing about your art, what would it be?
Reed: I feel very fortunate to be an artist. It is not something I ever expected to be, but it makes me incredibly happy to connect with people through my artwork.
Wagner: What is it like to see your art on skis?
Reed: It is incredibly flattering and fun. I am very grateful.
Wagner: Do you have a favorite from the four we put together?
Reed: The red and white "combustible" skis are probably my favorite, but I love them all.
Winter '94 by Reed Weily
Wagner: Are you a skier?
Reed: I started skiing when I was 2 years old, but I blew out both of my knees, so I don't ski as much anymore.
Wagner: What's your favorite place to ski?
Reed: I lived in Vail for 7 years and grew up skiing there, so Vail is probably my favorite place to ski.
Wagner: Any last thoughts or information about you or your art we should know?
Reed: I am super honored to be a part of this project, and can't wait to see the show!
Like what you see? Be sure to check out the other artists from the same series:
Danielle DeRoberts
Lindee Zimmer
Sarah Kinn
--
Check out more of Reed's art via his Instagram at @reedweily.
Back to JOURNAL