NEXT LEVEL SKIING S2: E2 | FINDING NEW EXPERIENCES – EVAN REECE
by Wagner Skis / Dec 23, 2019
Season 2, Episode 2: Evan Reece – It's Rare to Find a Place that isn't Worth Going to at Least Once
On today's episode, we have Evan Reece. Evan co-founded Liftopia in 2005 in San Francisco, creating both a consumer platform for resorts to sell lift tickets, rentals and lessons as well as a back-of-house revenue management system for resorts to sell their products online. Today, the company works with more than 250 resorts worldwide and is the largest ticket sales operation in North America. Tune in to hear us discuss how Liftopia came about, how it works, and why loyal customers are some of the most resort-disloyal people.
Follow on: iTunes  |  Stitcher  |  Spotify
TOPICS
[02:44] Before starting Liftopia, Evan had been working for HotWire.
[03:25] Before Liftopia, people hadn't been buying lift tickets online.
[04:40] People hadn't been offering this service, because ski resorts didn't think their customers bought tickets this way.
[05:20] Resorts believed their customers wouldn't buy tickets this way, because they had never done so before.
[07:32] Evan wanted to create a way to reduce risk for the resorts and increase profitability.
[08:42] Competitors' models are similar.
[11:30] Multi-resort passes are for adventurers, but they are also the least loyal customers.
[13:20] In the end, everyone just wants to ski more.
[15:08] Icon and Epic passes are reshaping the industry.
[16:02] In terms of passes, Evan doesn't like to pick sides.
[16:40] People often switch season passes from year to year.
[17:20] The pass you choose depends on if you drive, fly, or are a destination traveler.
[19:33] The most surprising thing found in Liftopia's consumer survey, is that a lot of season pass holders are using their consumer brand.
[21:12] Skiers love to find new experiences and explore new terrain.
[21:33] Overall, people are seeking value.
[25:50] When regional mountains try to match the prices of larger mountains, they cut out a large community of skiers.
[28:04] Skiers love the passes, because they spend the same amount they used to spend on one mountain for multiple mountains.
[29:14] Evan has skied less since having a family.
[31:30] The industry wants you to buy in advance, as it's better for everyone involved.
[33:39] Skiing isn't just about carving down the hill, it's about the overall experience.
[34:11] If Evan lived on the East Coast, he'd be spending more time in Europe, as the cost of skiing is lower and it provides a great cultural experience.
[35:40] The growth rate has to slow down at some point, because the only way to draw in new skiers is to make the season pass cost less than a day pass.
[36:58] The new Epic Day Pass is a great option that can bring the cost down significantly.
[39:24] Core skiers used to mean something different than it does today.
[41:50] Commit early and be adventurous!
RESOURCES
QUOTES
"A lot of the ways tickets were discounted back in the day, meant that the consumption of those tickets occured on peak days."
"You're not just a Hilton across the street from a Sheraton: You are a place that is completely unique."
"We as skiers love to find new experiences."
Listen to other episodes
Lindsay Andersen: Pull Your Toes Up
Evan Reece: It's Rare to Find a Place That Isn't Worth Going to at Least Once
Wendy Fisher: Spontaneity is Key
Kim Reichhelm: The Most Important Thing is Having Fun
Hilaree Nelson: The Value of Saying Yes
Jonathan Ellsworth: Lean Into It
Allen Tran: Building An Athlete, One Meal at a Time
Joel Gratz: The Powder Prophet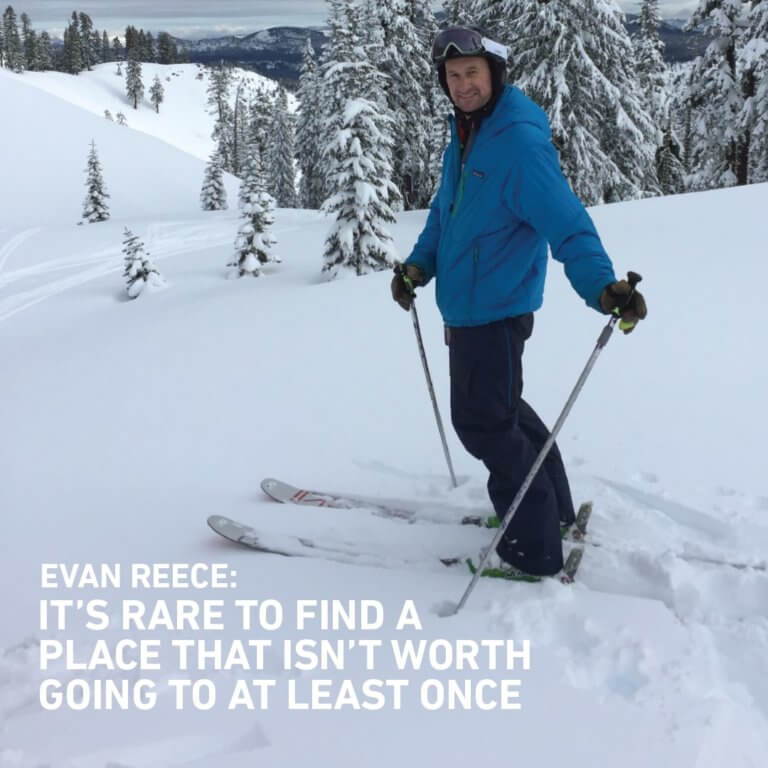 Back to JOURNAL