NEXT LEVEL SKIING S2: E1 | PULL YOUR TOES UP – LINDSAY ANDERSEN
by Wagner Skis / Dec 25, 2019
Season 2, Episode 1: Lindsay Andersen – Pull Your Toes Up
Welcome back to the second season of Next Level Skiing, the podcast where we explore any and all tips, hacks and strategies for improving our turns and making the most of every floaty carve. This season we've tapped big-mountain pioneers and guides, industry insiders, the world's best ski mountaineer, a gear guru, a superstar food scientist and more to help us find our next level. On today's episode, we speak with Lindsay Andersen, a veteran guide at Canadian Mountain Holiday's Bobbie Burns lodge. Throughout her career, she has led hundreds of clients through the steepest and deepest terrain.
Follow on: iTunes  |  Stitcher  |  Spotify
TOPICS
[01:52] Lindsay was born and raised in Banff, so she was skiing by the age of two
[03:07] She took avalanche courses through Lake Louise and the Canadian Avalanche Association.
[05:16] Lindsay hopes she is a mentor to all people coming up in the industry.
[07:05] People are intimidated by powder skiing, but it's actually easier than skiing on hard pack.
[08:49] It can be hard to get people to relax in powder, so she always tells people to watch her form.
[09:06] You want to be centered on your skis and use a shorter pole.
[11:52] To get people used to speed, Lindsay likes to take them in gladed terrain.
[13:55] Lindsay has seen CMH's VR video that helps prepare people for the heli-skiing experience and she loves it; she thinks it really encapsulates the actual experience.
[18:54] In order to put or keep people at ease, Lindsay feels that her naturally soft voice and nurturing personality are key.
[19:48] She is an open, honest, people-person.
[20:53] There is always a low-level amount of stress in a guide's life, because it's a huge responsibility.
[21:43] She hopes to always convey the fun of skiing.
[23:14] Lindsay tries not to say too much, but makes a point to say what is important.
[24:16] She picks up a lot by skiing with other guides from other locations.
[27:00] A great tip she picked up was, if conditions get a bit tricky, pull your toes up in your boot.
Resources
CMH Bobbie Burns Lodge
Lindsay Andersen on Instagram
Quotes
"I always tell people before they come skiing with us to try and be as fit as possible."
"If people are really nervous…we'll just manage that with the terrain selection."
"To get actually emotional watching [the VR video], it was pretty powerful."
Listen to other episodes
Lindsay Andersen: Pull Your Toes Up
Evan Reece: It's Rare to Find a Place That Isn't Worth Going to at Least Once
Wendy Fisher: Spontaneity is Key
Kim Reichhelm: The Most Important Thing is Having Fun
Hilaree Nelson: The Value of Saying Yes
Jonathan Ellsworth: Lean Into It
Allen Tran: Building An Athlete, One Meal at a Time
Joel Gratz: The Powder Prophet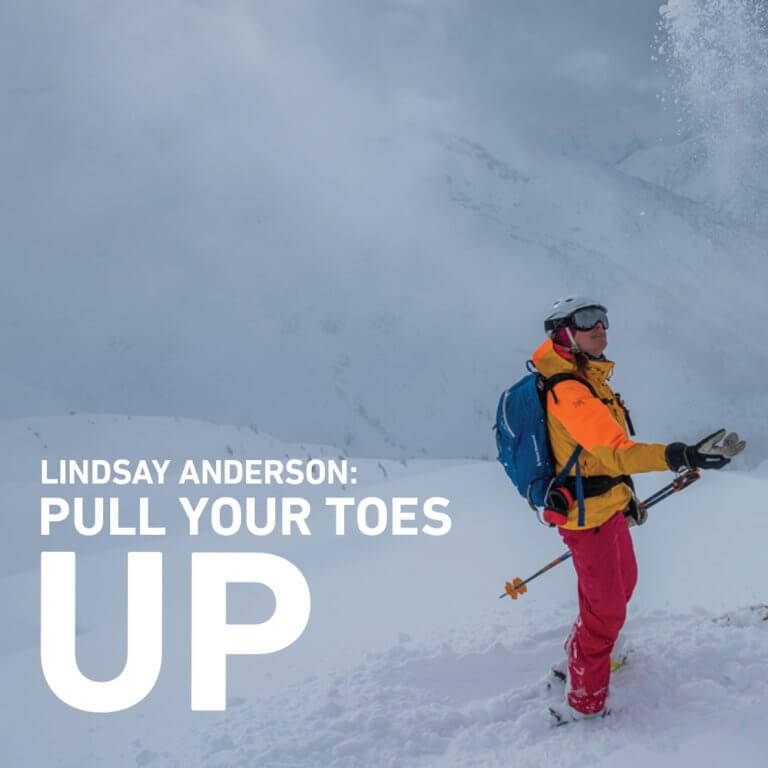 Back to JOURNAL