NEXT LEVEL SKIING S2: E3 | SPONTANEITY IS KEY – WENDY FISHER
by Wagner Skis / Dec 21, 2019
Season 2, Episode 3: Wendy Fisher – Spontaneity is Key
On today's episode, we get the chance to speak with Wendy Fisher, a former member of the U.S. Ski Team who walked away from skiing, only to get back into big mountain skiing later on. She now works at Crested Butte Mountain Resort, guiding people through the steeps. She also runs an annual camp out of Chile. Tune in to hear us talk about her career, he life in Crested Butte, and how she learned to overcome fear.
Follow on: iTunes  |  Stitcher  |  Spotify
TOPICS
[02:19] Every summer, she brings her kids out to her hometown of Tahoe to take advantage of "lake life".
[03:45] People bag on racing now, because they think it restricts people from having fun and enjoying the sport.
[04:10] Wendy doesn't agree and thinks it increased her love of the sport.
[04:28] She was heartbroken to leave the team, but knew it was time to go.
[06:15] Before she quit skiing and gave up a college skiing scholarship, she decided to go ski one last winter just for fun.
[07:08] She ended up in Crested Butte during an extreme skiing contest.
[07:20] She was encouraged to enter the contest and it brought her back to life.
[08:04] When watching the men compete, she felt she had better technique than all of them.
[08:45] On her second run, she took a different path over a rocky headwall.
[10:38] She woke up one day and decided to continue to follow the competition circuit.
[11:45] She freeskied as a kid and her racing coach made the sport fun for her, which is different from how it is today.
[12:10] She enjoyed the structure of Burke Academy.
[12:35] Her amazing technical training contributed to her success as a freeskier.
[18:47] When skiing steeps, people often forget their form and end up on their heels.
[19:11] Wendy will take people out on less challenging terrain to improve their skills before taking them back to the steeps.
[25:21] What helped Wendy learn how to teach was taking up skateboarding.
[27:18] She even looped her son into her skateboard lessons.
[28:48] Often, there is a taboo about taking lessons.
[29:05] Wendy feels that if you want to get better, you have to invest in lessons.
[32:05] Because they live in a mountain town, Wendy was determined to get her kids into skiing.
[34:45] Wendy tried to back off and let her kids learn from instructors, but eventually, she couldn't help but intervene and improve their fundamentals.
[39:41] How Wendy discovered spontaneity and how it has affected the rest of her life.
[41:20] Skiing with big mountain skiers and heli-skiing, she was terrified, but there was gratification in completing big runs.
[41:41] This is how she can relate to her clients and often talks herself through terrifying runs.
RESOURCES
QUOTES
"I had so many issues with letting go of skiing and I wasn't ready to…so to find this avenue, I just ran with it and don't regret it at all."
"If you really want to get better and you don't want to be frustrated, you have to invest the time."
"You start to doubt yourself, so you have to find these things to keep yourself in the game and to help build up your confidence and I still do that today…"
Listen to other episodes
Lindsay Andersen: Pull Your Toes Up
Evan Reece: It's Rare to Find a Place That Isn't Worth Going to at Least Once
Wendy Fisher: Spontaneity is Key
Kim Reichhelm: The Most Important Thing is Having Fun
Hilaree Nelson: The Value of Saying Yes
Jonathan Ellsworth: Lean Into It
Allen Tran: Building An Athlete, One Meal at a Time
Joel Gratz: The Powder Prophet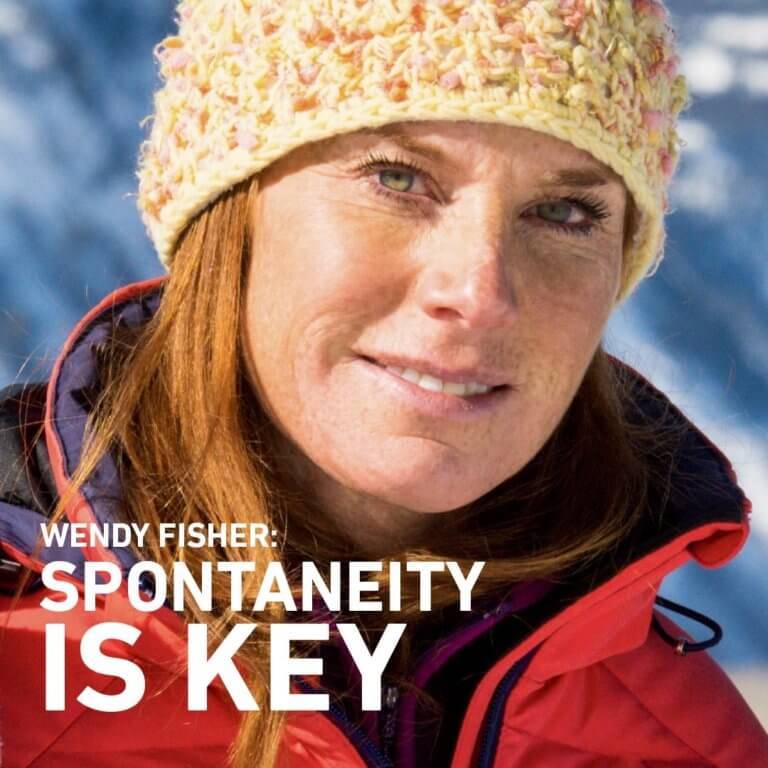 Back to JOURNAL