THE BEST SKIS FOR ANY LEVEL SKIER
What you need to know about skis for beginners, intermediate, and advanced skiers.
Whether you are new to the sport of skiing, a seasoned veteran, or somewhere in between, there are a few characteristics you should look for when purchasing or renting skis. Beginner skiers want to find a ski that is going to be forgiving, light and has a soft flex. Intermediates want skis that are predictable and stable. Advanced and expert skiers, depending on their terrain preferences, will want a ski with versatility and reliability.
What are the best skis for each category? Unfortunately it isn't that easy, but here we will break down what to look for in a ski so that you can improve your skiing and have more fun on the mountain.
BEGINNER SKIS & SKIERS
As a beginner skier, you want skis that are both comfortable and trustworthy. An ideal ski will be forgiving, light on your feet, and easy to initiate and release from turns. You want skis that will be easy to balance on which will, in turn, help you feel more comfortable. As a beginner skier, it's natural to want to improve your skiing at a faster rate to get off the bunny hill and flat runs. If you have the correct equipment, you can progress in your skiing faster than the average person.
The goal of a beginner ski lesson is to achieve a well-controlled skidded parallel turn – a turn that is useful for speed control and obstacle avoidance on any terrain, and that can be easily adapted for clean rhythmic round turn on any groomed terrain.
A beginner ski should have a BIG sweet spot, so it doesn't punish errors of stance. Because beginners will stick to groomed terrain the ski should be fairly narrow. Wider skis make it harder for a beginner to "feather" the edge-set to achieve that easy skidded parallel turn. A very soft flex, or very short length, or any form of rocker encourages swivel-steering but doesn't contribute to that long sweet spot. Instructors often prefer to see lower-level students on skis that reward pressure control from the sole of the foot. This means we want an even flex pattern — nothing radical. Beginner skis are nearly always rented so make sure the rental shop doesn't steer you to something too wide or too rockered.
Simply put, as a beginner skier, you want skis that offer comfortable control. You need skis that are helping you, not fighting against every turn you take. The right skis will help you gain the confidence you need to tackle harder green runs and eventually blues.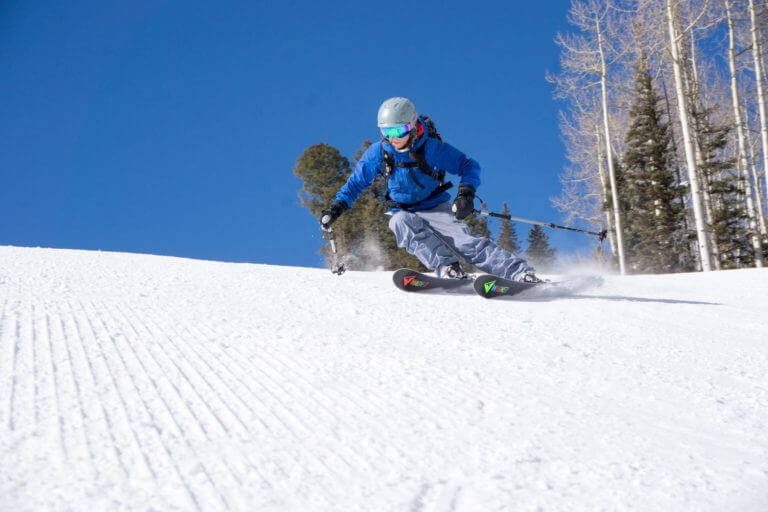 INTERMEDIATE SKIS & SKIERS
Once you have progressed into an intermediate skier you want skis to be predictable. You don't want to have to spend time getting re-acquainted with your equipment each morning. You should invest in your own properly fitted boots and skis.
You're still skiing mostly on groomed terrain but may venture into easy moguls and "resort" powder – that is, fluff up to about six inches deep over a firm surface. You now have the skill to roll the ski up onto a higher edge angle, but you don't want a ski that is too wide because extra width requires more strength to hold the ski on a consistent edge and doesn't help much in resort powder.
You still want an even flex pattern so the tail follows smoothly into a predictable round turn. A stiff tail forms a straight rudder and can hang you up in bumps. When it comes to learning how to carve a turn, a stiff tail will make turn completions ragged. If a ski is too stiff overall, it won't flex easily into the arc of a round turn.
Good instructors teach intermediates to control turn shape (and therefore speed) with a subtle "pedal" pressure on the ball of the foot. A ski with the right flex pattern for your weight and strength will reward this forward input by applying a power-steering pressure at turny front end, or shovel. If a ski is too soft, too short or too rockered, it won't send that pedal pressure out to the working end.
At this point, a custom ski can help a lot by matching the flex pattern accurately to your weight and strength. That, in turn, means you can move up the correct length for your skill level. Many off the rack skis and rental skis aimed for intermediate skiers will be comfortable on groomed terrain, but won't help much in variable terrain and the trees.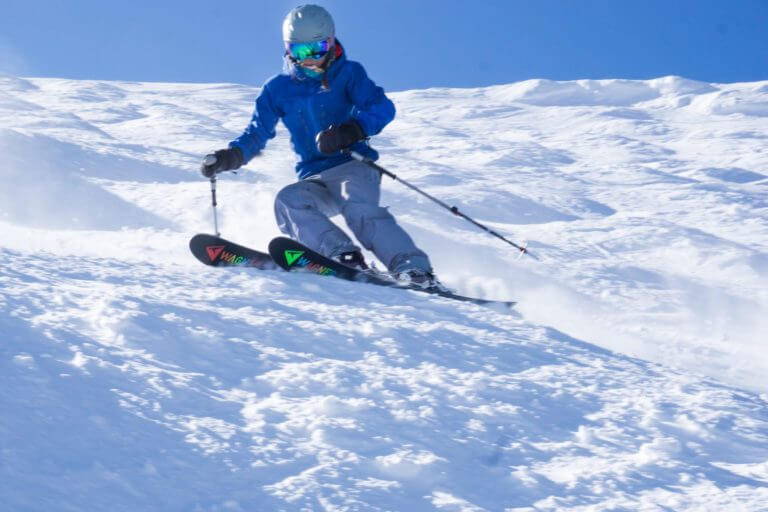 ADVANCED SKIS & SKIERS
As an advanced skier, the two most important ski qualities are versatility and reliability. Advanced and expert skiers should seek out skis that have a bigger sweet spot that can work in a broader range of terrain conditions. This larger sweet spot will give the ski more float in soft snow, will allow the ski to be forgiving in trees, and will keep the ski under control at high speeds. The right ski will have stability with speed, quick and light in tight terrain, and reliable in technical terrain.
You now have the skill, and possibly the strength, to balance against the edge on a wider ski. That will help in deep powder and crud, but remember that a very wide ski won't be really versatile in the sense that it won't feel quick or precise on firm snow, and especially on ice. Stronger skiers can now take advantage of a firmer flex pattern, and especially a firmer tail, for edge grip on ice and stability in high-speed groomed-snow turns.
Remember that versatility requires some compromise. That's why many experts rely on a quiver of skis: relatively narrow carving skis for in-bounds skiing ("front side" skis that work well in bumps and resort powder) and wider floatier skis for powder and junk ("backside" skis that can go out-of-bounds).
Once you have progressed as a skier and find yourself in the advanced/expert category, it's likely that you are skiing more complicated terrain. They key is to find a ski that you don't have to worry or think about, and instead, you can focus on skiing tight chutes/couloirs, big faces, and steep lines. Essentially, you want to be able to count on your equipment and be in your comfort zone right off the bat.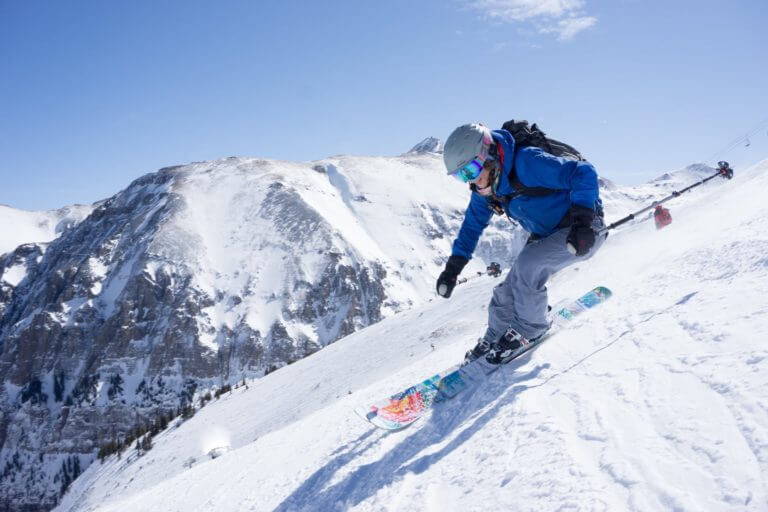 For all levels of skiers, beginners, intermediate, and advanced/experts, you want skiing to be easy and fun. The right skis and equipment will help with your balance, control, and efficiency and allow you to focus on improving your skiing. The correct ski for a beginner will allow you to improve at a faster rate; for intermediates, the right ski will help you break through to the next level; and a good ski for advanced skiers will allow you to ski better in a broad range of conditions. Being on the right equipment will improve your skiing. One way to effectively make sure you are on the right skis for your ability level is to go custom. The first step in this process is filling out your Skier DNA which you can do here. From there, you will schedule a call with one of our ski design engineers to talk more in-depth about your skiing habits and wants and needs in a ski.
When your equipment is dialed, you can focus on other elements to help improve your skiing, like building the proper strength and stretching pre and post skiing, for more on that, check out: