Give a One-of-a-Kind Gift this Season
"Wagner Custom is a small US ski factory that helps people find their mountain mastery through its unbelievably sweet, custom-fit, tailor-made skis." – SNOW Magazine
Every year, Wagner Custom handcrafts just a few of the world's best skis. Each ski we precision craft is dedicated to an individual skier's profile. This is made possible by our fitting system which identifies a person's unique Skier DNA. Each pair of skis we build are designed to improve that skier's balance, control, and efficiency on snow. Ultimately, we make skiing more comfortable, enjoyable, and fun. Adding custom graphics allows your gift to become truly memorable and unique.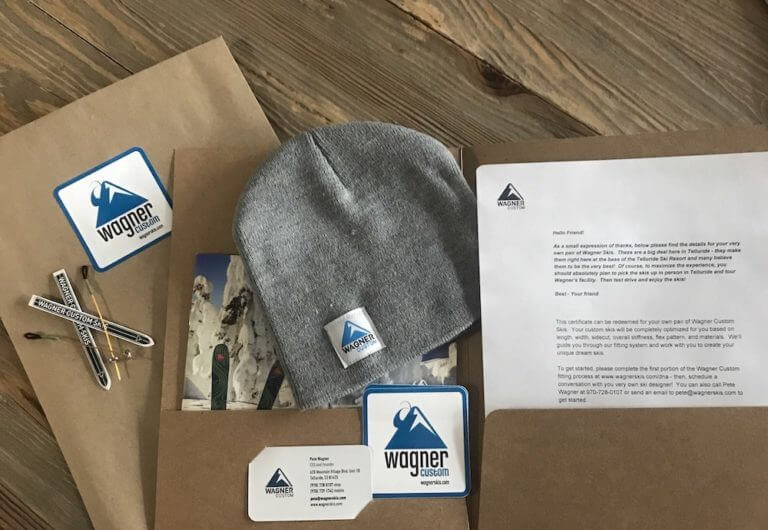 A pair of Wagner Custom Skis are the perfect gift for the skier in your life who has everything, or is ready to take their skiing to the next level. Get started on your gift giving by calling us at 970.728.0107, visit our gift shop here or by emailing pete@wagnerskis.com. When you decide that Wagner Custom Skis are the perfect gift, we will send you a gift packet including a personalized letter for your gift recipient. This packet provides all the information your lucky recipient will need to get started (of course we are here if there are any questions along the way).
Our process typically takes three weeks, from design consultation to ski finishing and binding mounting. If you want your giftee to receive their new Wagner Skis by a specific date, let us know upfront and we will be sure to meet your needs. We can accommodate ski orders from across the world and ship skis wherever they may need to go.

Ready to start the ordering process or want to learn more? Give us a call at 970.728.0107 and we can talk you through the process and get you set up. We can send the gift packet to you, or directly to your gift recipient. Start gifting here.
Why Wagner
"There is a real sense of pride at Wagner Custom, and for good reason: the company is making skis that truly improve performance on the mountain." -Outside Magazine
A pair of Wagner Custom Skis is not only truly unique, matched to fit a skier's needs, but our skis are made by the world's best master craftsmen. We make one pair of skis at a time using only the finest components and materials. This translates to better performance on the slopes. Your custom skis will give you better control and comfort in challenging terrain and take stress off your body to improve your endurance. You'll have more fun while skiing. Our skis are designed to suit your every need.
Our Process
Custom skis start with a short online survey called our Skier DNA (https://www.wagnerskis.com/getstarted/). This quick survey covers the basics: where you ski, what you like to ski, and your physical demographics. The next step is to schedule a call with a ski designer. This 15-30 minute design consultation goes deeper into your skiing and ski needs. From there, we send you a custom ski design recommendation based on everything we have learned about you. Once your unique ski design is approved, you can choose your topsheet design and your skis will move into production.
Helpful Links: