How Our Custom Ski Graphic Process Works
by Wagner Skis / Jan 31, 2023
Custom Ski Graphics FAQ
Each day, Wagner's experts handcraft custom skis for individual skiers. Every set that enters production matches its owner's Skier DNA (learn more about that here). This is our specialty, and it's where our experts provide invaluable assistance. But for many of our clients, the fun part comes when it's time to create a custom ski graphic. It can also be challenging to narrow down all your ideas into one design. Here's a brief guide to the options available. It can help you to navigate the process.
Graphic Options
Among the things we can do:
• Custom Art – creating a design unique to you using (but not limited to):
     - Established Artwork – using an existing painting or drawing
     - Photography or Photograph(s) – can be from a professional, or be your own
     - Graphic Elements – stripes, patterns, ombre, flags, text, etc.
     - Logo(s) – you'll need permission to use logos if they aren't your own
• Wood Veneer – check out our options here
• House Graphics – check out our options here
• Artist Series Graphics – check out our options here or the James Niehues Collection here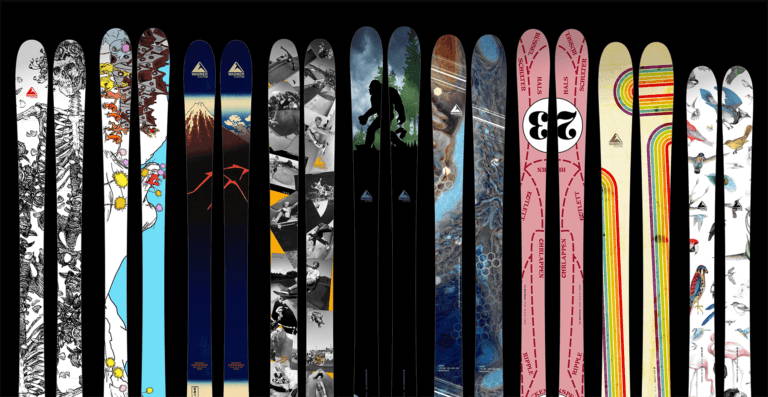 A small selection of custom graphics from Wagner Custom Skis.
Tips
There is a lot to think about when it comes to choosing just one custom ski design. Here are some helpful tips to get you started:
• Keep it simple. Skis move fast. Narrow the concept down to something comprehensible at first glance.
• If you have a concept, we can help you find good existing images or artwork.
• If you are stuck and just can't make a decision or if you need help locating artwork, reach out to us and we can walk you through the process.
• If you are working with your own designer or artist or commissioning an original piece of artwork for your skis, we always suggest giving them a hard deadline. We've seen skis get sidelined for many weeks, and it's not fun.
• We can create a ski template with your unique ski shape that you can pass along to your artist or designer.
CUSTOM GRAPHICS PROCESS
Once you have a design concept and are ready to get started, here are the next steps in our process:
1) Once you have an idea, gather your image(s).
2) Email us your concept with the images you'd like to use. We'll review everything and let you know what else we need.
3) We will put together a few design options.
4) Provide us with your feedback. We will revise the design until you are happy.
5) With your final approval, your skis can enter production. It generally takes three weeks from this point to ski delivery.
When sending us files:
• Please use .pdf, .ai, or .eps when possible.
• We will need the largest version of the image you can get. The bigger the image, the more options we can create for your layout.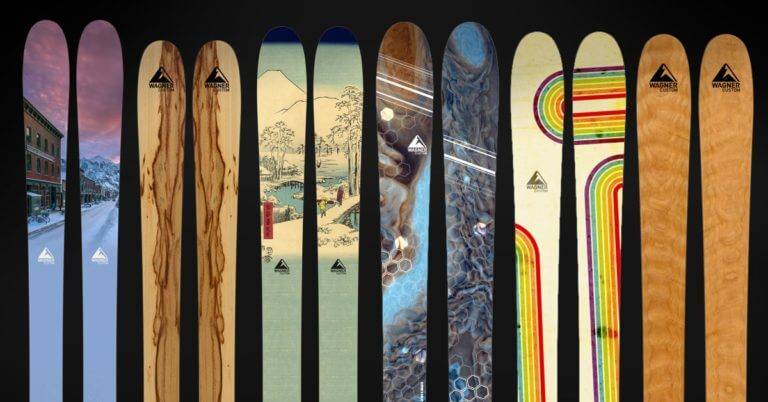 House graphics, wood veeners, artist series and custom graphics available from Wagner Custom.
More Frequently Asked Questions
Do you care if an image is copyrighted?
Yes, very much. We need permission to use any copyrighted material. That includes logos, artwork, text, etc. If you want to use copyrighted art, you'll need to reach out to the owners and get permission (we can help with this – just ask). We've found that most artists/institutions are happy to give permission for one-time use (sometimes for a nominal fee). We will need explicit written permission to use any copyrighted material.
What can I not put on my skis?
These things are not possible with our dye sublimation process:
• Mixed finishes (i.e. actual wood veneer plus color; matte with gloss)
• Sparkles or glittery finishes
• Metallics
• Opaque topsheets with translucent areas
• Fluorescents and neon colors
Is any artwork included in the custom graphic fee?
You are responsible for buying artwork, as needed. We can help you find and purchase artwork as well as find illustrators to create original art.
Will your designers create original artwork if I've got a concept in mind?
Our designers create most ski designs using existing artwork. If you have found artwork that you know you like, we know you'll like the look and feel of the skis using that artwork. If you'd like to create original artwork for your skis, we'll probably need to get an artist or illustrator involved. We can help you find an artist or illustrator who can make your concept come to life. Once we have a digital copy of the original artwork, our designers will create a ski layout with that material. Just ask and we'll help with this process. And, if you come up with a really simple concept, we can likely handle that artwork in-house.
I'd like to create my own ski graphic (or I have a friend to create my ski graphic). How does this work?
Once we have worked out your ski shape and you have placed your order, we'll provide a template of your ski with graphic guidelines. Our designers will be available to answer any questions and make final revisions.
How does final design approval work?
You are responsible for final approval, as the file that you approve will go to print. We are not responsible for typos or errors once the final file has been approved by you.
How do I proof color?
The colors that you see on screen may not be an exact match to the final product. This has to do with the differences between computer monitors, and the difference between your monitor and our printer/topsheet materials. If color is very important to you, the only way to proof the actual color is to request a sample. One small (7" x 5") sample is included in the cost of a custom graphic. Additional or larger proofs are available for a charge — please ask for details. Note that you cannot return a pair of skis due to the color unless you had previously asked for (and approved) a sample.
What is dye-sublimation?
Dye-sublimation is the process we use to transfer dye (ink) onto our topsheet material. This process occurs in our heat press machine, transitioning the dye to a liquid and onto a new surface. Neon, fluorescents, and metallic colors are special inks that do not work with the dye-sublimation process.
You can view custom topsheet inspiration here and even more topsheet designs in our gallery here. Have fun and good luck!
Want even more info? Check out the "How to Custom Graphics" series
How to Custom Graphics: Part 1 (Vector Graphics)
How to Custom Graphics: Part 2 (Wood Veneers)
How to Custom Graphics: Part 3 (Hiring Artists and Illustrators)
How to Custom Graphics: Part 4 (Photography)
How to Custom Graphics: Part 5 (Putting It All Together)
--
Back to JOURNAL